After we had to postpone our planned trip to the USA twice, we hope it will work out this summer. Be curious about our report. We want to start at the end of July.
25.07.2022
Today we started our journey in the USA.
We were flying from HAM-FRA and then FRA-EWR – all in about 9 hours flight time.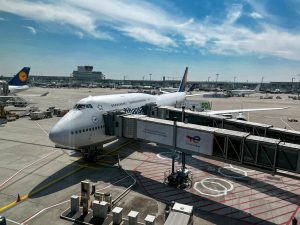 After a really long que at the security (but running smooth so "only" one hour to get through) we had a calm flight to the Newark. As we arrived, we had to stay for 30 minutes on the runway due to a thunderstorm passing by, which temporarily closed the complete airport and then at the gate our jetway had mechanical problems… but after arriving safely in our hotel a bit later than planned, we made a quick check-in in order not to pass our time slot for visiting the Edge with the glass platform.
We ordered an Uber for the drive to the Edge, which is far the easiest way to move around with car when you are a group of five people, as a normal taxi only have space for four.
At the Edge the experience starts on the way to the elevators, where you walk through corridors with interesting facts about how the project Hudson Yards are setting up different initiates to help the climate become healthier – as example it's told how the rainwater is collected in huge bins under the Hudson River and use to watering plants – the amount collected is 10 million gallons which is approximately 36 million litres per year.
Then we walked into the elevators to get to the 100th floor. The walls of the elevators are all over large screens, where you follow the drawing of the surroundings of New York around the Edge – the drawings changed into real photos. This is really well done, and if you didn't have to pop your ears several times, you wouldn't know you are moving upwards really fast.
The platform at the Edge delivers a stunning view in all directions and is sure worth a trip – the highlight is the small area where the floor is made of glass – meaning for the brave ones you can stand on a glass floor and look down at the street 335 meters below.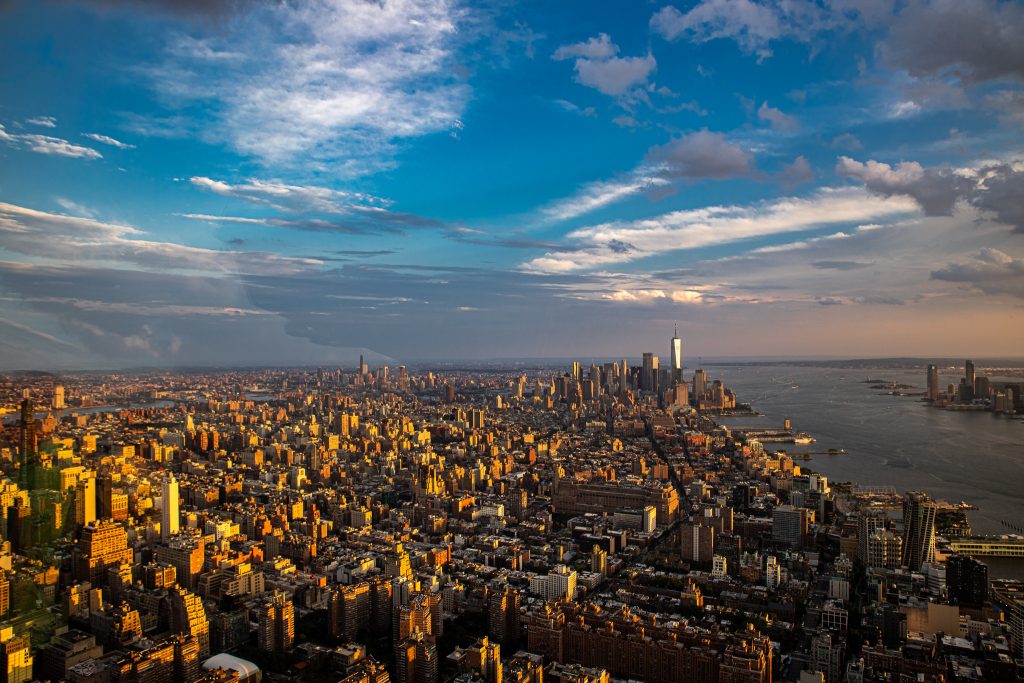 Our day ended at a really nice restaurant in the building with a view to the sunset.
---
26.07.2022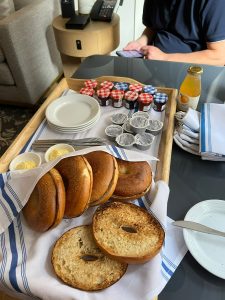 After a short night (jetlag says hello) we had bagel breakfast in our hotel room and we were ready to start our day as tourists in New York.
We had booked a time for the Liberty Island ferry at 10:00 a.m. and arrived at 9 a.m. as we had heard it could take up to one hour to get through security. Luckily we seemed to be there early enough so we walked right through without any problems and got on the ferry leaving at 9:30 a.m.
After a short trip of 15 minutes we arrived at Liberty Island. On the ride you get a wonderful view of the classic Manhattan Skyline and Miss Liberty also makes a very good photo model on the way into the harbour 😉 On the Liberty Island we made the classic walk around the Statue of Liberty and some of us also went up on the platform – unfortunately it is temporarily not possible to go up in the crown.
If you like, you can visit the museum at Ellis Island on the way back to Battery Park, as the ferry makes a stop here too.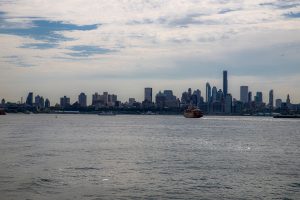 Back at Battery Park it's only a short walk of 10-15 minutes to Ground Zero. Unfortunately, the museum is closed on Tuesdays, but the memorial itself is for sure worth a visit.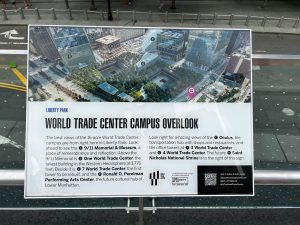 On the way we came by one of New Yorks many food stations offering corn dogs – this was a thing our teenagers had been looking forward to try out and so we did. We agreed on it being very sweet and not quite our taste, but worth a try so we now know what people are eating in movies 😉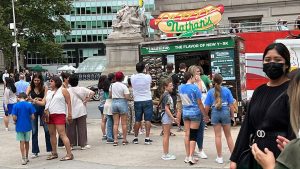 15 minutes more of walking and we are achieving the Brooklyn Bridge – a very beautiful piece of architecture which we chose to enjoy the view of from one of the benches at Pier 17 with a cold refreshment.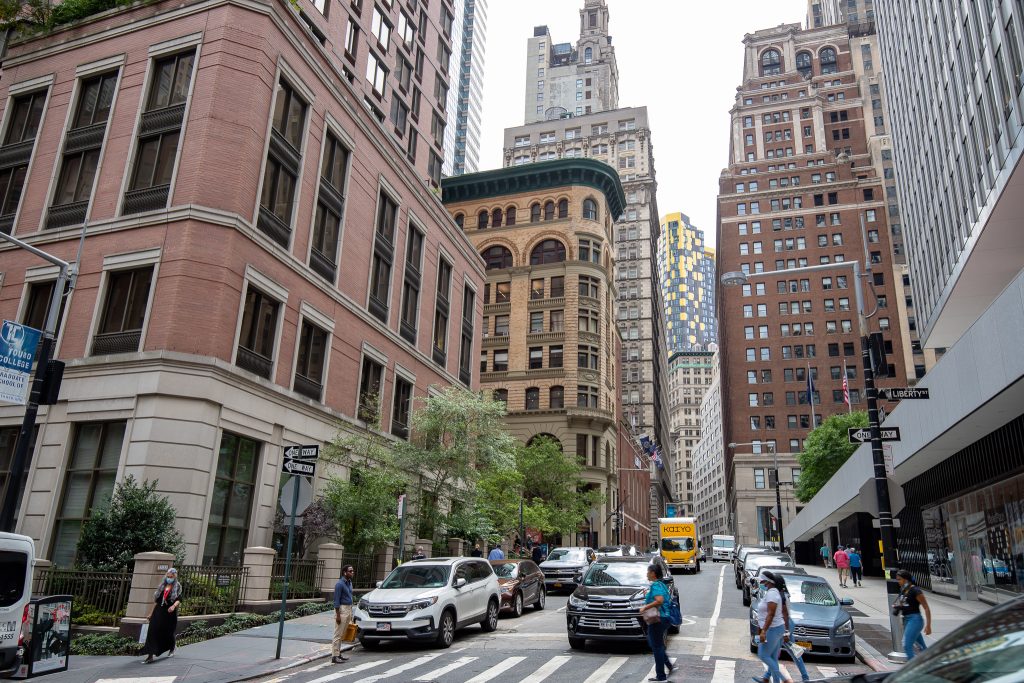 From here we took an Uber to the Central Park where we made a short walk in the park before settling down for a late lunch in a café just outside the park.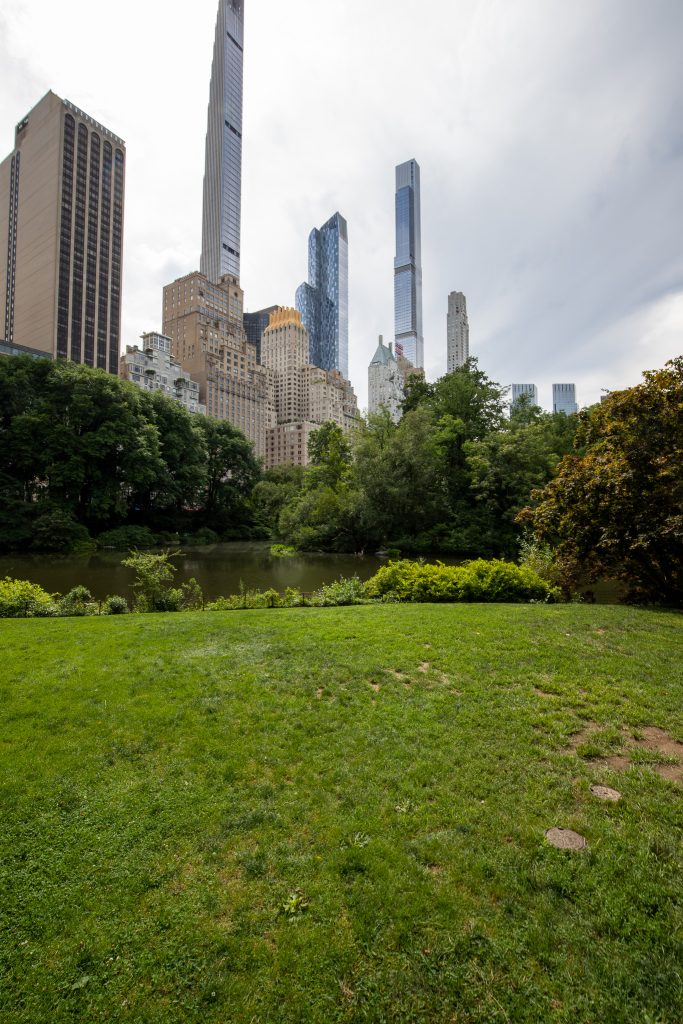 Then we walked the five blocks back to our hotel to rest for a couple of hours before we went off to visit Times Square for dinner and waiting for the experience of all the sparkling lights and advertisement, which are best when it's getting darker outside.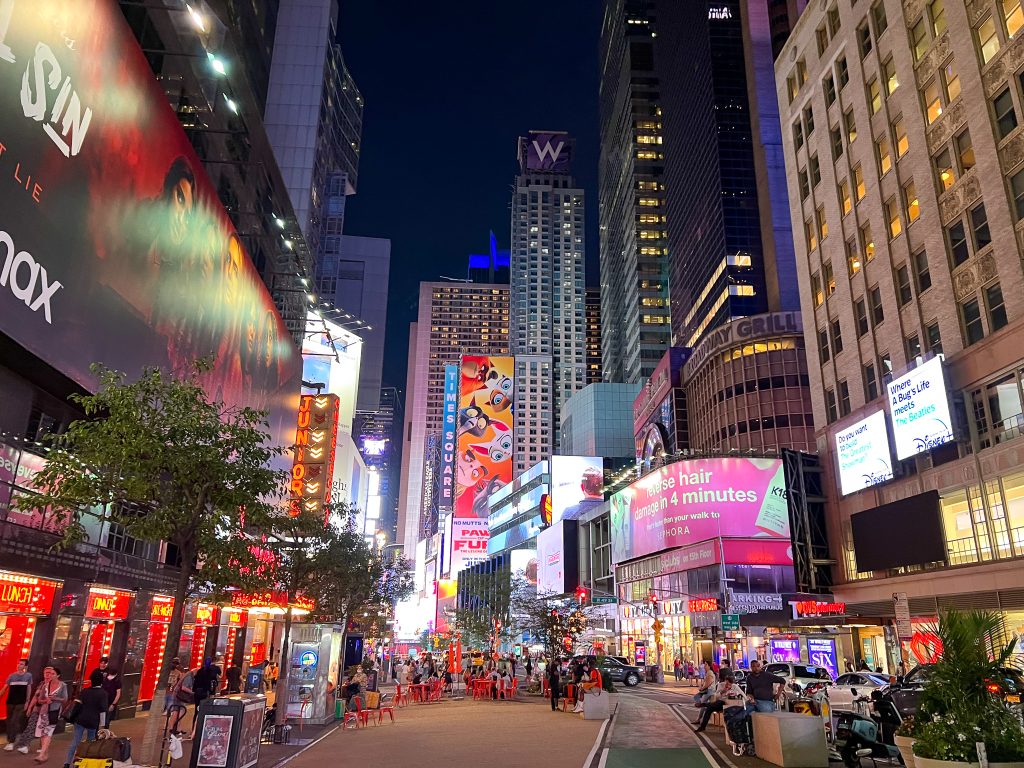 ---
27.07.2022
Today we started out with a short 2 hour flight from New York to Louisville-Kentucky.
In Louisville we made a short stop at Ballard High School where Viator graduated in 1993 and then went on to spend the afternoon and evening with Viators former host family – we had a nice dinner directly at the Ohio River and were lucky to have a sunny rainfree evening 😉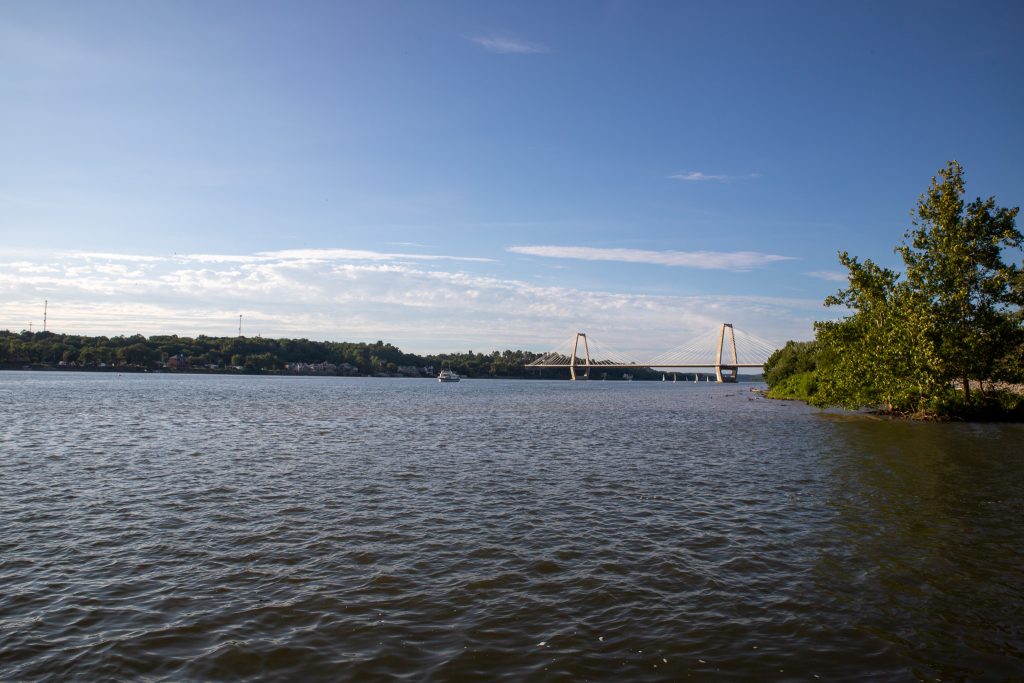 ---
28.07.2022
After a "late" breakfast we left Louisville at 10 a.m. in the direction of St. Louis. We started with a small detour to see the Ohio Falls, where we also had a nice view of downtown Louisville. Then we headed for Fort Knox to make some photos of the US gold chamber 😉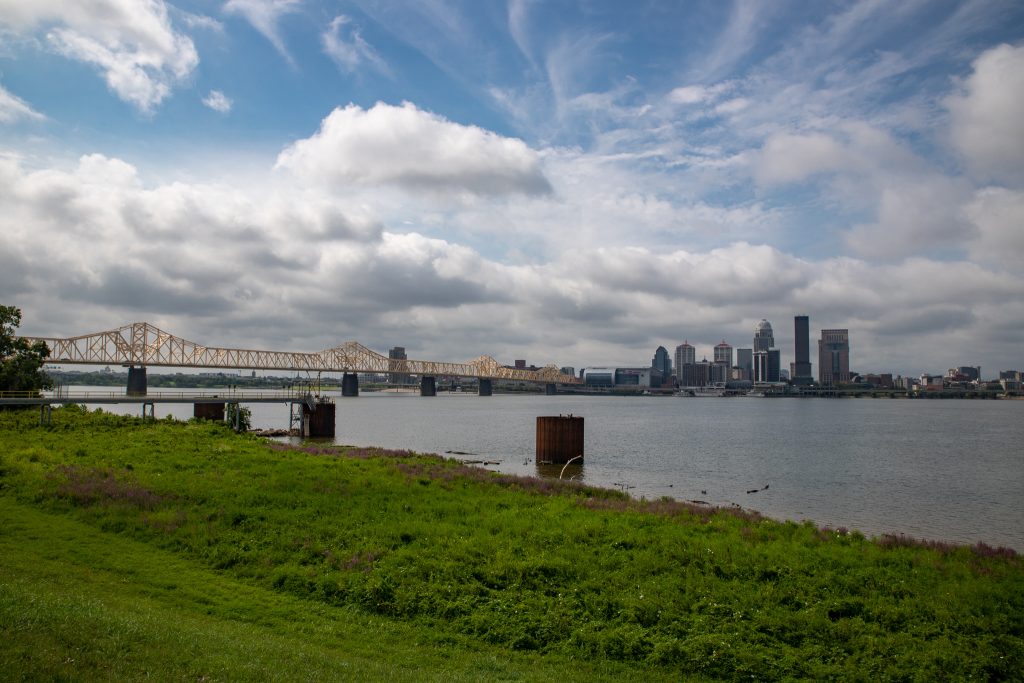 We had talked a lot about American doughnuts so our teenager now wanted a pit-stop – we found a nice little doughnut shop with fresh made doughnuts and then went on for the 4-hour drive to reach the Mississippi. On the way we had lunch at Taco Bell – both doughnuts and Taco Bell are now favourites choises 😉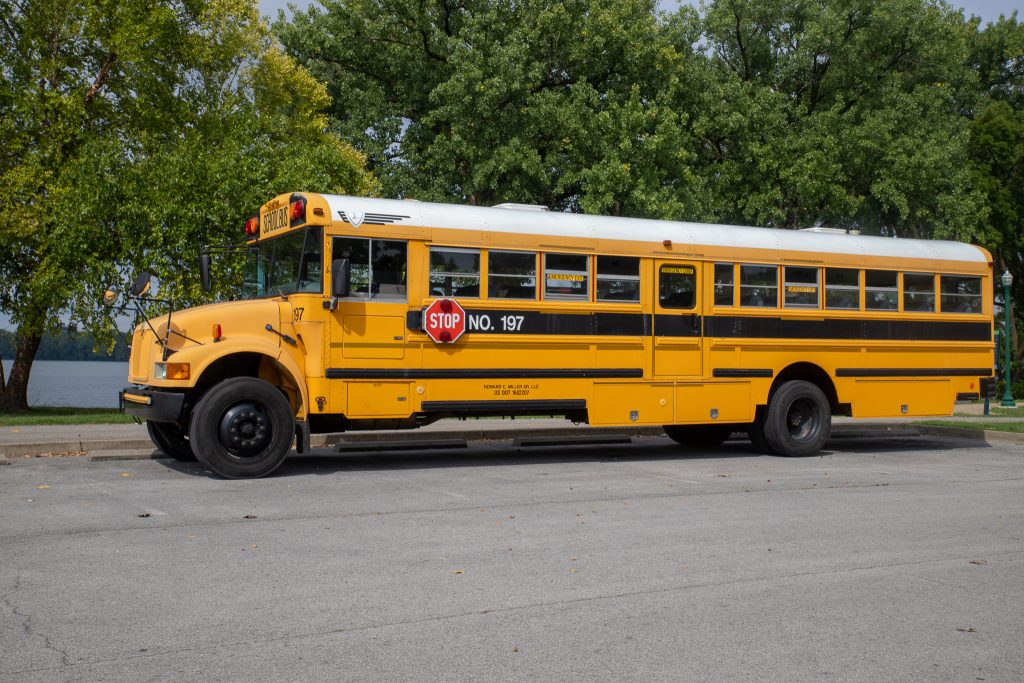 The drive to St. Louis almost became a boat trip instead, as we got a lot of rain and a flood warning! But we arrived at the Arch safely and were lucky the rain was calming down a bit. Unfortunately, there were no free spaces to get up in the Arch but we watched a riverboat departing and going down the Mississippi.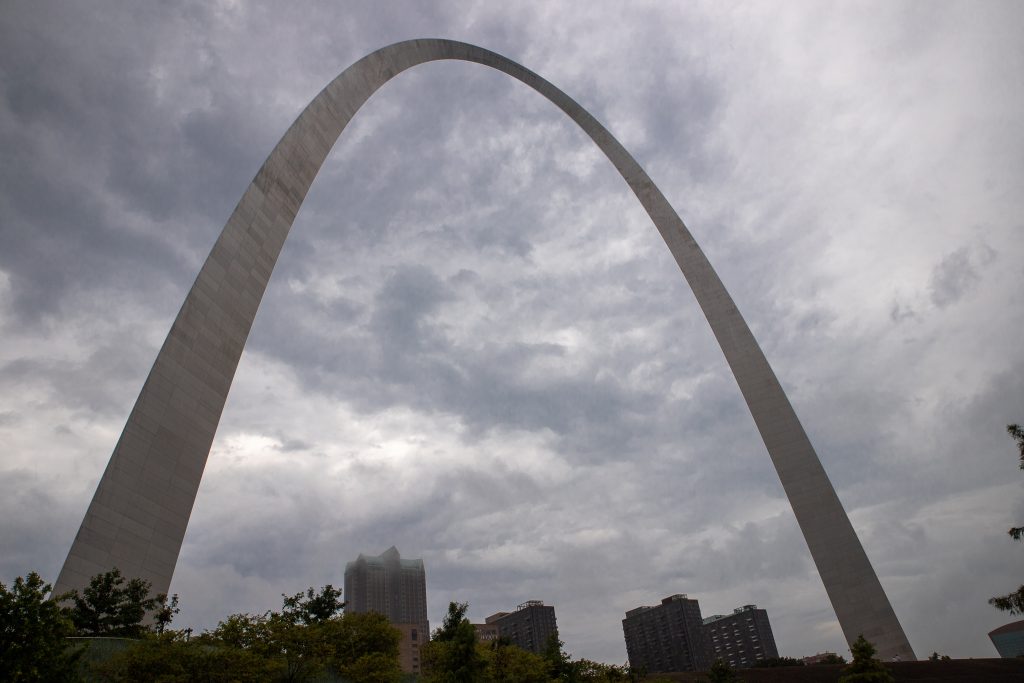 Last stop for today: Airport St. Louis heading for Denver, from where our great roadtrip will begin tomorrow.
---
29.07.2022
Starting out with a 1½ hour drive to the Clear Creek River where we had booked a white water rafting tour by Downstream. This was a surprise to our teenagers and they were very excited and happy. We had 2 hours with a lot of fun on the river – our guide Marc took us safely through category 4 rapids and falls and our team skills worked out very well so we didn't fall into the water at any time – which is not the same as saying we didn't get wet 😉 the busride back– in an old school bus (cool bus) – was a bit cold but all were happy and in good mood. A great experience with a great team of guides – thank you Downstream!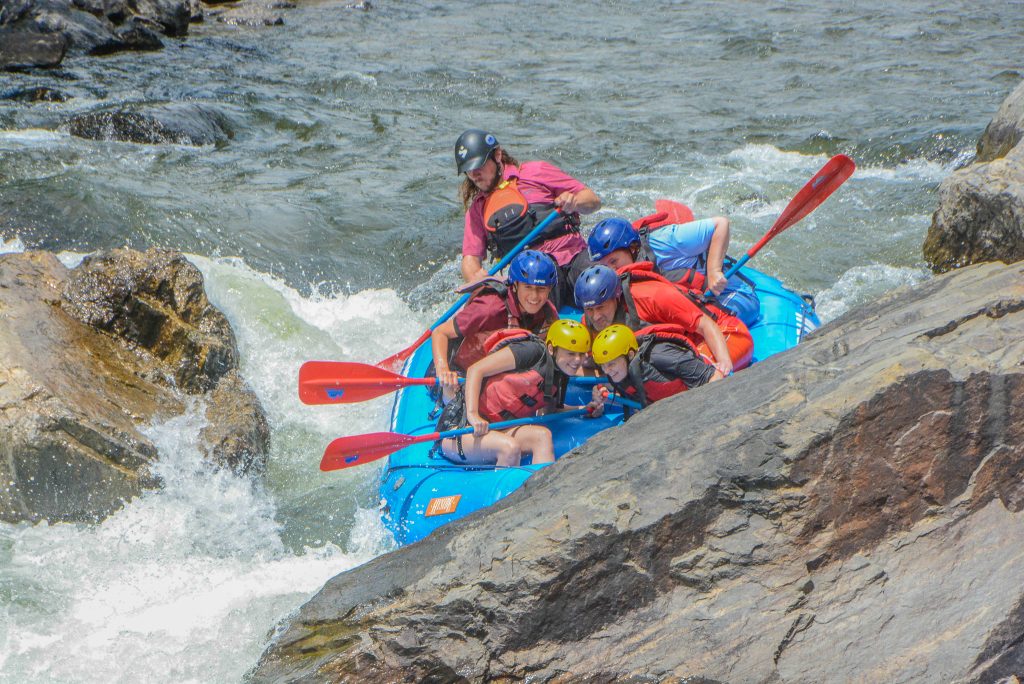 After enjoying lunch in a local café – the best pizza ever according to the teenies – we started out for our first long drive – 4½ hour – taking us to Moab. The route is an experience itself driving through amazing landscapes and getting a feeling of wild west and endless roads.
Short stop at a real American diner – Denny's – for dinner, which for the silly teenagers meant having pancakes for dinner 😉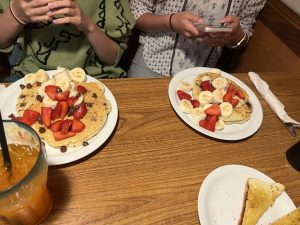 ---
30.07.2022
Today we started with a 2-hour drive with goal Monument Valley. Again the scenic views are amazing and difficult to bring on photos – but we tried our best. You can also see this short clip from our drive: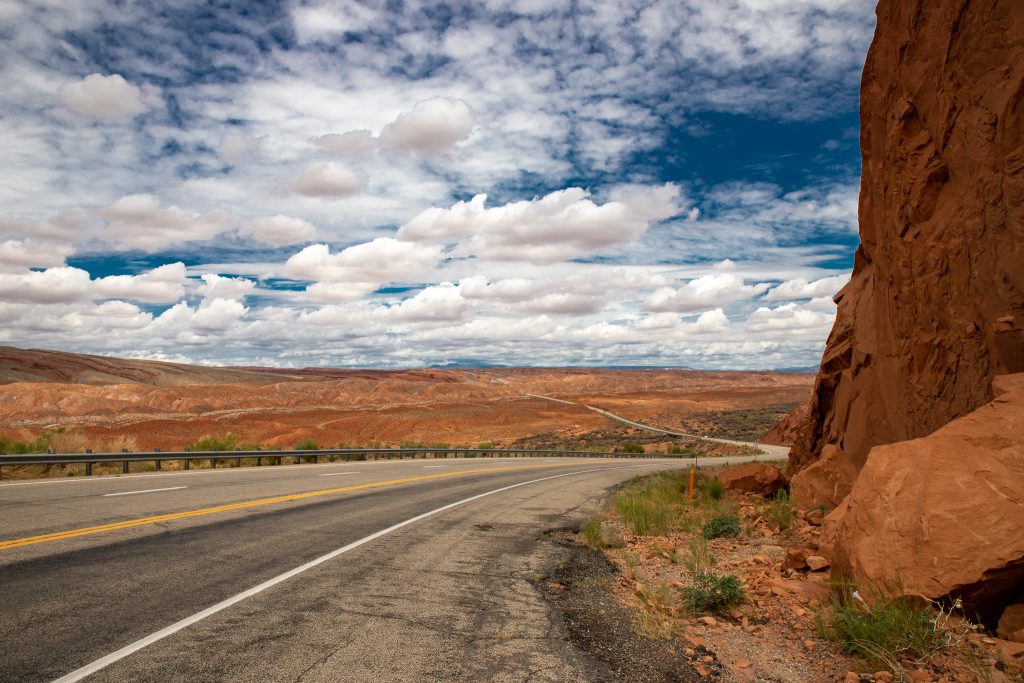 At Monument Valley we booked at tour with Navajo Spirit Tours. Larry from the Navajo Tribe – or Diné as they are originally called – took us on a very humbly but very interesting ride through the Monument Valley. We had all the classic stops like the three sisters and the John Wayne spot, but also some less touristic places with amazing arches and holes. We also had the joy to go into a native house where two really friendly native women told about the way they live and among others things showed us how they spin wool and what they use from nature to colour it.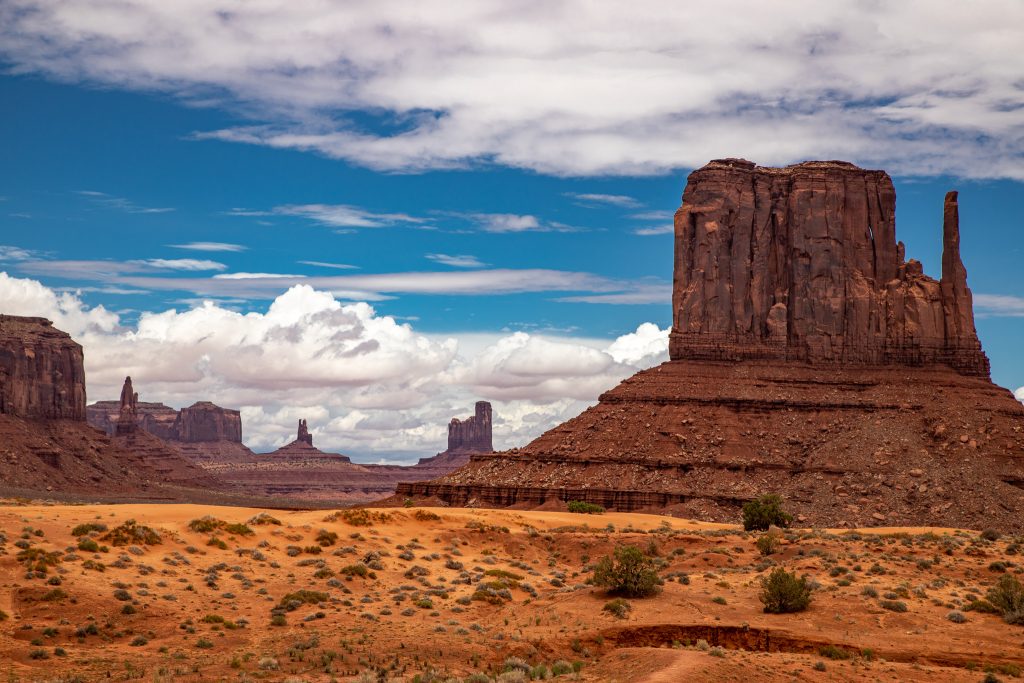 After a late lunch we had a second trip with Larry – the mystery trail. This tour is much less touristic and gives a good feeling of the beauty and quietness of this wonderful area. We were among other places visiting the Scalp and an animal drinking spot. One of our personal highlights where the carvings and paintings. Another one was as Larry joined with another guide and made some native singing and flute playing in the canyons. The sound is really amazing in these surroundings and made a very special atmosphere.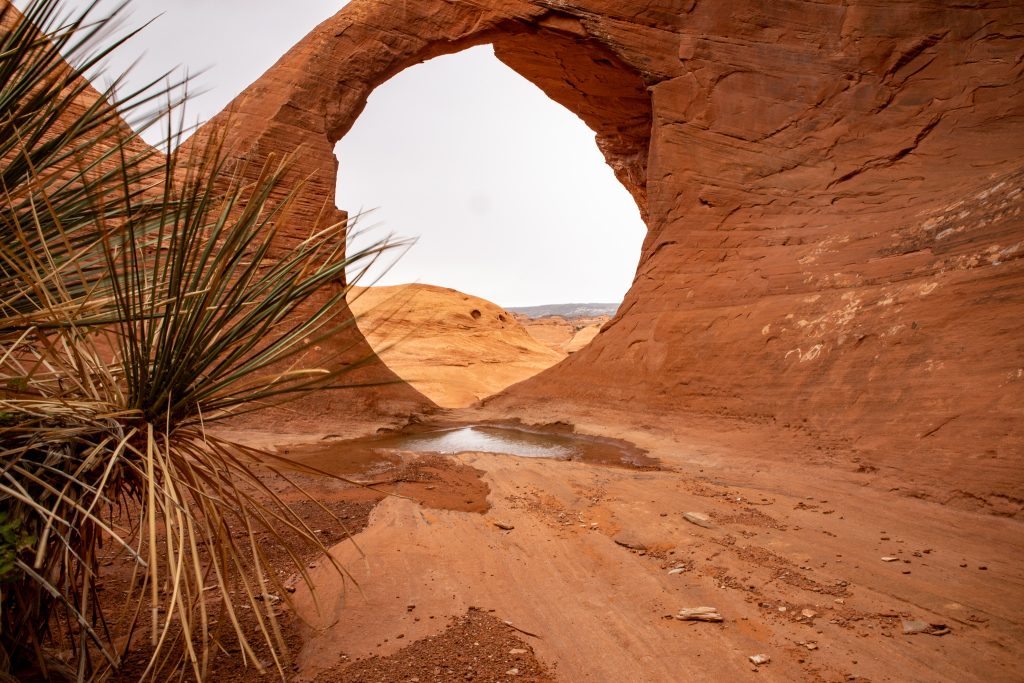 After this late tour we still had a 2-hour drive in front of us before reaching Page. We decided for dinner on the go from McDonalds and arrived at 23:15 in Page (time zone passed so only 22:15 local time) – tired an exhausted but full of good impressions and new memories.
---
31.07.2022
Today was originally meant for visiting Antelope Canyons – but unfortunately they were closed due to flooding L For us this meant a day of which we used for making laundry…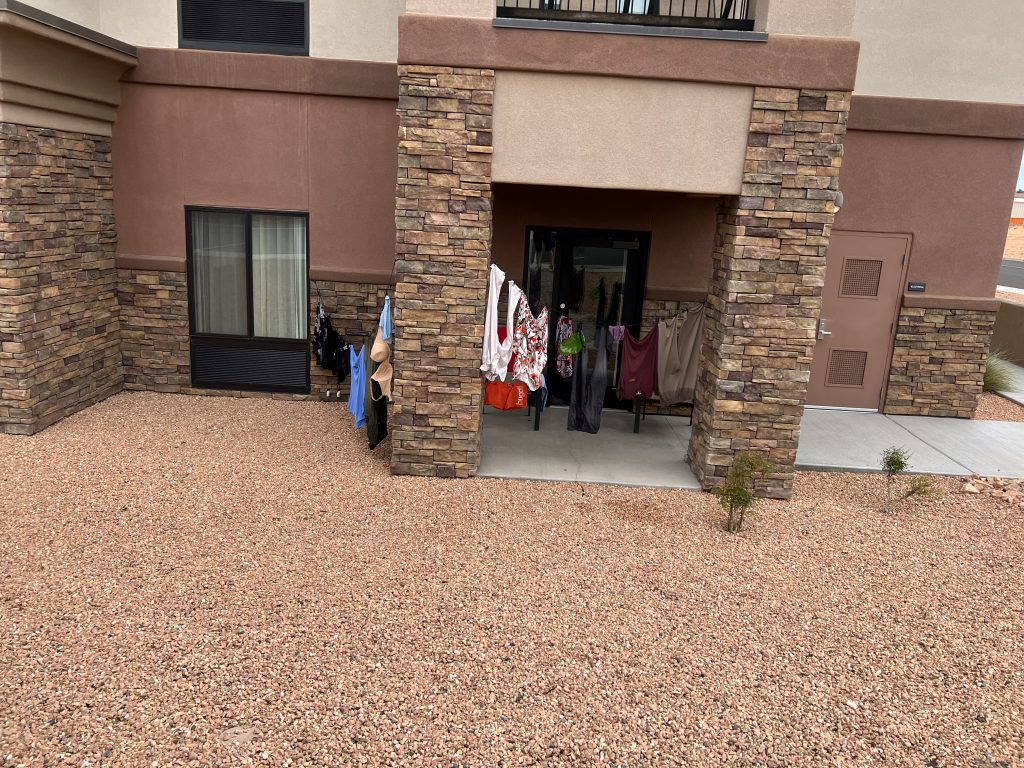 We also had to visit a mechanic as we had a screw in our tire.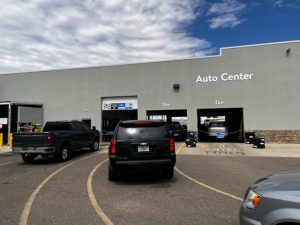 Spontaneously we decided to visit the Glen Canyon Dam and the Horseshoe Bend, as the Antelope Canyons sadly does not seem to re-open today.
The Dam is really large and very impressive and you get a good view at it without walking for hours. It is also possible to drive across the complete dam via a bridge.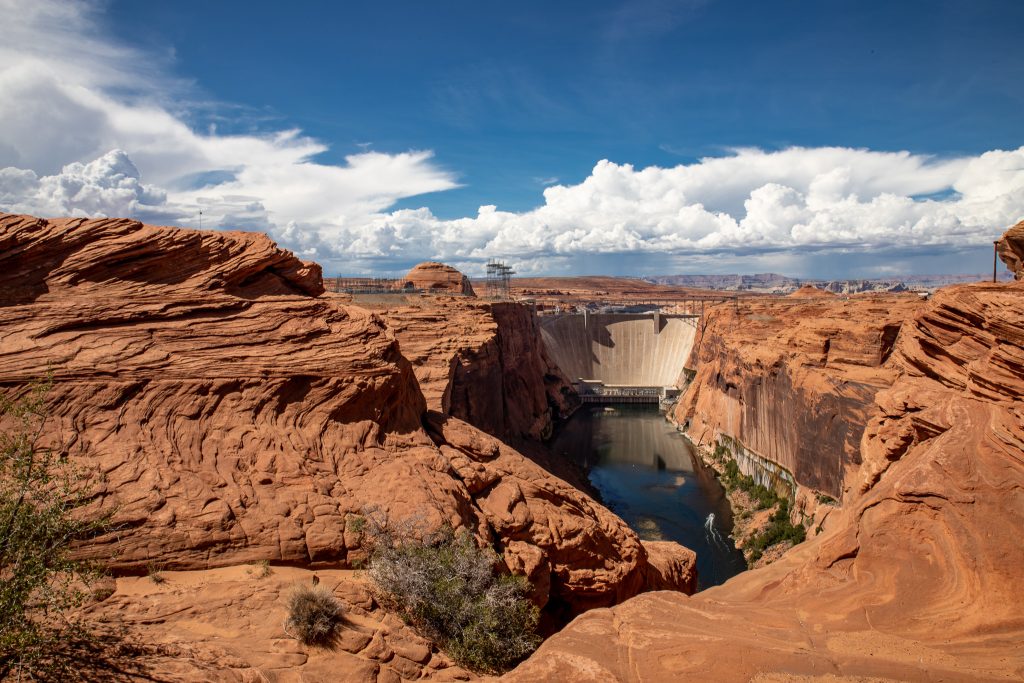 A 10-minute drive from the Dam you find the Horseshoe Bend – at least the path to it 😉 After 10-15 minutes of walking (in almost 40 degrees Celsius!) we arrived at the Bend. Luckily it was worth the sweating walk – remember to bring water and a sunhat! A very beautiful place but also very touristic – who else would make a walk in this heat 😉 If you love stunning photos this is for sure a nice place to go.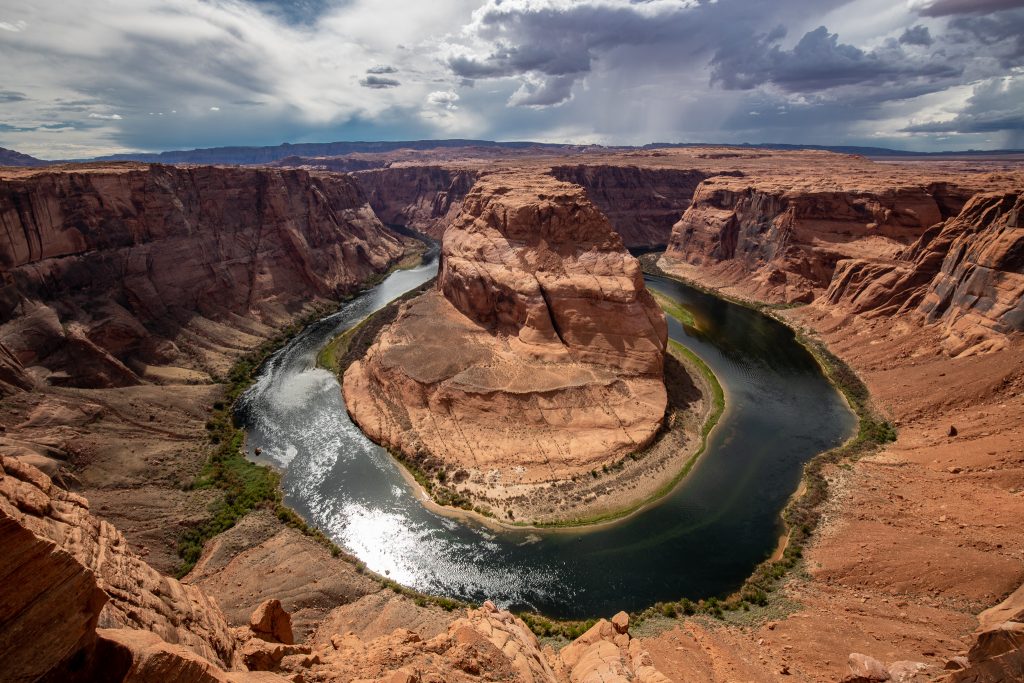 ---
01.08.2022
Goal for today is Grand Canyon and we are all very excited. Originally Grand Canyon was completely filled with water from the Colorado River and it is really hard to imagine what this will look like – even though we of course know pictures.
The scenic view of todays drive is also very very impressive, as the canyons are already spread all over this area creating an amazing landscape.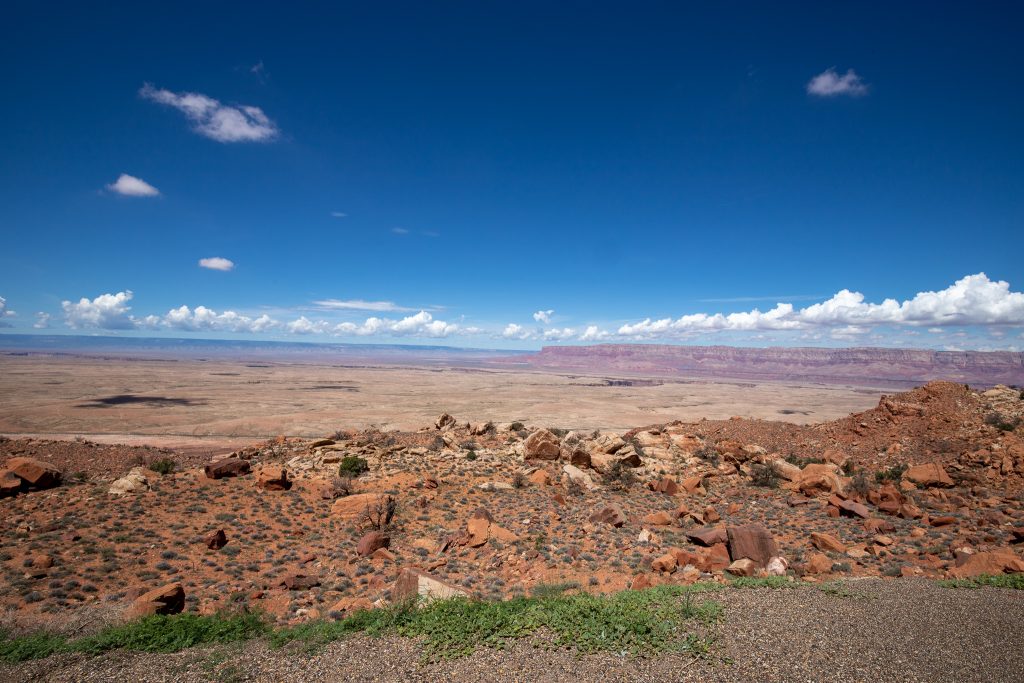 We arrived at the entrance of Grand Canyon around 13:00 prepared for the 40 km drive taking us through the national park. The route has a lot of scenic view points and we stopped at 5-6 of them – each with a stunning view of the canyons – an amazing wonder of nature – and really quiet. Pictures are not able to tell the complete fascination but again – we did our best. As we heard an American tourist say on the phone" I am visiting this Grand Canyon thing – it is really amazing!"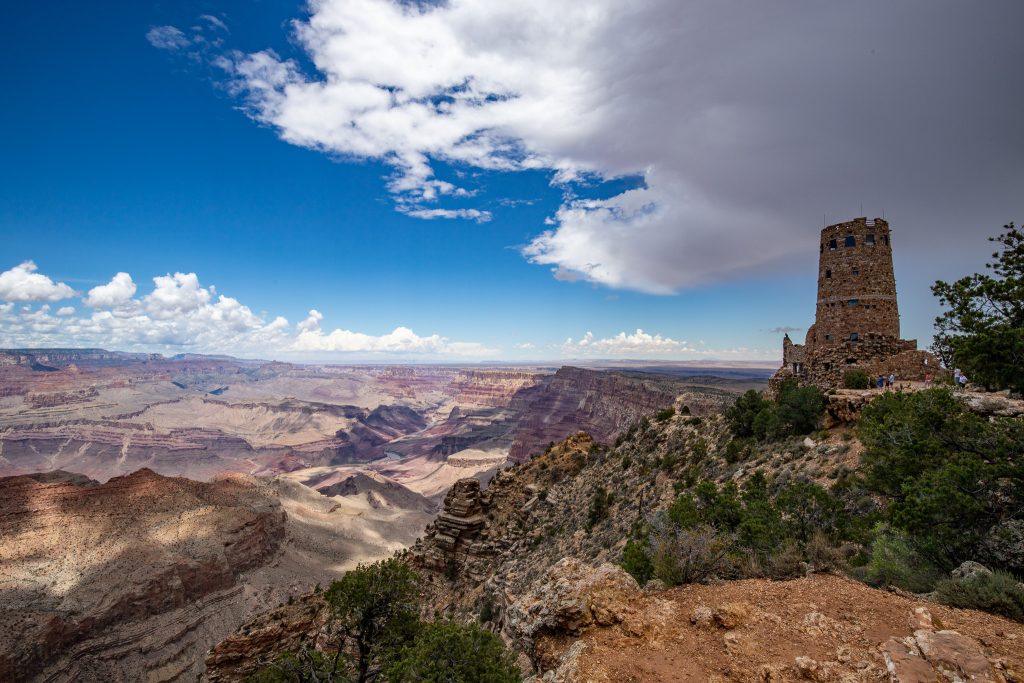 Our day ended at Hopi Point where we hoped for the sunset but the clouds weren't really cooperating…nevertheless this is a really good scenic view point. We finished out with dinner at our lodge placed in the national park.
---
02.08.2022
Starting the day with a pick-your-breakfast self-service we were now ready for 4 hours on the road. Next stop Hoover Dam. This huge Dam was build 1931-1935 and as it is pretty much directly on our way to Las Vegas, we decided to make a stop here. You get a really impressive view once you survived the way up all the stairs in 40 degrees Celsius (also has a ramp for wheelchairs) and then walking onto the Hoover Dam bypass bridge.
30 Minutes later we arrived in Las Vegas with a lot of traffic into the city. We checked in to the Bellagio with rooms facing directly to the water fountains – at least every 30 minutes there is a water fountain show.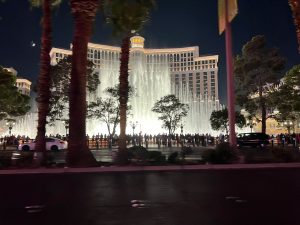 We had dinner at the Italian restaurant Lago placed inside the Bellagio building – it was very good and service very friendly.
After Dinner we had pre-booked a limousine ride with four stops through Las Vegas. The Teens had a lot of photo fun in the Limo while driving and we god a good impression of Las Vegas in the evening time.
First stop was the Volcano, where a short fire and light show takes place in the evening.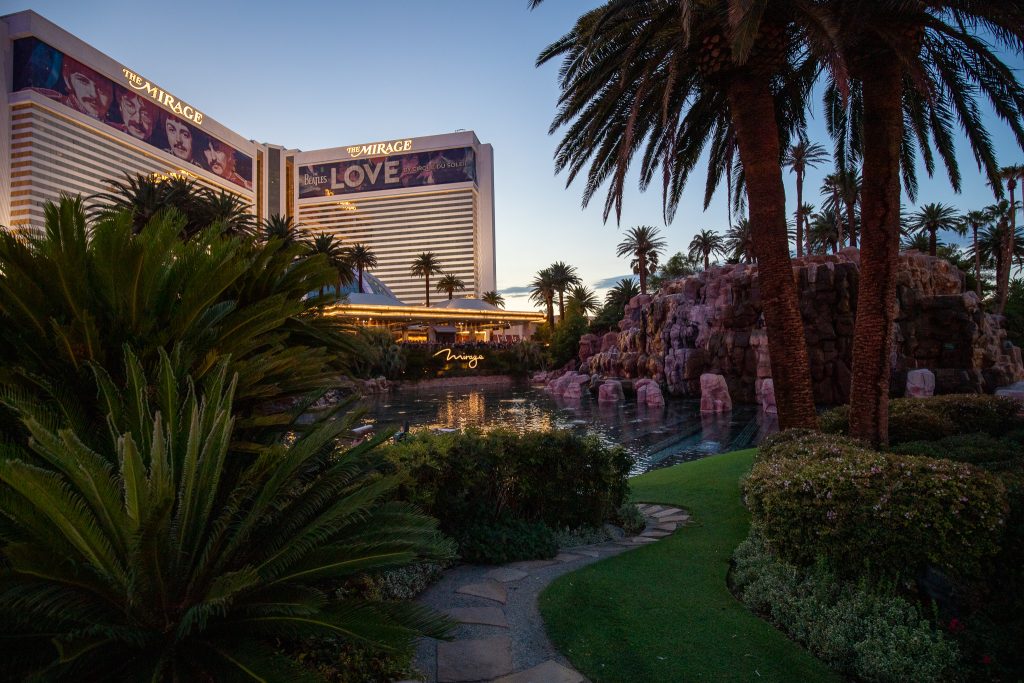 Then we headed for the Las Vegas Sign – if you want a photo directly at the sign with just you in it you will have to wait in line – we decided we were ok with one with a lot of other tourist on it 😉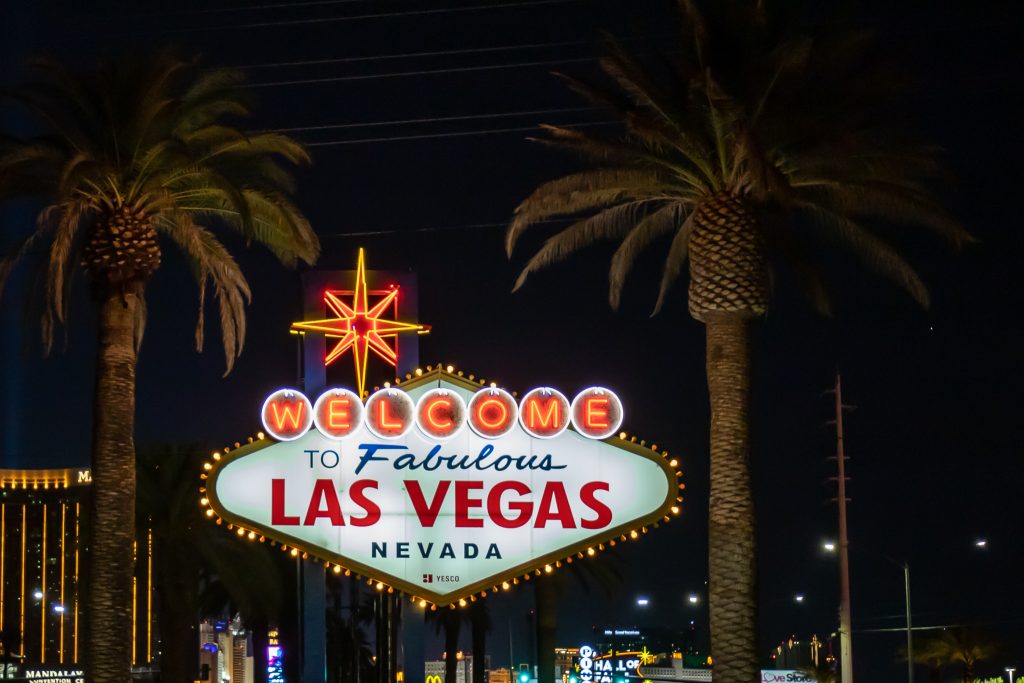 The Limo then took us to the down town Las Vegas (our hotel is placed at the new strip). This is really an experience – it is very loud and a lot of people but surely worth the drive and a thing you shouldn't miss if you want the real Las Vegas flair and see all the originally Las Vegas places as e.g. The Golden Nugget. We spend approximately a little more than one hour walking around here.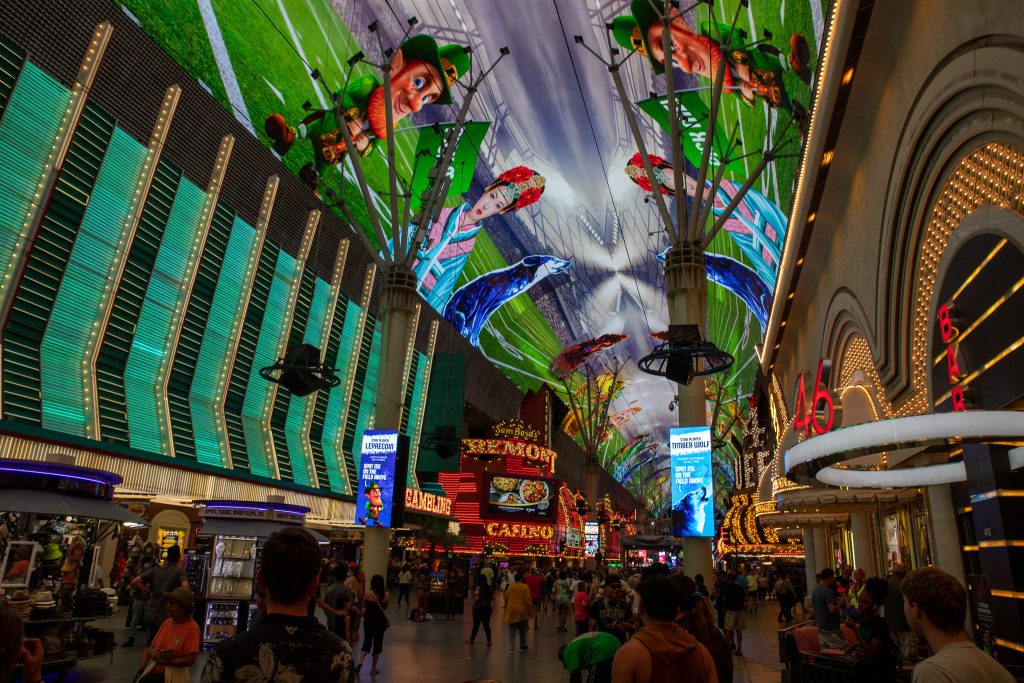 Last stop the big wheel of fortune. What we didn't know was, that the ride on the great wheel of fortune would take 30 minutes – meaning we had to decide if we wanted the ride and then take a taxi back or no ride and then go by Limo back – all a bit tired by now, we decided for the Limo so we only made some photos of the Wheel and got a feeling of the impressive size of it as we stood right below.
Arriving back at the hotel at 22:30 we watch a few fountain shows from our rooms before going to sleep.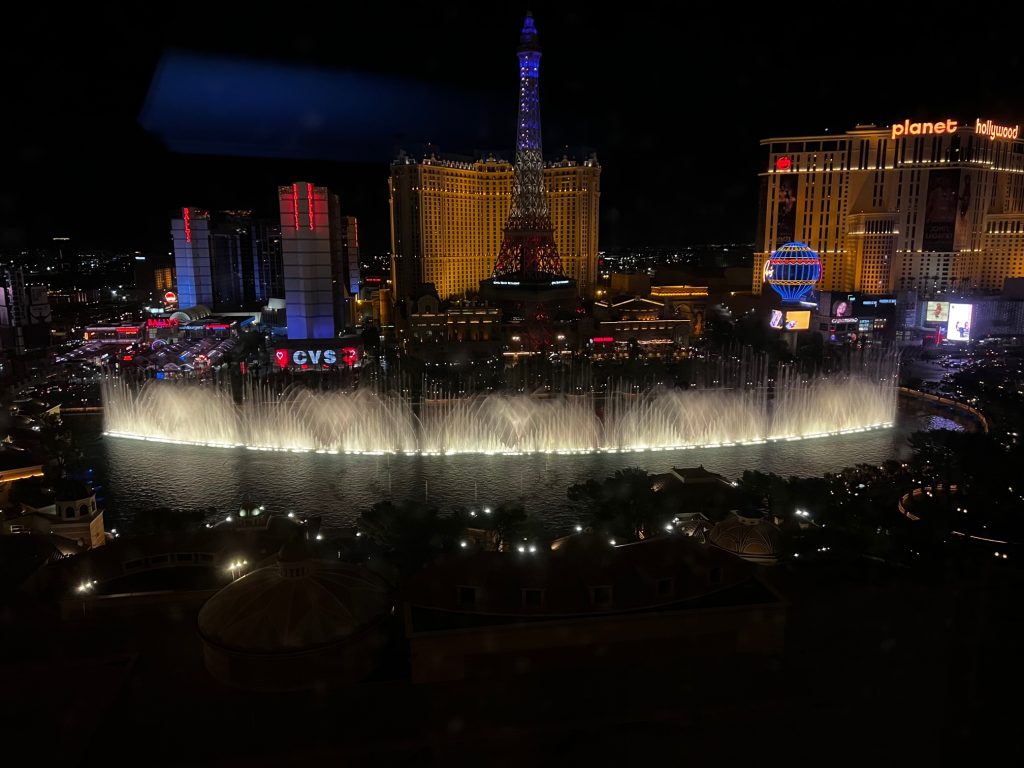 ---
03.08.2022
Today we scheduled visiting Death Valley and 1-2 ghost-towns placed there – and then heading direction San Francisco with an overnight stop on the way – but things does not always go as planned…
Starting out after breakfast we arrived to Death Valley and our first ghost town around noon – more or less in the middle of nowhere. Unfortunately, the buildings were all surrounded by fences, which was a great disappointment as we had hoped for some photo scenes here.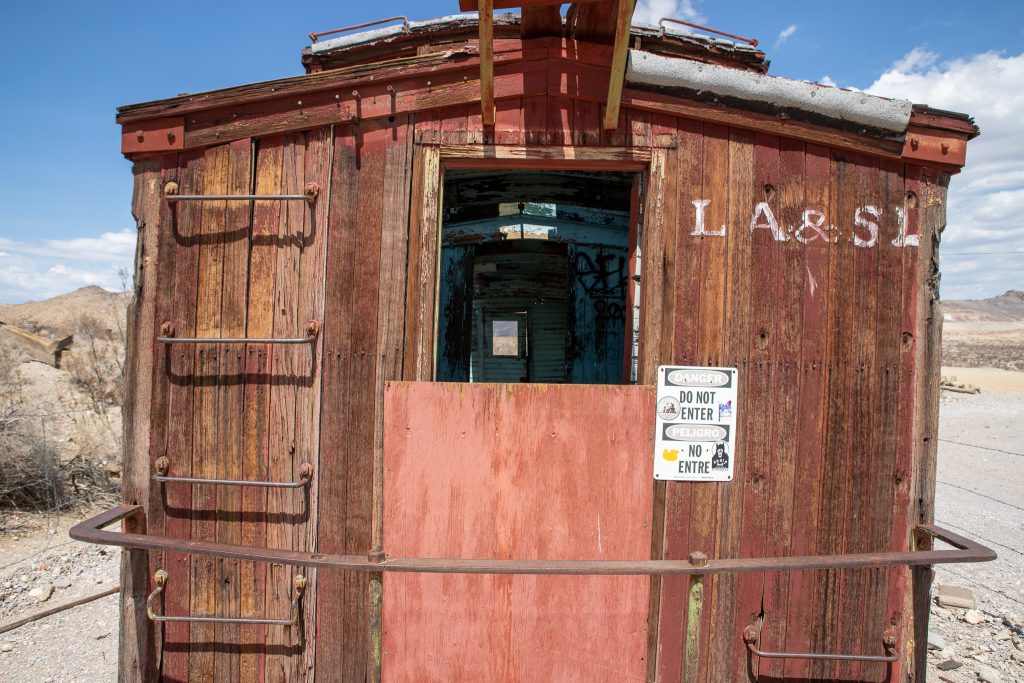 We decided to drive on to the next ghost town, which according to GoogleMaps, was only 35 minutes away and would make us leave direction San Francisco around 15:00, which fit ok into our driving schedule. After 15 minutes GoogleMaps told us to go off road and then it should be only 15 minutes' drive – or 6 miles- left. We passed a sign saying 4×4 recommended – we drive a 4×4 so no issues there we thought – which should show off to be a big mistake! After 5 minutes of driving the road became more rocks than road and there was no cell phone connection at all anymore…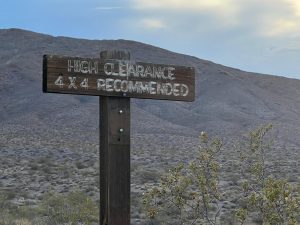 Viator and Pooh were looking for a possibility to turn around and go back, but the "road" simply was too narrow, so we had to keep on going. After 30 minutes of driving on rocks, we still had not reached our goal – the ghost town – and we were very concerned about how our way out of this area again would be – did we have to drive same route back??
According to GoogleMaps our goal was now only 1,2 miles ahead – and then we hit another rock and the sound of air whistling got very present… a flat tire in the middle of Death Valley!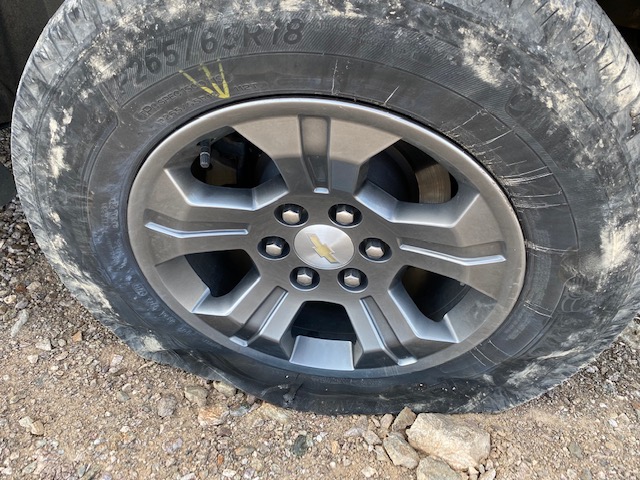 Luckily we had fuelled up the car before entering Death Valley and we did also bring a lot of water, so we were not so concerned about those two issues… a bit more thoughts were given to the cell phone connection – it was very poor, but at least it was there! We started our search for a spare tire but couldn't find any in the trunck. We then tried to call the Ranger Station but line was saying not existing…. Ok, flat tire – no spare tire – off road in the middle of Death Valley … we had to call 911 to get someone to help us out of here.
We reached 911 Nevada which, after having our coordinates, told us we were already in California so they needed to pass us on to them – California 911 then passed us on to the Highway Patrol (we had a flat tire, so made sense..) – they then found out we were very off road in Death Valley and passed us on to the Ranger Station. All very friendly to talk to, but due to our poor connection not always easy to understand. Our hero of the day became Ranger Spencer! He was very patient and even offered to bring us a spare tire if we were sure we didn't have one – we thought we were sure, but he then asked us, if we had looked UNDER the car? Eh what? No we hadn't – and he then told us the spare tire on US 4×4 can be placed UNDER the car – so we actually had a spare tire with us 😉 The next step would be easy going we then thought – changing a tire we could manage! But first we had to get the tire out from beneath the car –and that wasn't so easy for stupid European tourists 😉 Luckily our new best Ranger friend had given us his direct line, so he tried to instruct us on how to use the wire system (the spare tire is fixed with wire, which have to be lowered) – he ended up sending us a link to YouTube and now things moved forward! The kids had sat down on the ground equipped with water and we got the tire changed and now were ready to try to get out of this place, where the temperature luckily "only" said 97 degrees Fahrenheit (36 degrees Celsius).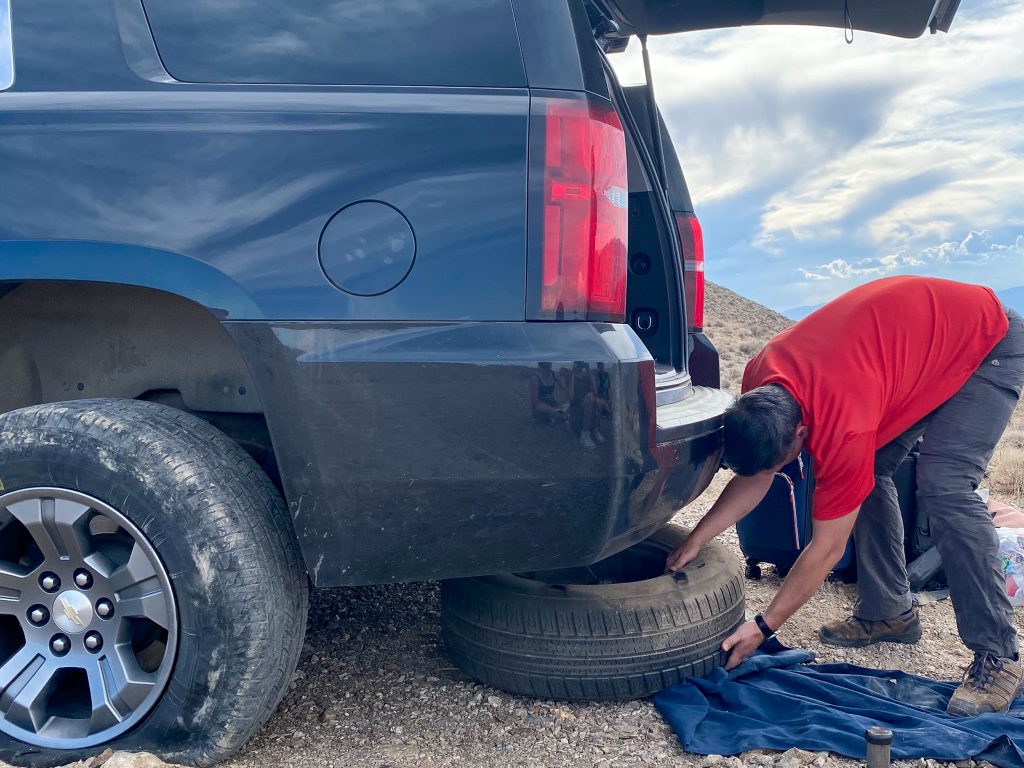 Ranger Spencer told us which route would be the best way out, and I can only say, if that was the easiest and less rocky way out I am really really glad we did not go any other way! GoogleMaps said 7 miles and after 30 minutes is still said 4,5 miles! The "road" was so rocky that Pooh several times had to walk in front of the car to figure out, where it was possible to drive over or where to go around the rocks. Also time slowly became a concerning factor, as the sun would go down in one hour! The last 4 miles thank god were only small rocks an ok to drive, but I think we all five were very very happy to see a real paved road after 3-4 hours in Death Valley. Delighted we could send a sms to Ranger Spencer – as he asked us to do – and say we were back on save paved road again.
We stopped for dinner in Beatty at a – for us – real authentic American little barbeque and then decided to drive 1,5 hours to Tonopah – there should be three tire stores and we would also catch up a bit of our delayed schedule. At 22:40 we checked in at a classic American motel – very exhausted and happy to be out of the dessert and in a bed for the night – no ghost town but enough adventure for this trip 😉
---
04.08.2022
As we now were delayed 3-4 hours, we had a long day on the road in front of us – but first we had to find a place to get a new tire! After trying two places, which were closed, we found one that could help out – luckily they got a tire in stock and could change it immediately. During their worktime, we went up the road for breakfast.
At 10:30 we were then ready for 7,5 hours driving time – meaning 10-12 hours on the road wenn including stops for lunch, dinner etc. Originally we had planned for some larger stops in the Yosemite National Park, but now agreed on driving through – only with a few short stops – and trying to reach San Francisco no later than 22:00.
We had a beautiful drive through Yosemite. We also got some rain but most of the time we could enjoy the beautiful landscape.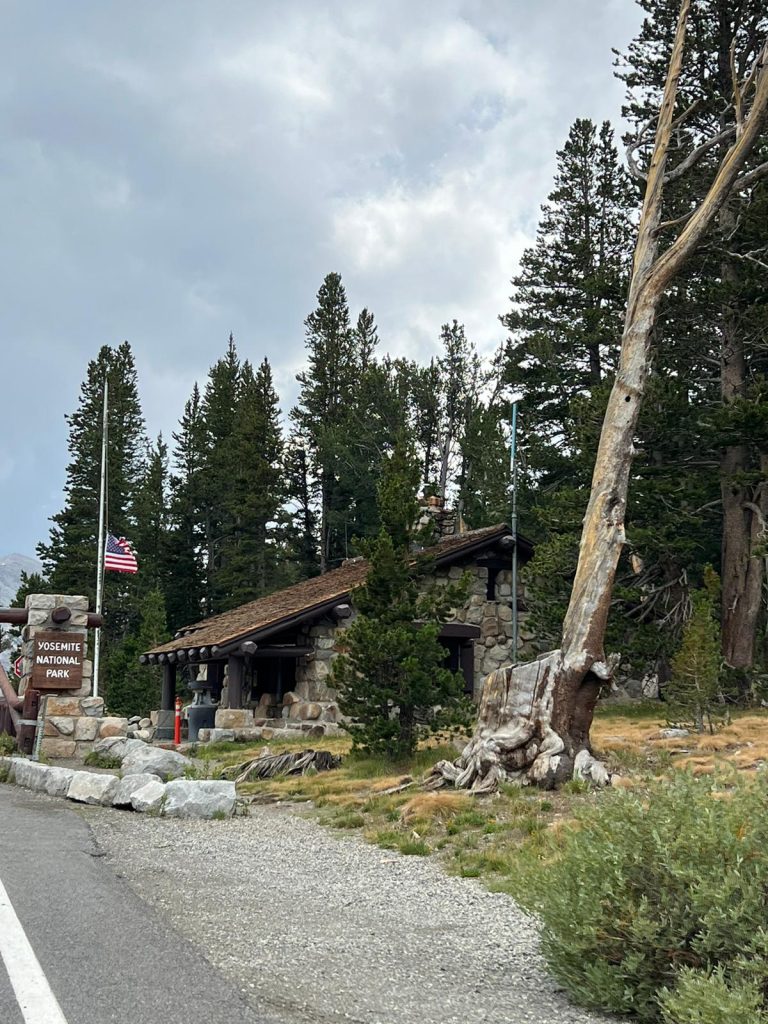 Our plan worked out well and at 21:15 we checked in in San Francisco.
---
05.08.2022
Today we will be tourists in San Francisco 😉 We had booked an Alcatraz tour at 10:30 and after a great breakfast we took an Uber to Pier 33, where the boat to Alcatraz departs from. Weather was good – sunny and 18 degrees Celsius – for us a bit cold after being used to 35-40 degrees Celsius 😉 The trip with the boat takes 15 minutes, but you have to pre-book in good time, as they are fully booked months ahead!
Alcatraz is very fascinating and one of the few places – so we think – where the audio tour is really good! It takes you through the cell blocks and their history, told by former inmates and former correctional officers.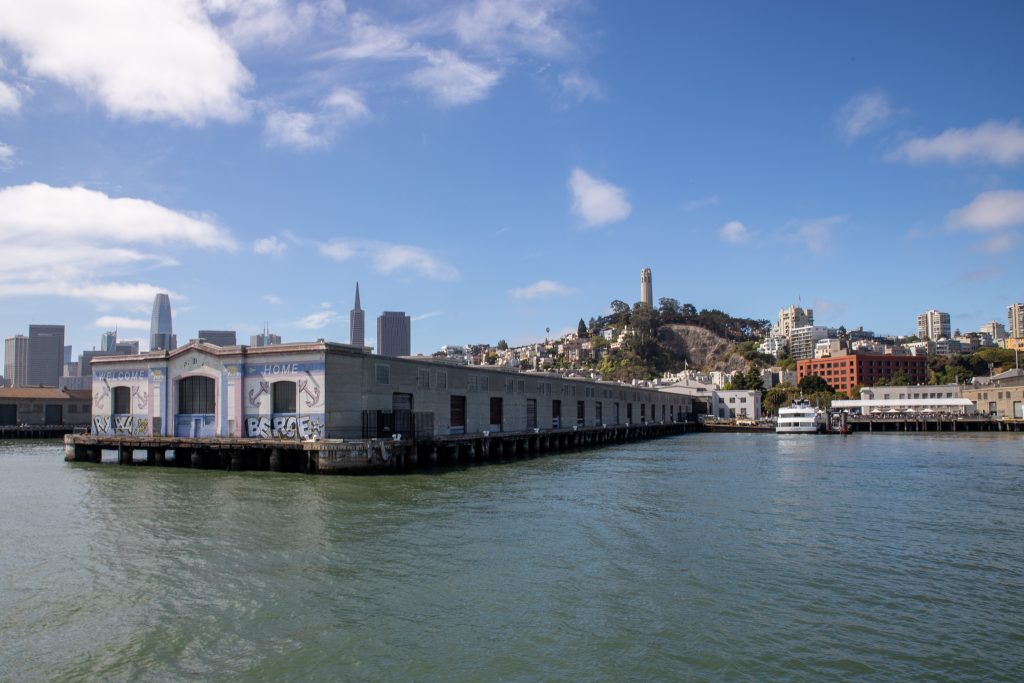 After arriving back at Pier 33 we walked the short way up to Fisherman's Wharf to get an impression of this famous area. Here you will also find a Fleet Submarine and a large Liberty Ship from World War II.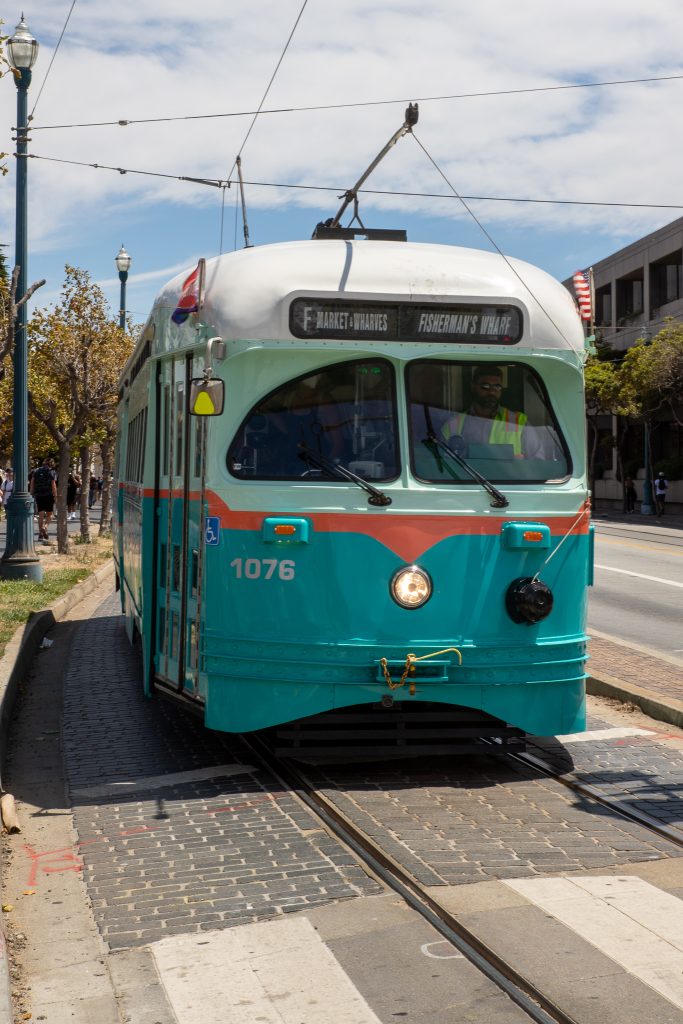 The late afternoon we spend in our hotel resting, before we headed out for Union Square at 18:00 to do some shopping before dinner.
After a late dinner we headed for one of the famous cable cars for the ride back to our hotel.
---
06.08.2022
After Alcatraz yesterday we are now off for the City of San Francisco.
Our first stop after our luxury breakfast is Lombard Street. If you like films you will know this curvy little street – it had to be made curvy as it was too steep if made straight.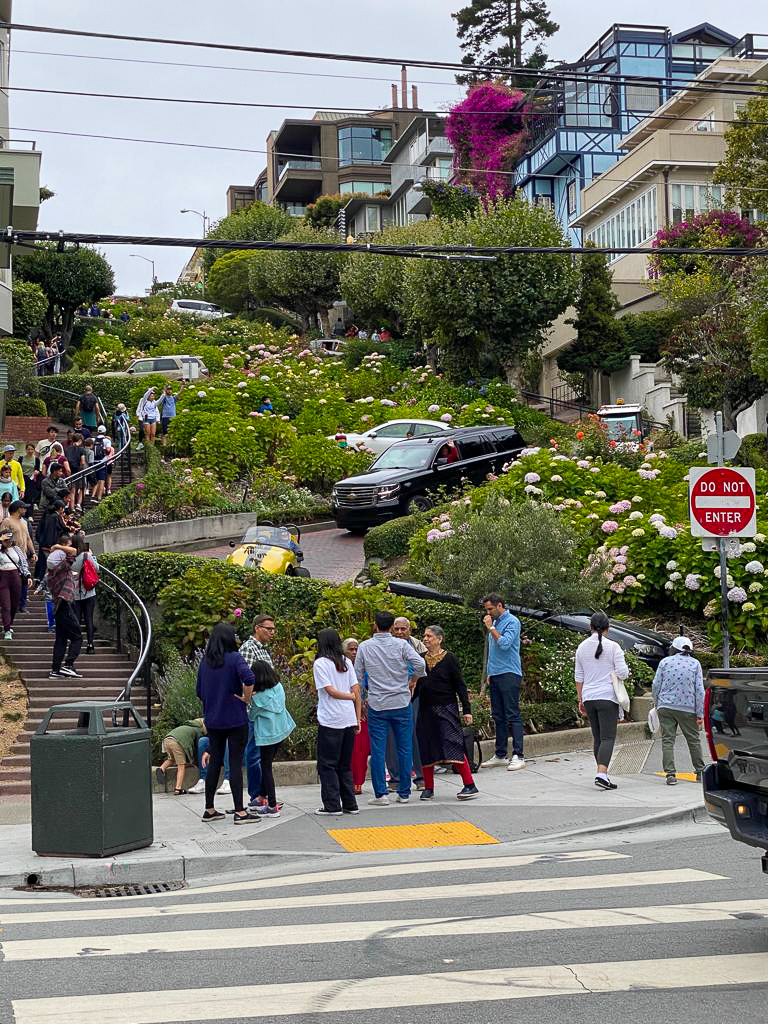 Next stop Twin Peaks. The highest point in San Francisco with a beautiful view of the city.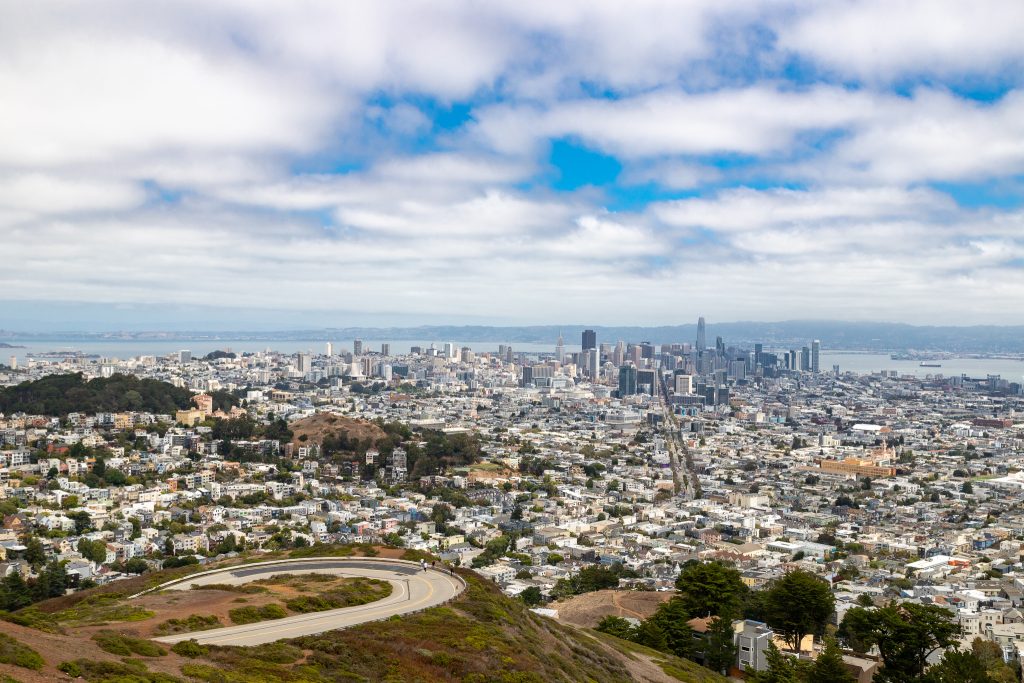 Last stop, after a short break at Ocean Beach Park, is of course the famous Golden Gate Bridge. The classic view point was over crowded so we decided to drive through to a view from below. The sky had cleared up a bit so we were able to enjoy a sunny view of the Golden Gate and also spotted a sea lion in the harbour.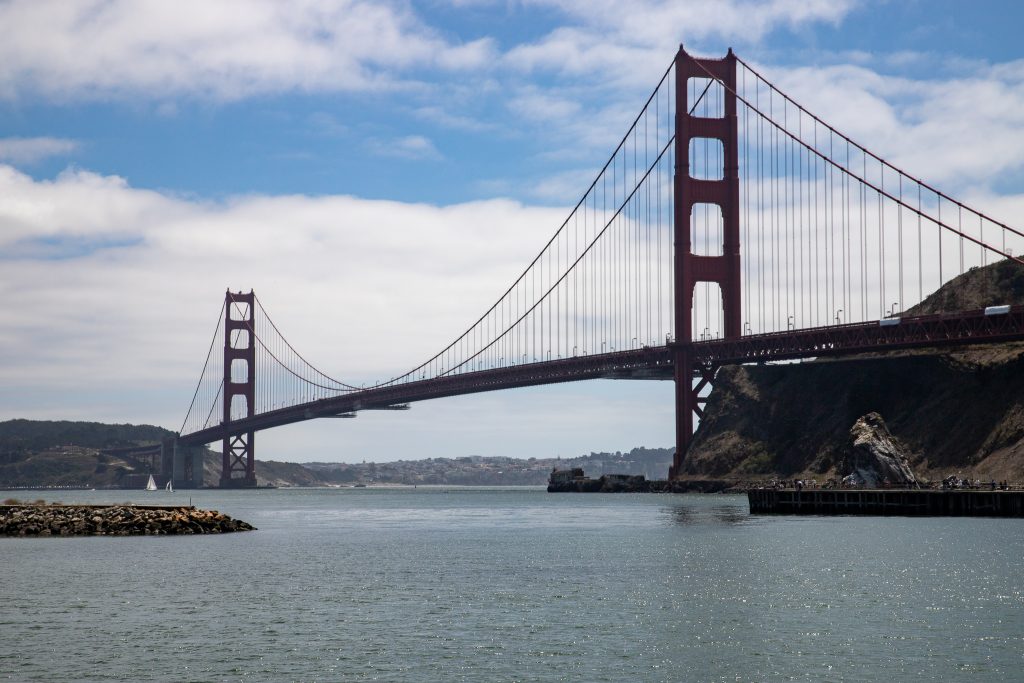 After a couple hours of rest in the late afternoon we headed out for dinner in China Town, which was only a short walk from our hotel – even 10-15 minutes can be very tough in San Francisco if uphill 😉 but it is worth walking as you will get another feeling of the city. San Francisco has the largest China Town outside of China.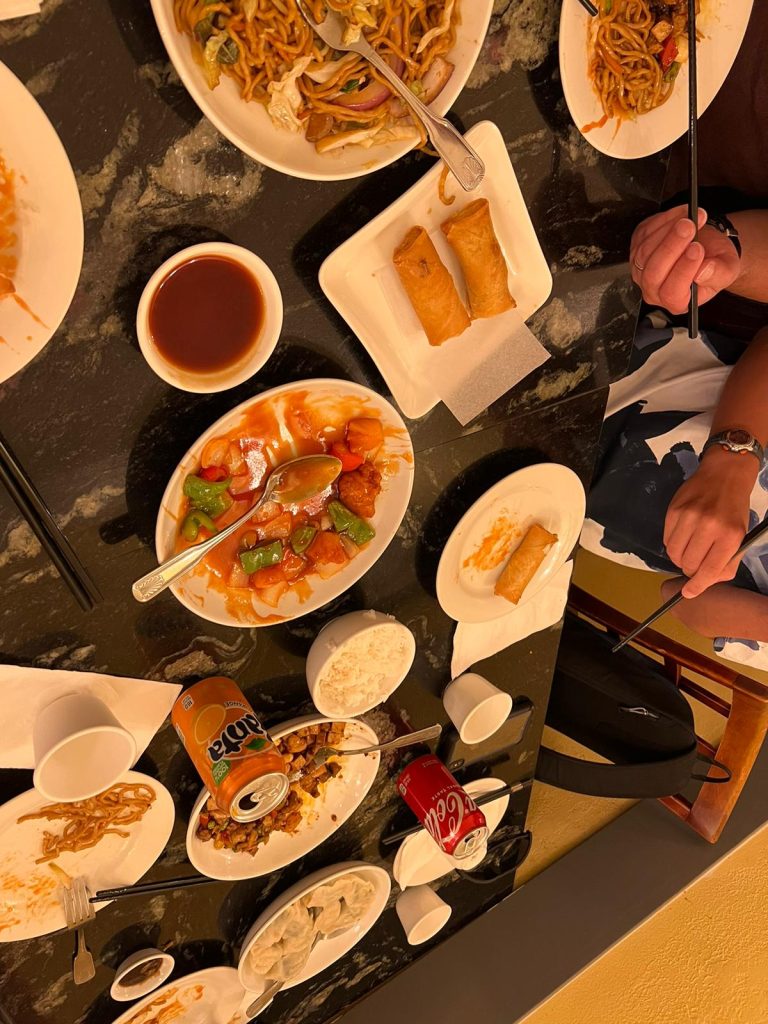 Back at the hotel we wanted to stop by for an evening drink at the famous Tonga Bar, but that was totally overcrowded so we headed for our Suite where we ordered refreshments through room service instead and played some rounds of cards before going to bed.
---
07.08.2022
Highway 1 – here we come 😉 We are now heading direction Los Angeles on the Highway 1. This famous scenic route is supposed to be be one of the most beautiful in the US. Our first part we knew would not be the main scenic part and we only made a few stops – for example to see pelicans 😉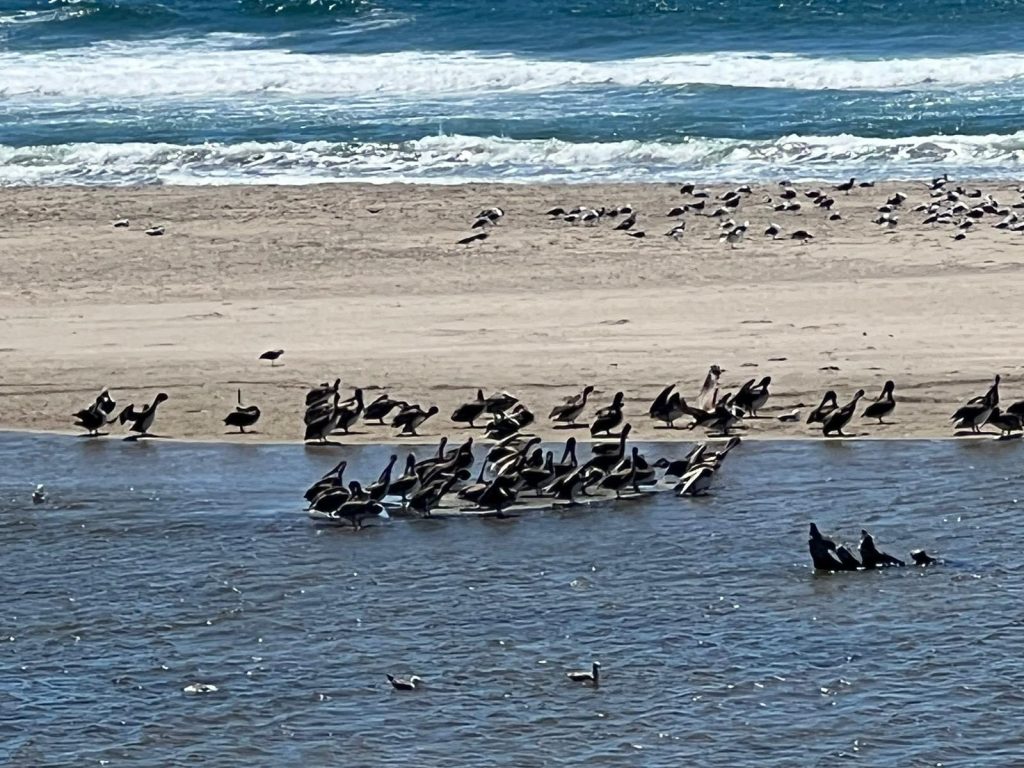 We decided for Monterey for our overnight stop. This is a nice little town with a lot of flair and a nice beach – even though it was pretty windy as we went there.
There are a lot of small dinning places and candy shops in the harbour area of Monterey, so you can simply drop in where you like. We had some fun time before dinner hearing! and watching the Sea Lions which live here in the harbour.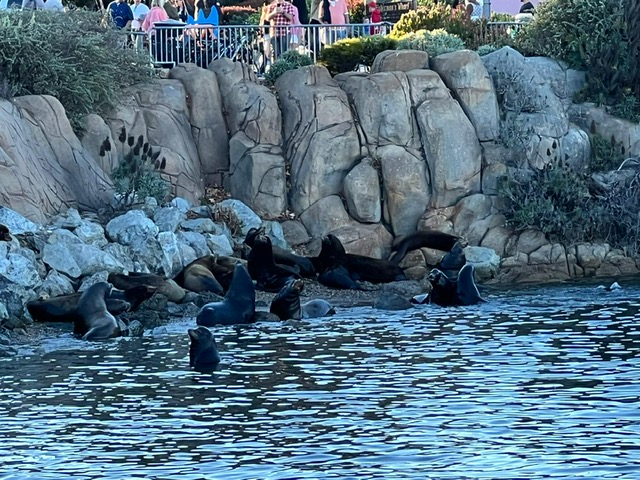 ---
After breakfast at McDonalds we started out for the rest of the Highway 1 planning on reaching Los Angeles late afternoon. This part of the route has a lot of scenic stop possibilities so you either need to pick out some of them or plan a lot of time if making them all 😉
We went for the 17-Mile Drive Tour with the famous golf course at Pebble Beach and here we met some really curios squirrels, saw a lot of pelicans and sea lions and had some deer crossing the road and grassing on the the golf course.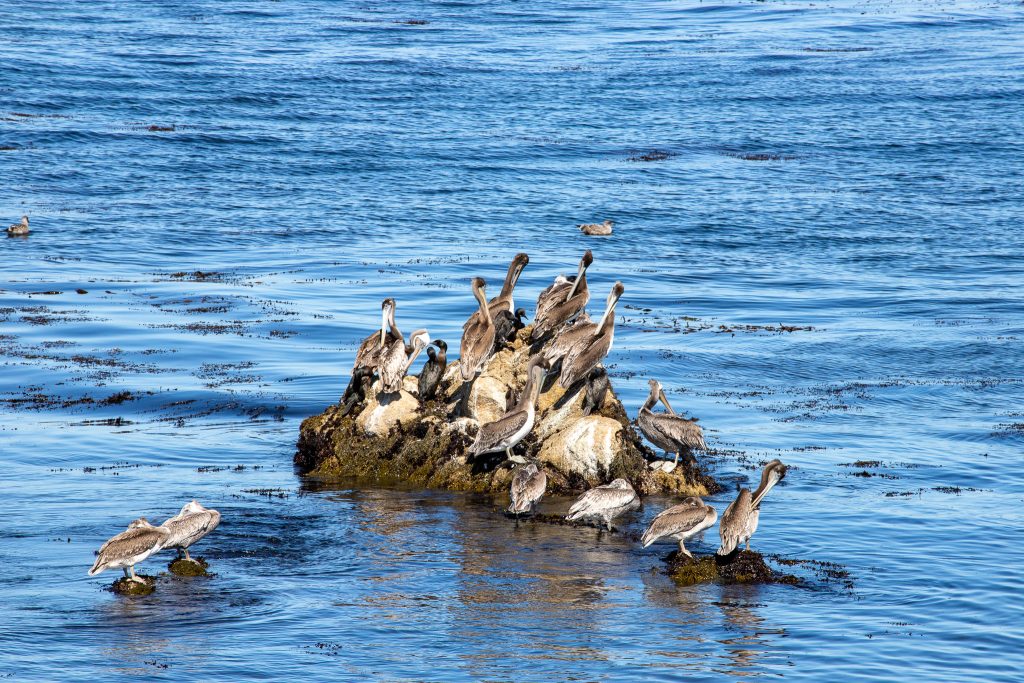 Driving further along the Highway 1 we reached "the Golden Gate of Highway 1" – a famous bridge in wonderful scenic surroundings.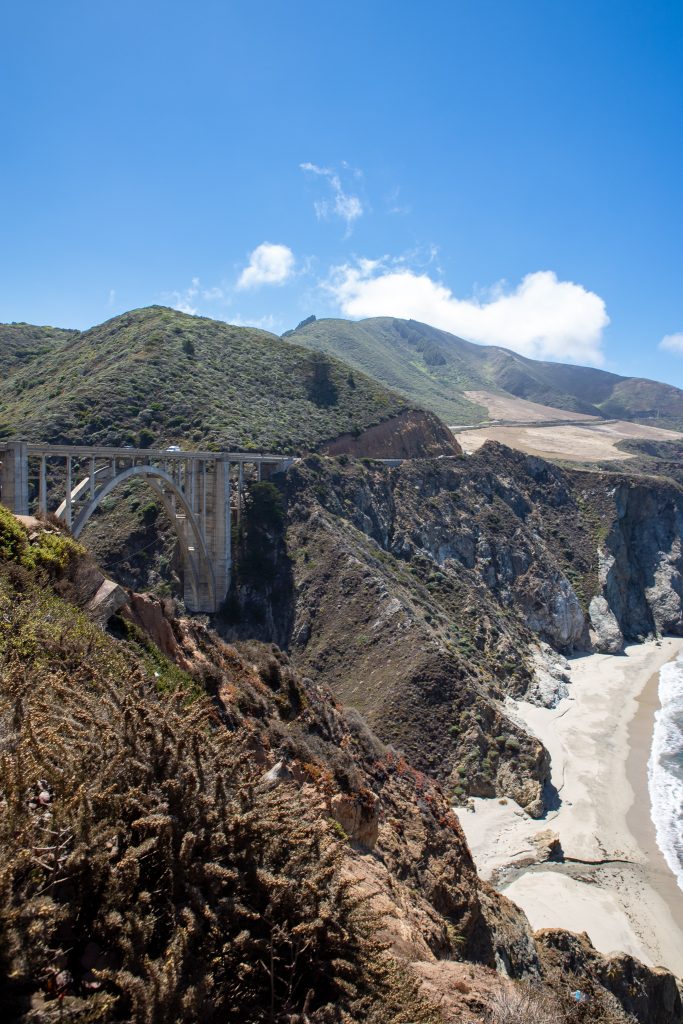 In general, this part of the Highway 1 has really really fantastic scenic views but be aware that it is really curvy and takes a lot of time to drive – we made only almost 100 miles in 4 hours! Also notice that there are only very few possibilities for buying food or refreshments, so be sure to bring enough. After 4 hours a little café – Whale Watcher Café – is showing up and here everyone seems to stop for lunch – and so did we 😉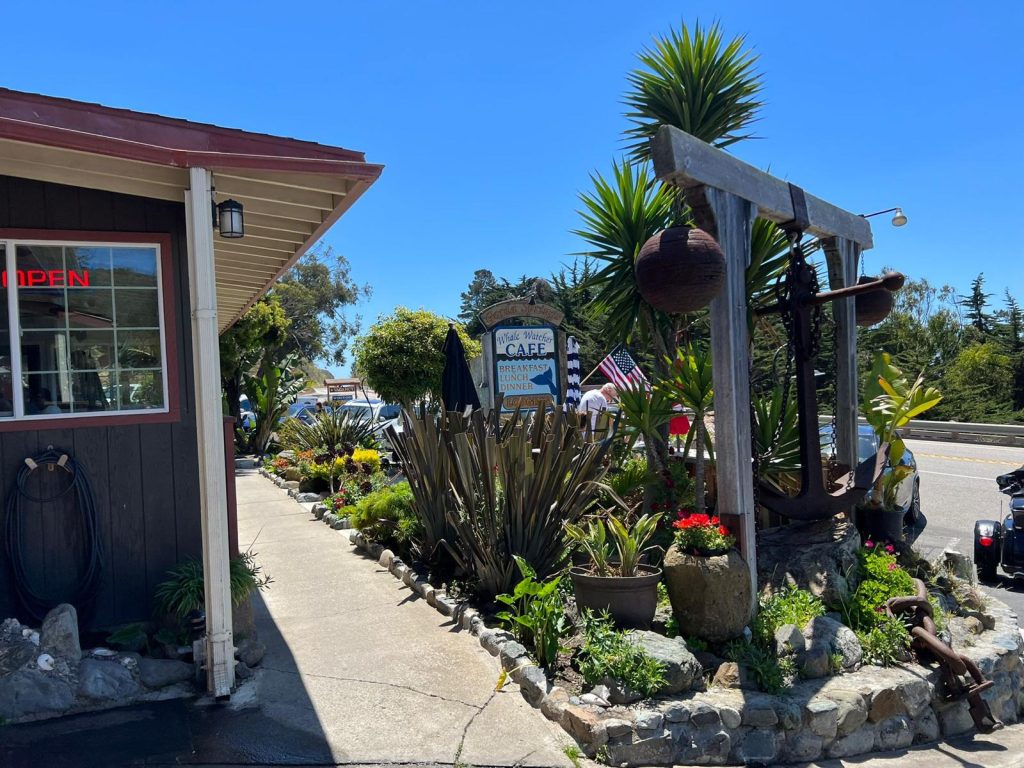 Back on the road we made our last stop on the Highway 1 to watch Elephant Seals. Due to the underestimated driving time on the scenic route, we decided – after almost 150 miles on the scenic Highway 1 – to head for the regular highway for the last 280 miles, in order to reach Los Angeles this evening.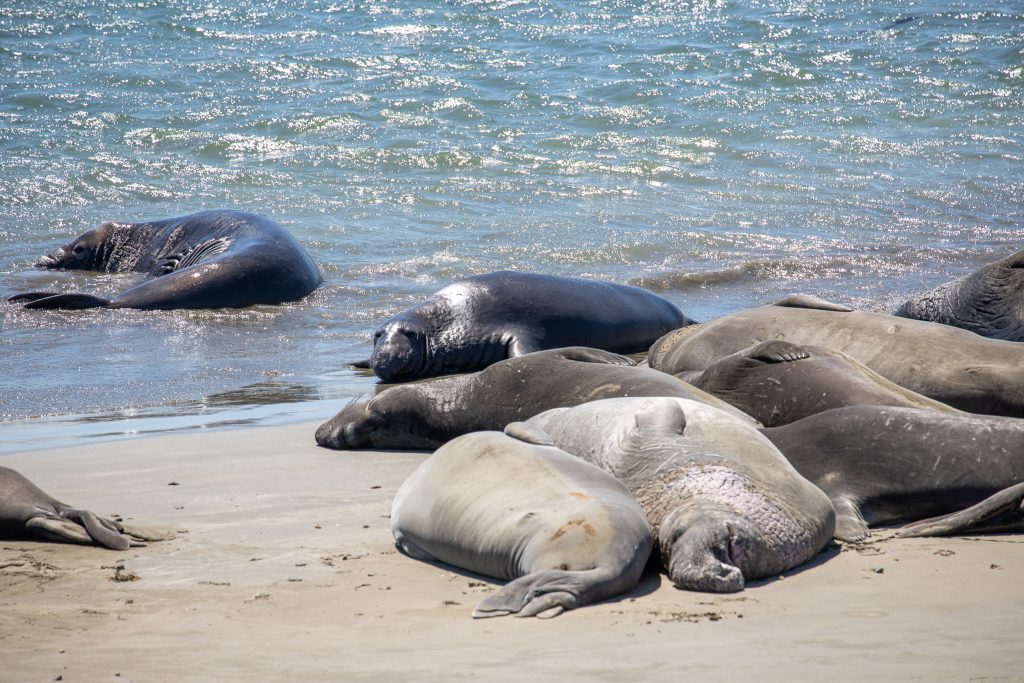 At 20:45 we had reached our final destination of our road trip – Los Angeles. Looking forward to explore the city and surroundings the next couple days.
---
09.08.2022
For today we had made an appointment with Jörg from AbenteuerLA – he would take us through the highlights of L.A. – it was a lot of "driving by" and only a few stops at significant L.A. spots. We will list the stops first and at the end you will find a collection of sites passed on the go.
First short stop was at a large wall-art.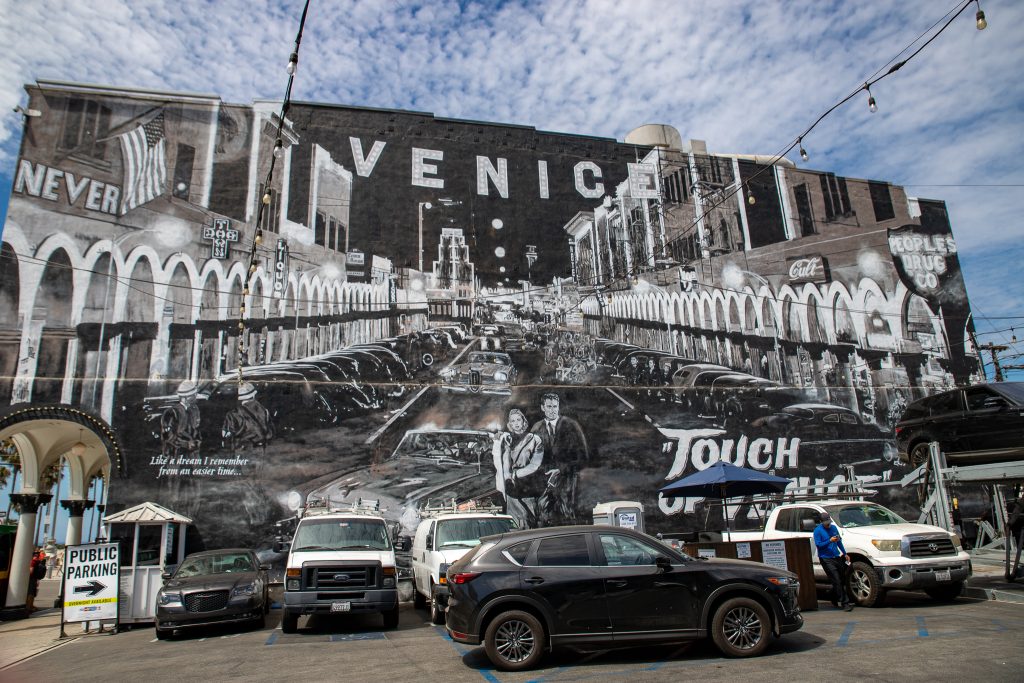 Venice Beach was the first longer stop – here the skateboarding was developed by some surfers hanging out – so you will find a very famous skateboarding ground here, where you can spend a lot of time simply watching skaters practice 😉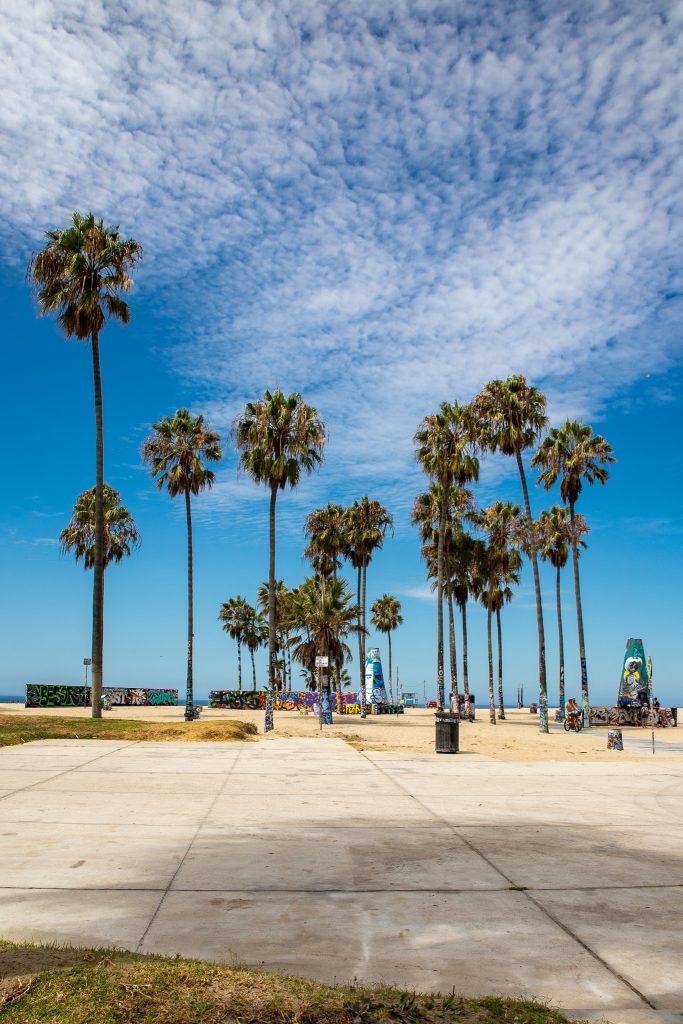 We then were lucky and had the possibility of going over a few of the original bridges in the Venice Historic Distric – crossing canals from back as Venice Beach really had water canals – due to the drought the canals were very low on water.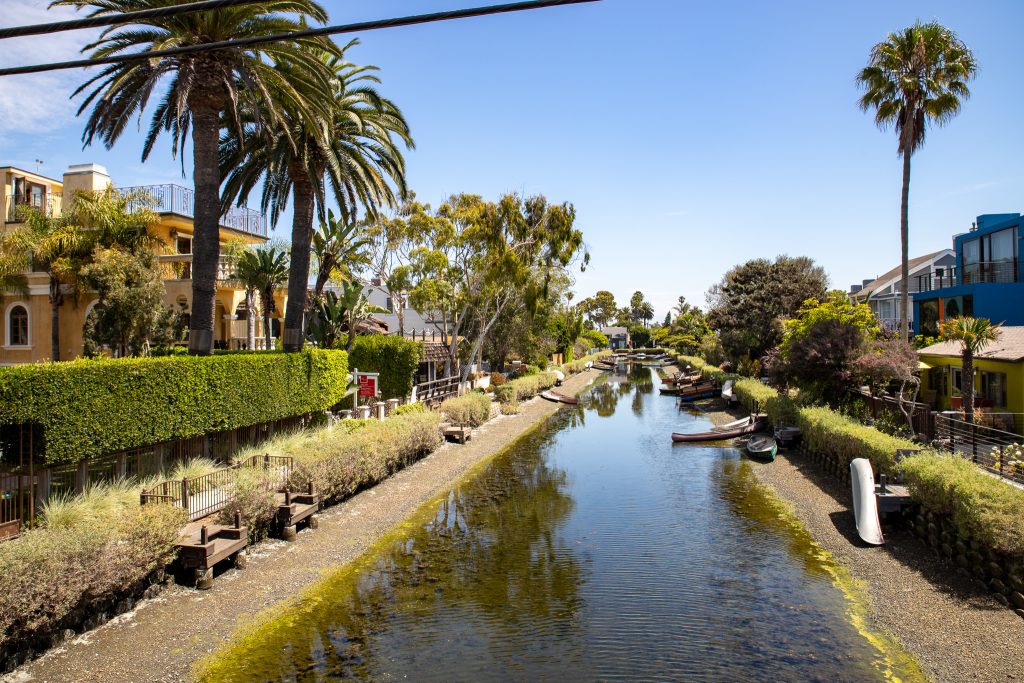 Then we went by the area where the original studios of MGM placed. It was then bought by Colombia Pictures and today it is owned by Sony. According to Jörg the pre-show of new films is still showed here to decide if they will go on with production or not.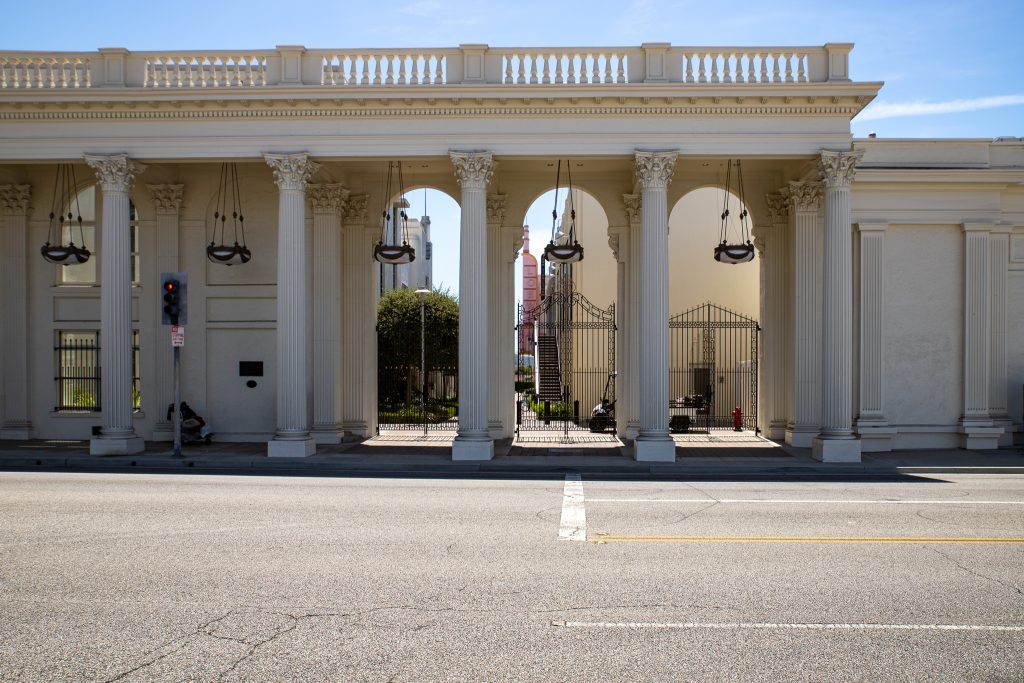 Next stop Los Angeles Memorial Coliseum where two Olympic games were hosted
On the other side of the same parking spot you also find a Blackbird from the US Airforce.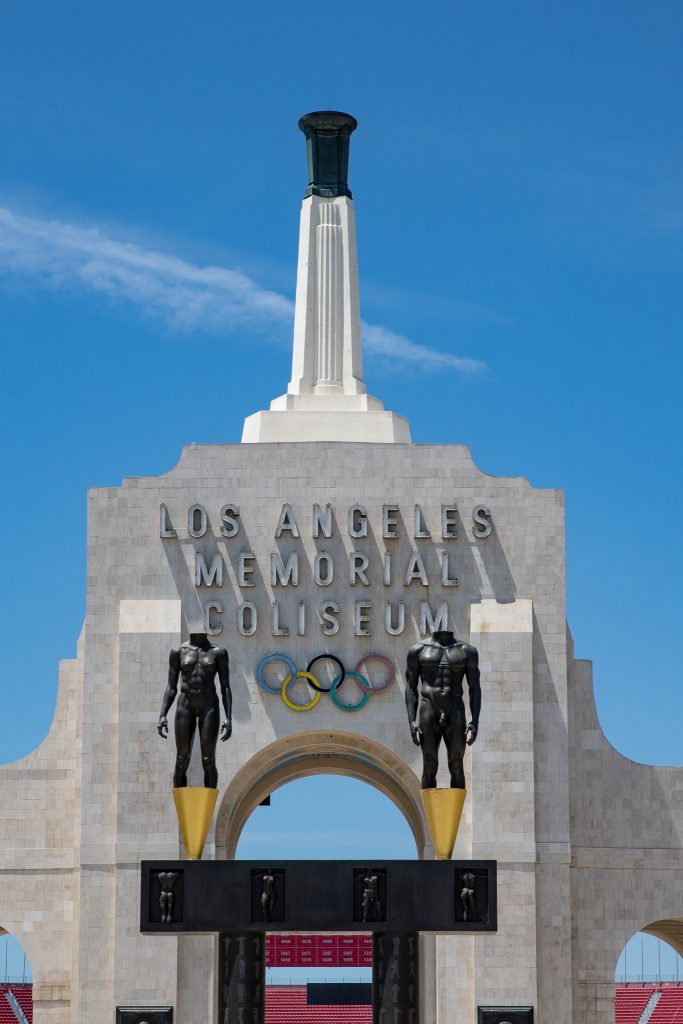 Our lunch stop was placed at the memorial for the founders of L.A. which is placed right in front of the Union Station. At this small Mexican place, we also got Mexican soft drinks – these are limited for sale in Mexican restaurants and eateries – they only use the cane sugar for sweetening – taste is almost like the original – a bit less sweet. In this area you also find the oldest house in L.A.
Of course we also went into the Union Station – we needed the restrooms 😉 – it is a really unique train station and it is often used in films.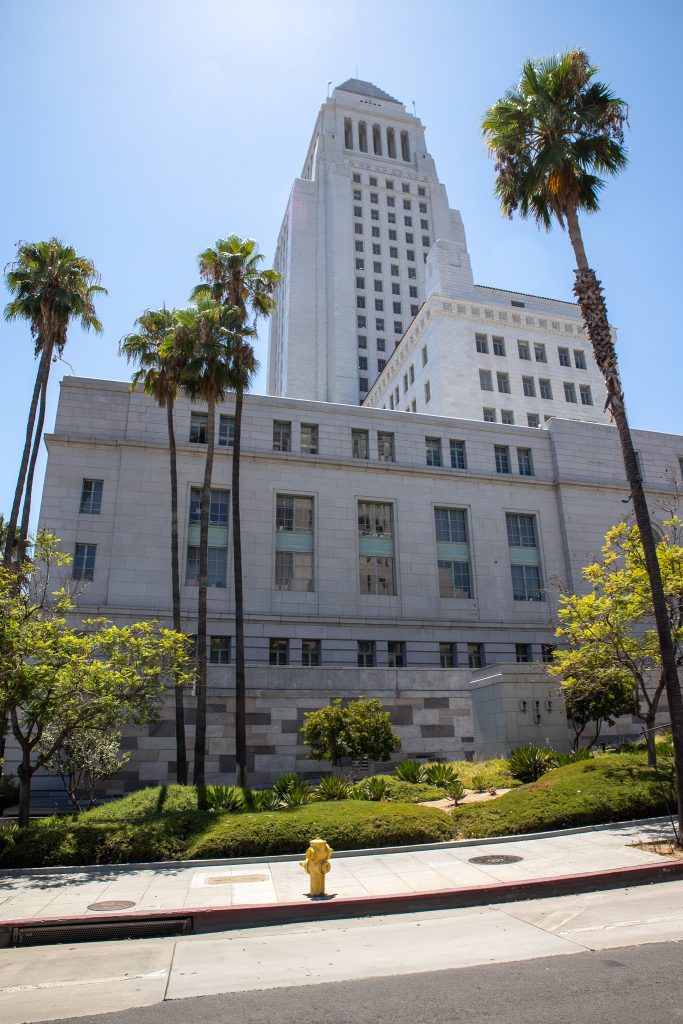 Next stop – the Walk of Fame 😉 It is always fun to walk this street and look at all the stars in the ground – remember also to look up so you don't miss the view of the street itself 😉 For us, especially the part where the foot- and handprints are placed in the ground, were real interesting.
There is also a spot where you can see the Hollywood sign and make photos – even though it is very far away you can have some OK photos here.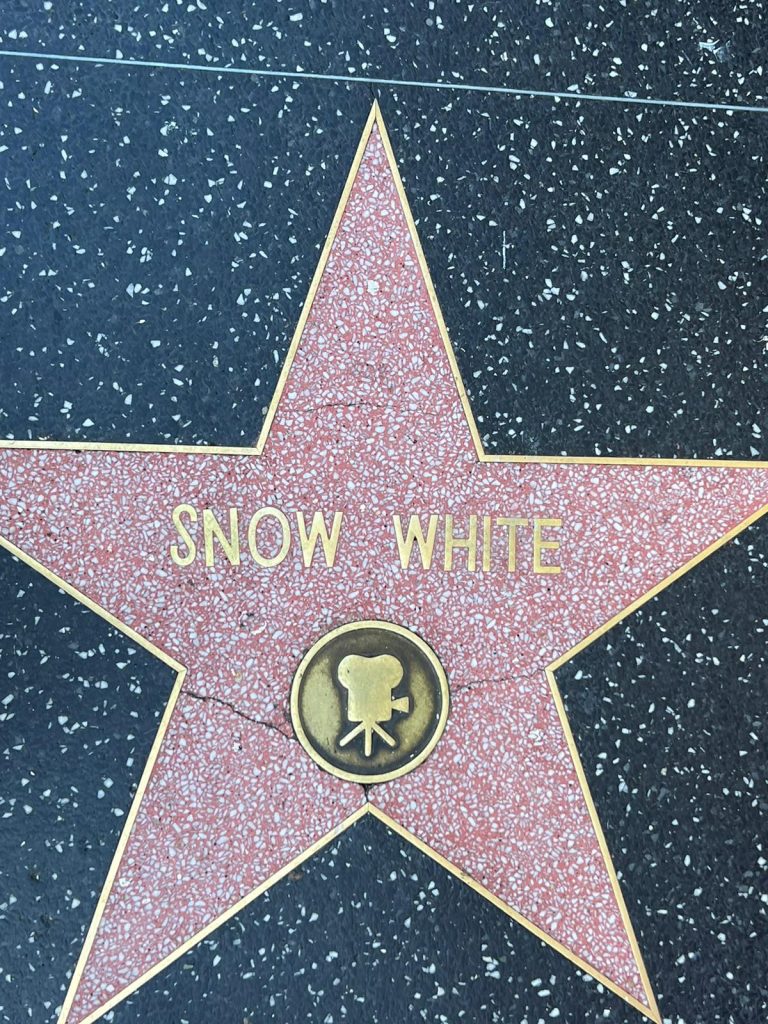 We then drove through Beverly Hills for a feel of these huge Villas placed here – Jörg also showed us where the Presley Villa is placed and told us that Michael Jackson had lived just on the other side of the street, as he bought it in order to live near his great idol Elvis Presley.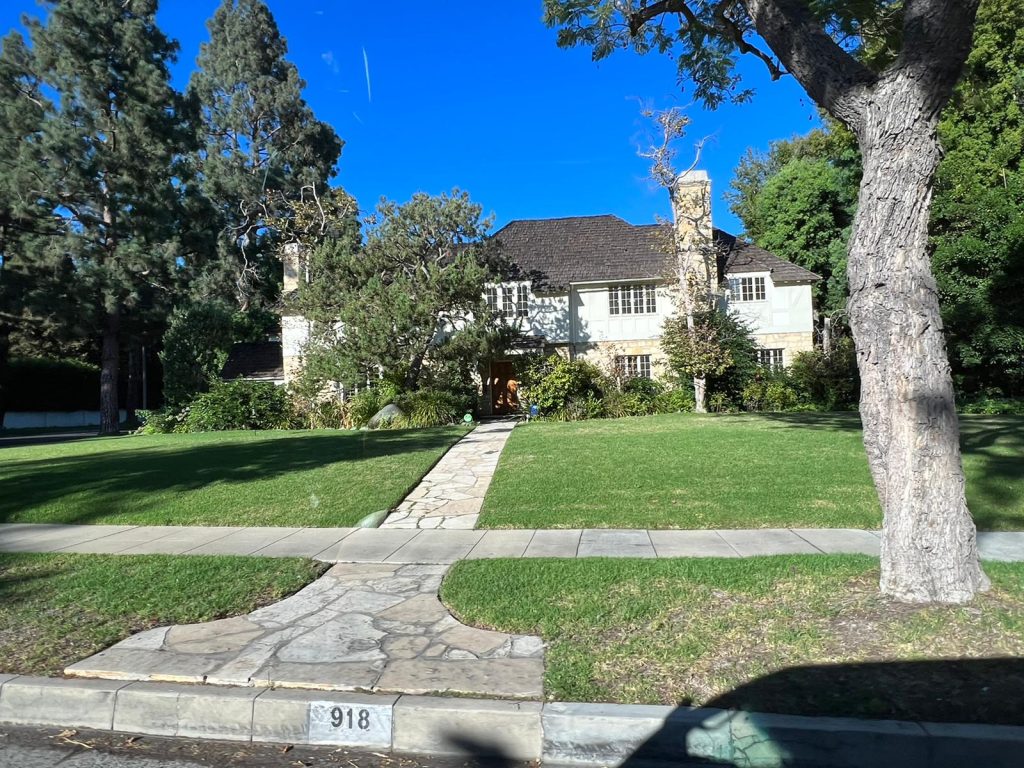 Our tour ended back at Santa Monica – right beside the Pier, where we also started. From here we went on by ourselves, heading for dinner. We made a stop by the real end of the Route 66 and found a dinner spot placed just on the other side of the road.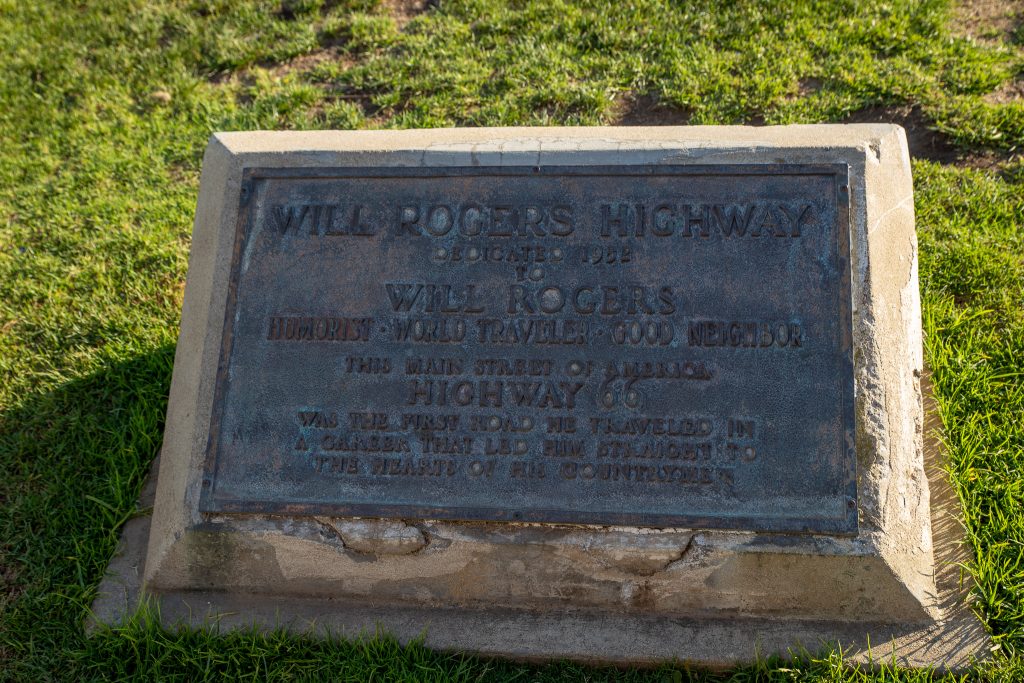 As mentioned you pass by a lot of interesting places when driving through L.A. – old theatres, universities, museums etc.
---
10.08.2022
Today we had a complete relax day – went off for Venice Beach at 14:00 and enjoyed beach life until 18:30.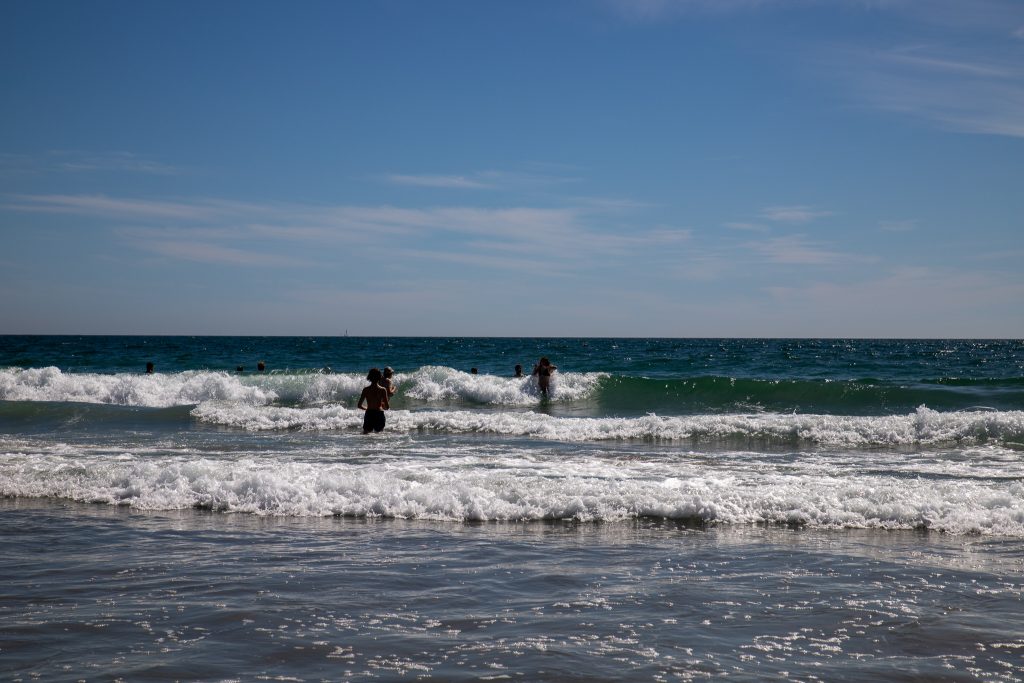 Then heading for a mall for dinner and some shopping – note to self: 1½ hour is not enough time for shopping in a mall!
---
11.08.2022
Trip for today – Universal Studios J  We had book the VIP experience, which was a very good decision! We had a very hot day – around 95 degrees Fahrenheit – and if we had gone in regular, there were lines with waiting times from 30-90 minutes!
The VIP experience takes you through the park, the rides and behind the scenes in a small group – we were 12 persons. You go in the express line for the rides, so almost no waiting time. Be aware that some of the rides are not recommended if you have trouble with loud sounds or dizziness. This also is relevant for some of the features on the Studio Tour – ask your guide if you are unsure if a ride/feature fits for you.
Below you find a photo recap of our day in Universal – ending with dinner at a sports grill placed at the City Walk on the way out of the park.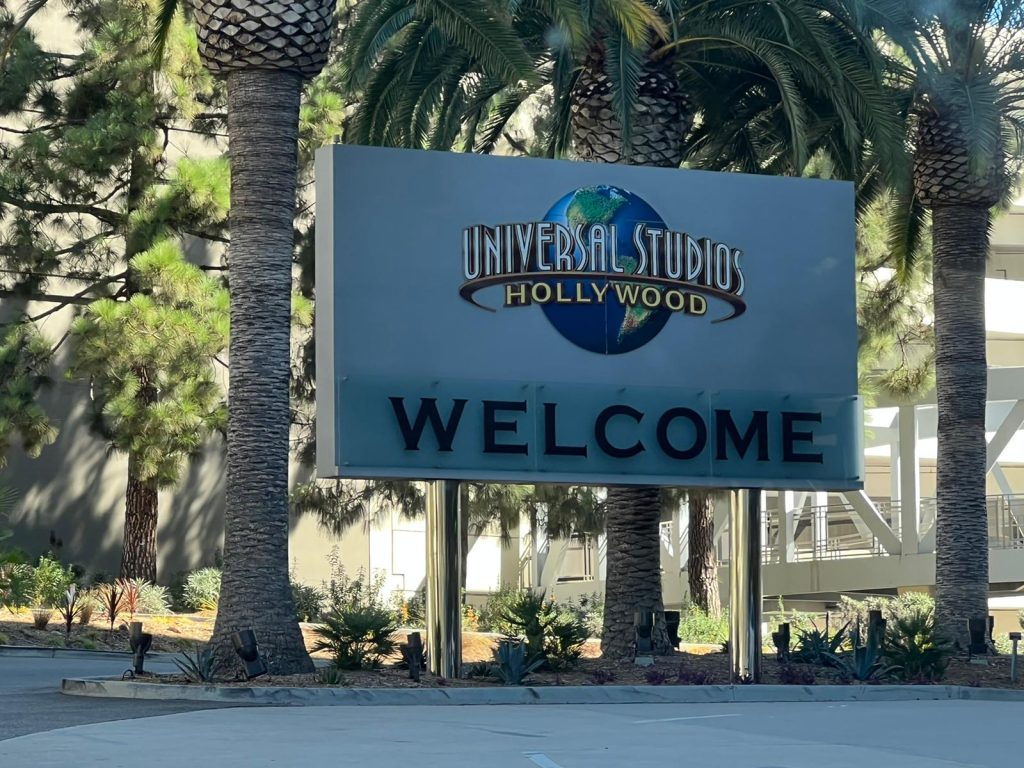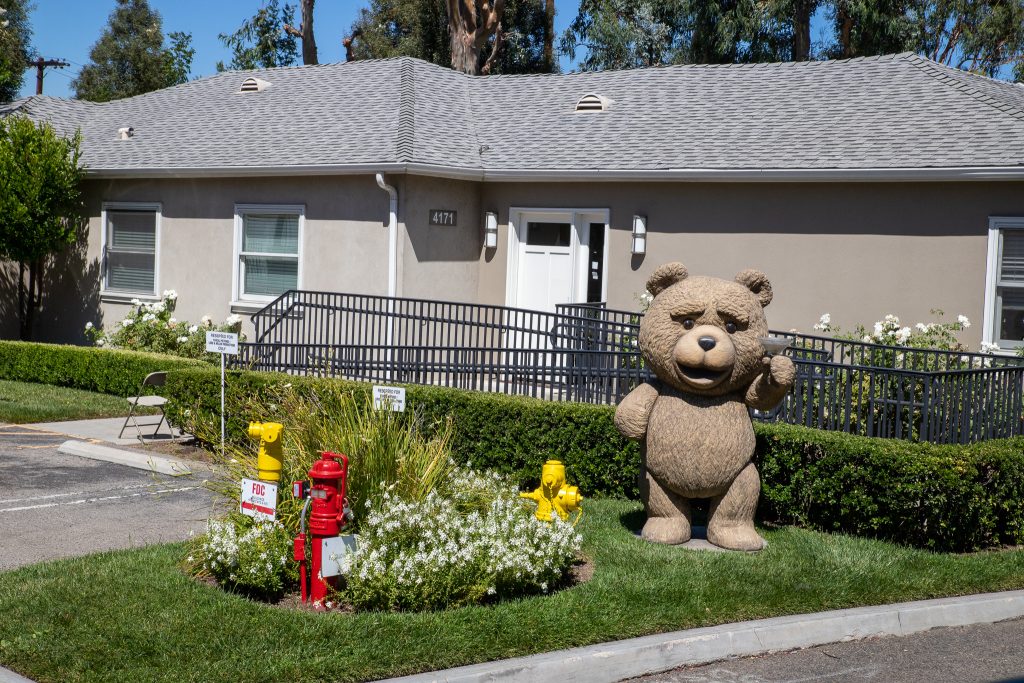 ---
12.08.2022
Last day in L.A. we spent with relaxing and packing – before heading for the cinema at 18:40 we made a stop at the Santee Alley – an outdoor flee market known as the Fashion District. Then a short stop – 1 hour – at a Mall for the last shopping experience.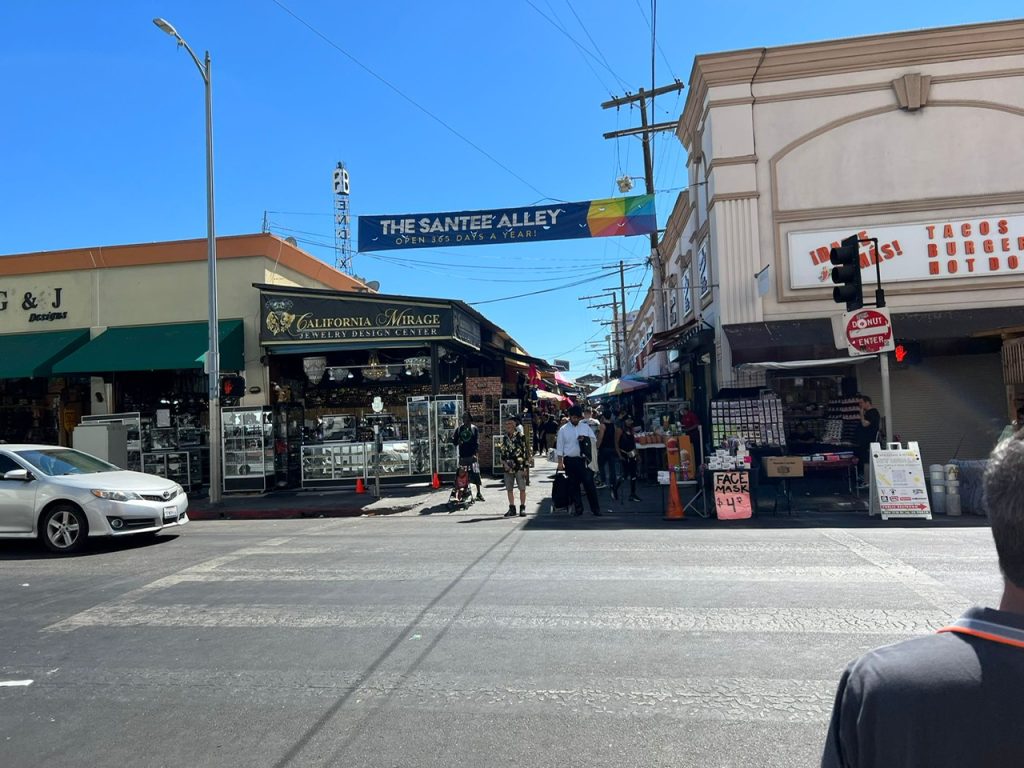 After watching "The Minions – the rise of Gru" at the cinema in Universal Studios, we had our last classic American dinner – Taco Bell and Pizza Hut 😉 Then heading home for the last packing before going to sleep – we have to leave early tomorrow morning as our flight from L.A to Houston leaves at 8:15.
---
13.08.2022
After driving 4478km we are going home! LAX-IAH then IAH-FRA then FRA-HAM. Unless something spectacular happens on the trip home our travel blog for the US ends here. We hope you enjoyed following us and hope to see you back here on the blog when we are going on our next trip. Thank you for following us.
Pooh and Viator