11th July 2019 – Rio de Janeiro – day temperature 26°C
After a long flight from Frankfurt to Rio de Janeiro (11 hours), we arrived at 5 a.m. local time in 14 degrees Celsius and darkness. Our tour guide for the next two days picked us up at the airport, and after a short stop at the hotel to drop off our luggage and change for shorts, we went off for our first day in Brazil.
We started with our first local breakfast at a nearby bakery. You simply fill your plate with what you like and pay by weight. We had some very delicious warm sandwiches with ham and cheese, mini quiche Lorraine, some sweet pastries, coffee and iced tea. Then we headed for the Cristo Redentor (big statue of Christ) where we arrived shortly after opening at 8 a.m. Remember a pullover, as it is still pretty windy and cold at that time of the day. Big advantage of arriving early is that almost no other tourists have found their way up here yet 😉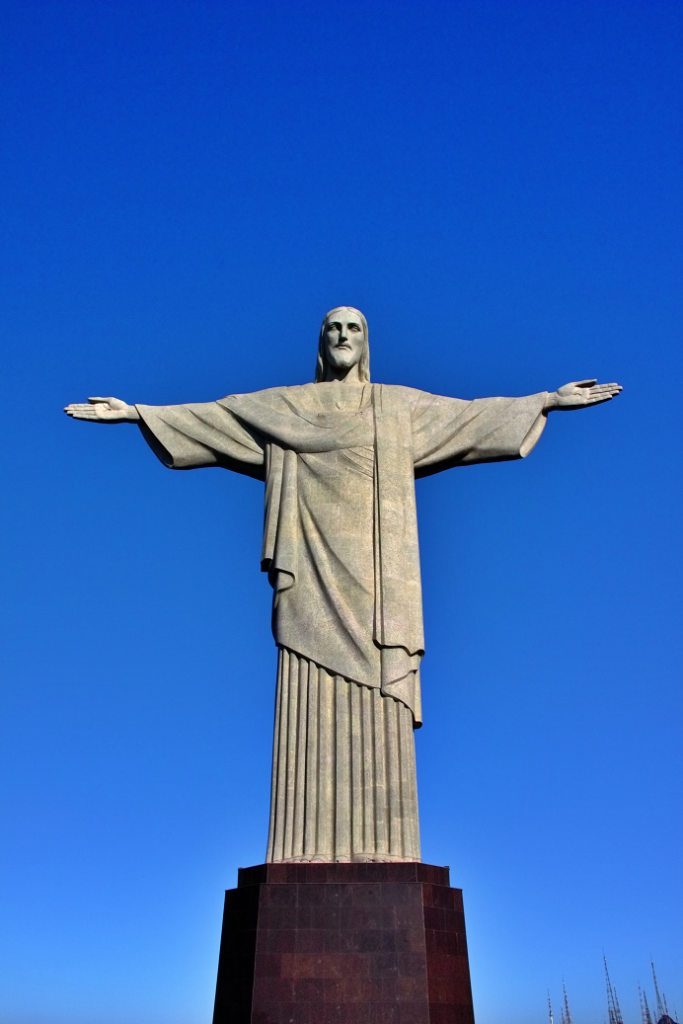 After spending some time taking pictures – also of the beautiful panorama! – it started to fill with other tourist, so we moved on, now heading for the Escadaria Selaron (the colourful steps). It is really worth a stop, taking the time to walk up the steps and take a closer look at all the different stories and details represented in this colourful mosaic made by one single man. The kids also had fun using some of the slopes to play on 🙂 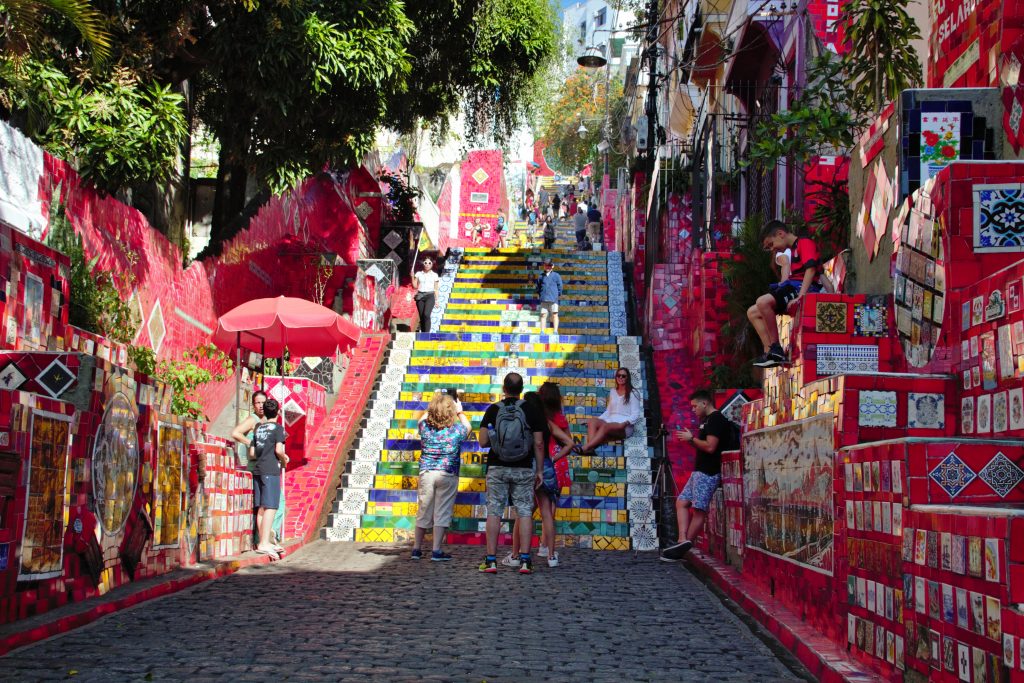 Our guide made us familiar with a typical snack in Rio called pao de queijo (cheeseballs). It's a very tasty small warm pastry filled with cheese, which we enjoyed on our way to our next stop planned – a walk to the small waterfalls in the national park of Rio called Tijuca.
On our way there, we made a short stop at the Cathedral of Rio, which from the outside looks more like a car parking spot, but inside it is very beautiful. Interesting stop if your way passes by here anyway.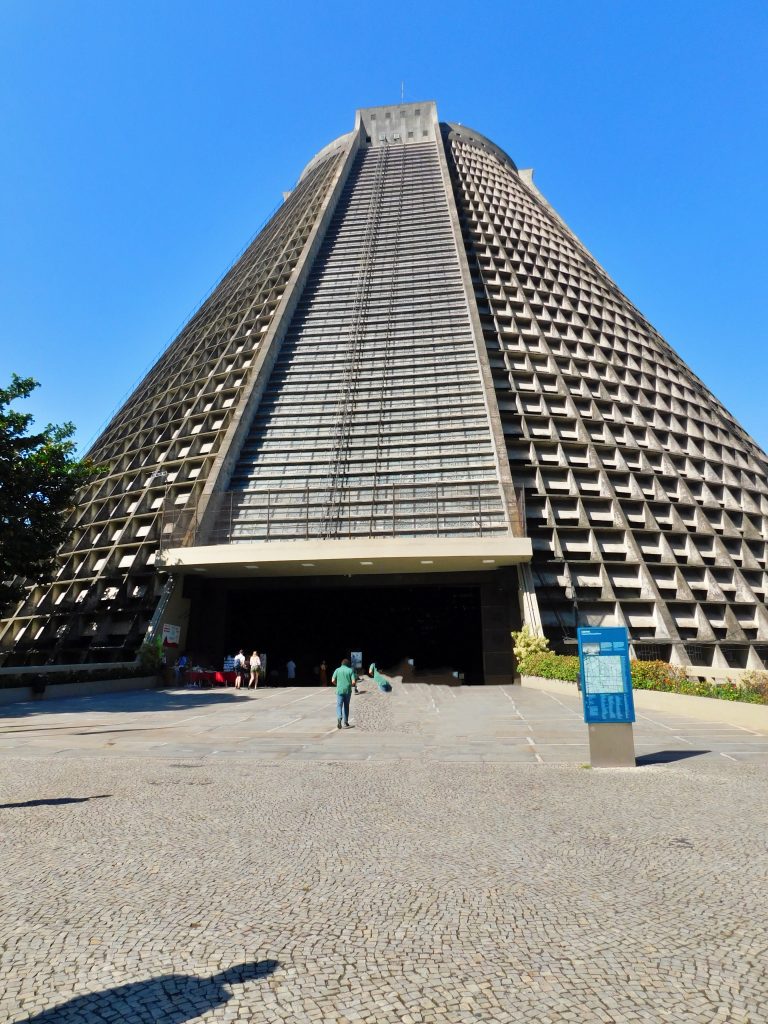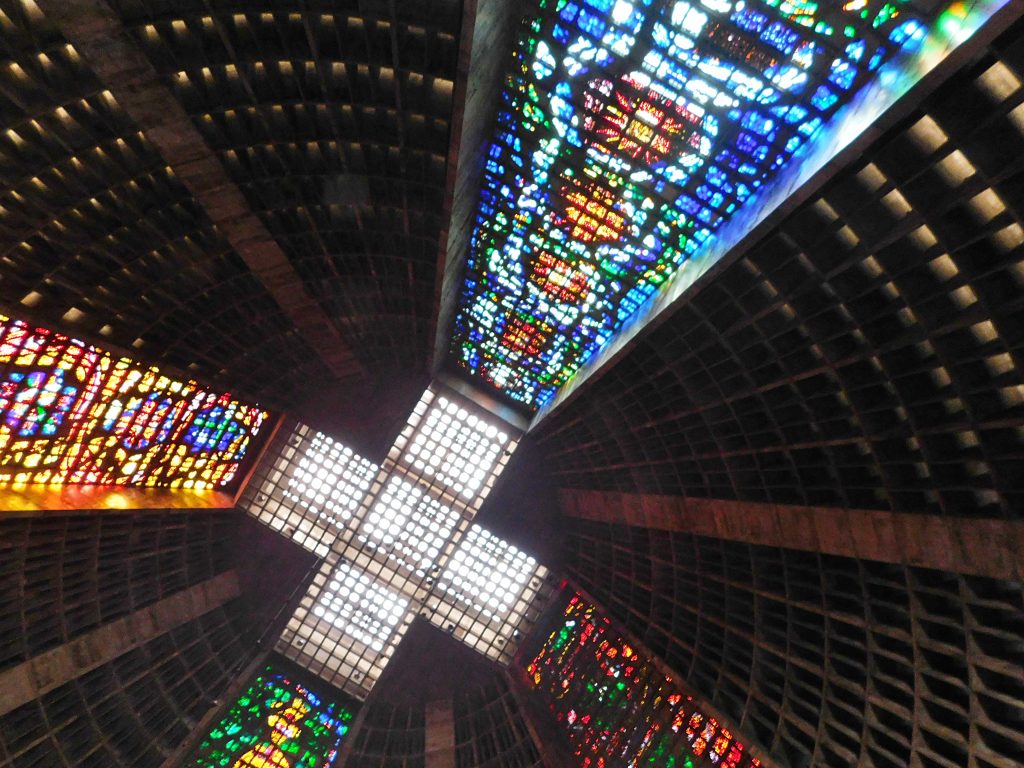 Arriving in the Tijuca national park, we went for a hike up to the waterfalls, looking forward for a swim. You really need to be ok with heights and willing to feel a bit like a monkey climbing among roots and up small stonewalls 😉 but it's a very nice hike in the nature in the middle of Rio.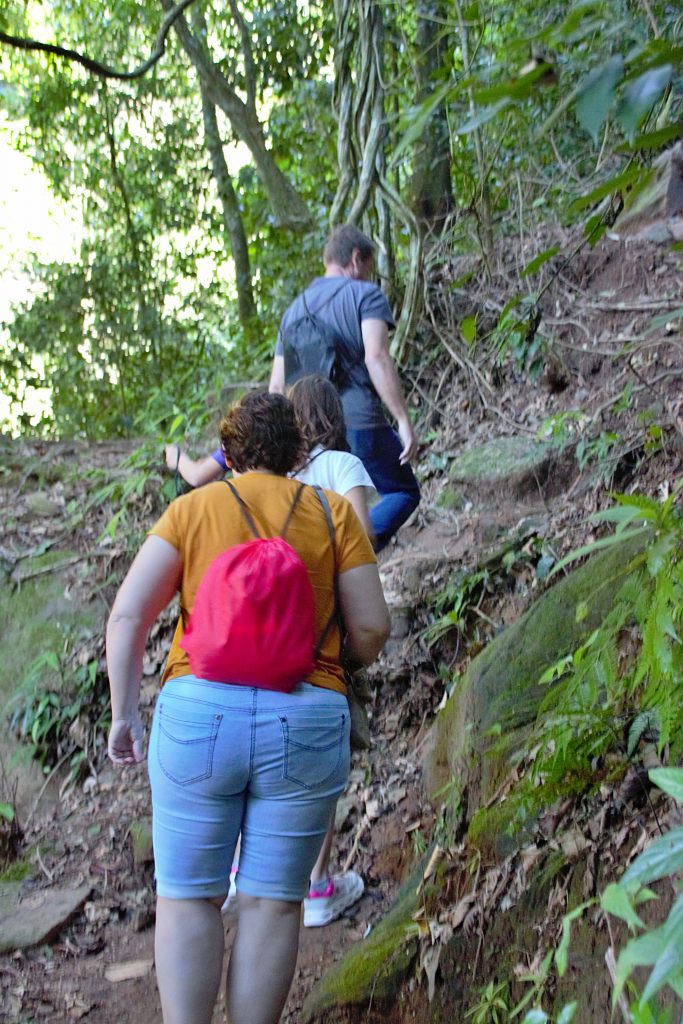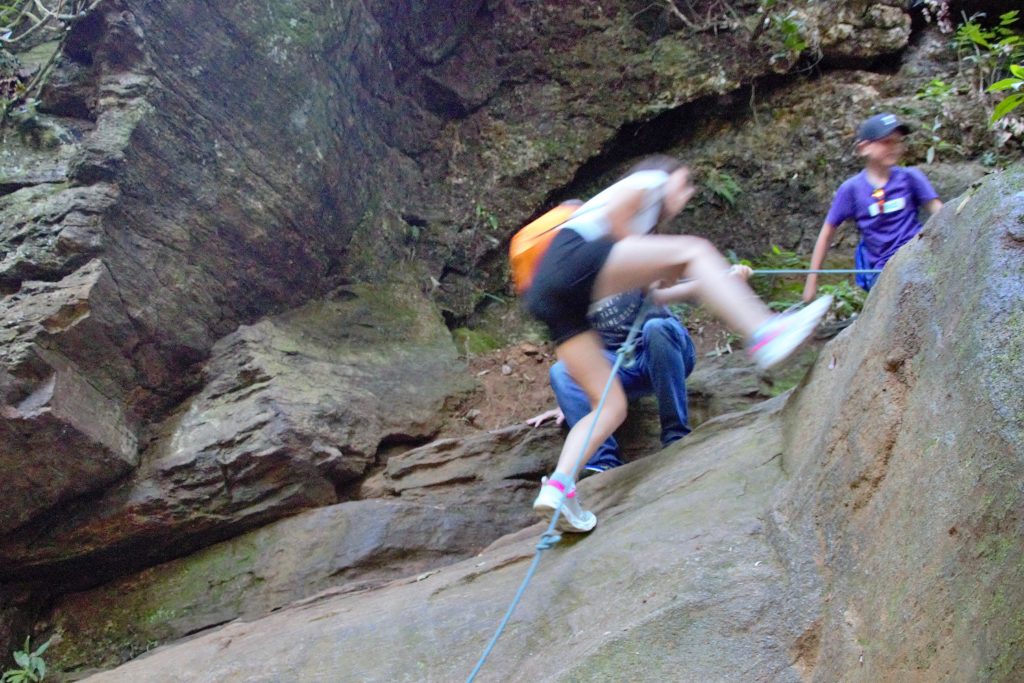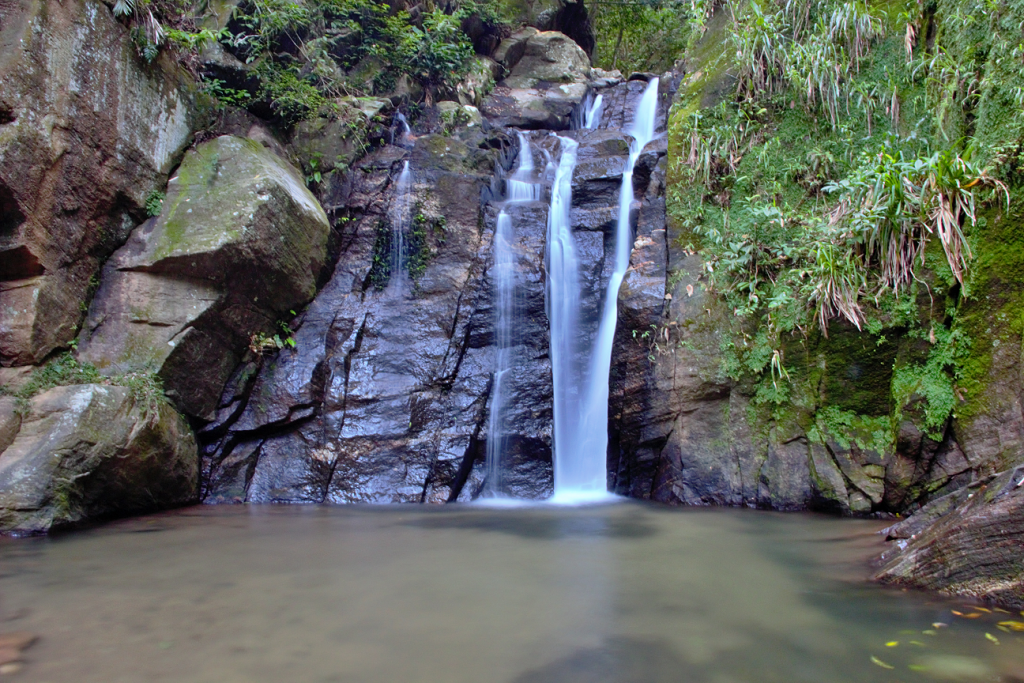 On the way back to our hotel, we made a short stop at the Chinese tea spot, which is a memorial from the time where the Chinese tea farmers lived in Rio. Unfortunately the Brazil government removed all the Chinese houses and the only thing left is the rebuild of a garden "teahouse".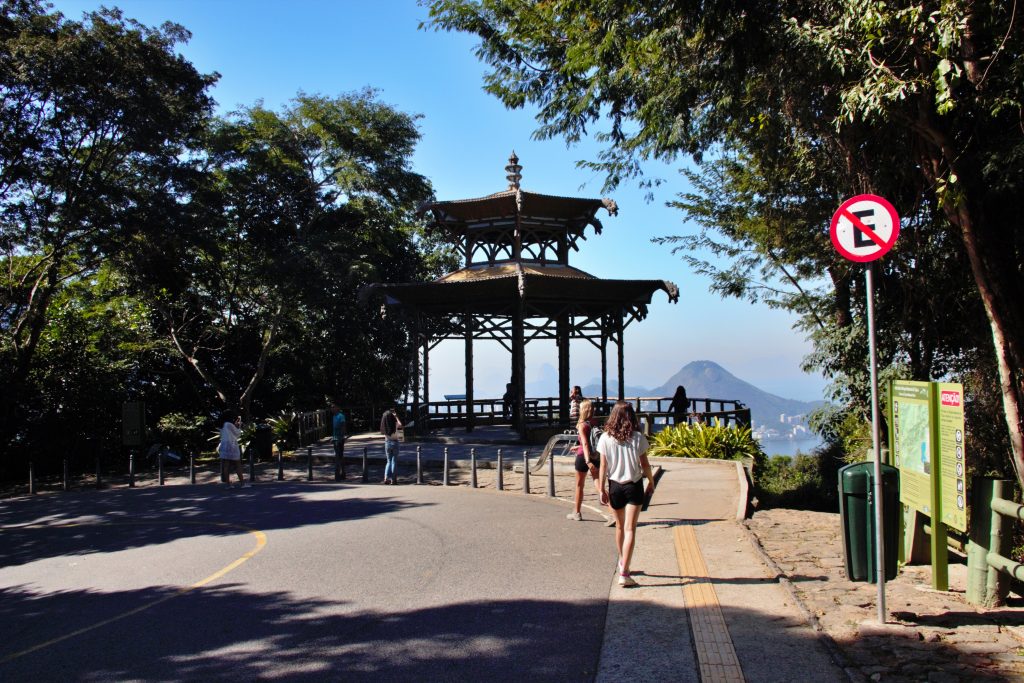 Back at the hotel, tired and filled with new impressions, we decided to go for a swim. Our hotel is located directly at the Copacabana –simply cross the road and we are on the beach.
View from our hotel room.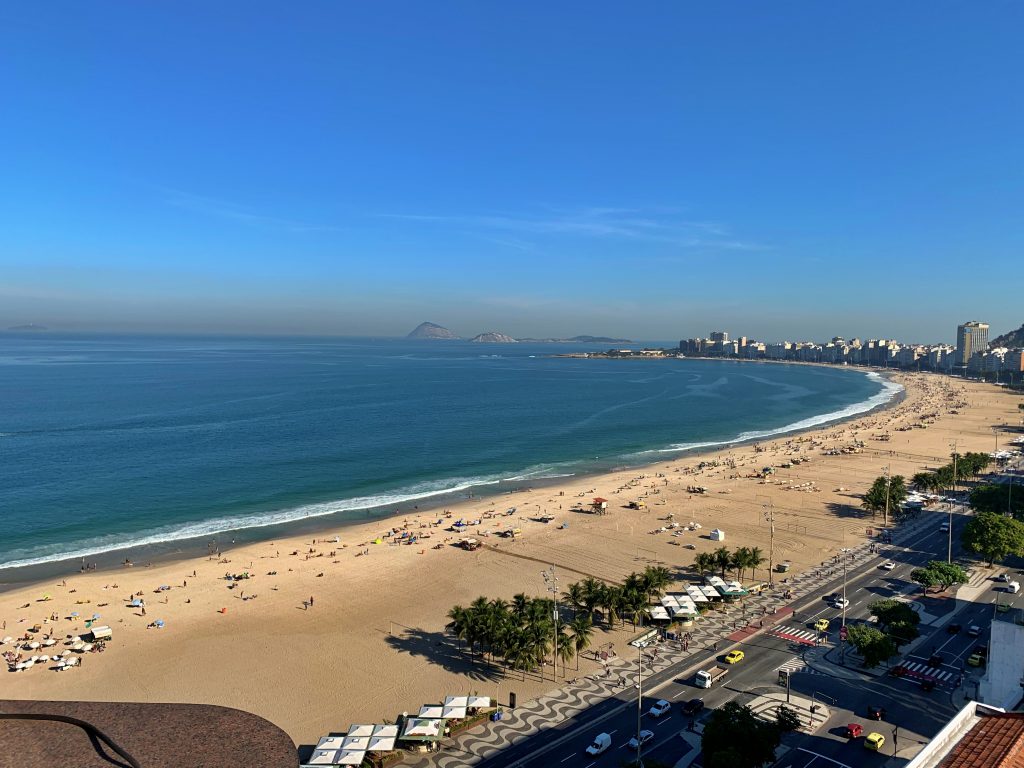 At 6:30 p.m. we went out for dinner. We chose a small local restaurant where we could sit outside for a quick meal. Our guide told us that the meals in Brazil came in very large sizes and easily could be shared – which we totally forgot due to being extremely tired, so we ended up with way too much food.
---
12th July – Rio de Janeiro – day temperature 29° C
After a delicious breakfast with many fruits, todays spot will be the Sugar Loaf. The ride up is taking place in a cable car with a stop halfway to switch into another cable car. In this halfway stop you walk by an old cable car from when the line was taking into use, and also the cable car used before the ones that are into use today – James Bond lovers will know this one very well 😉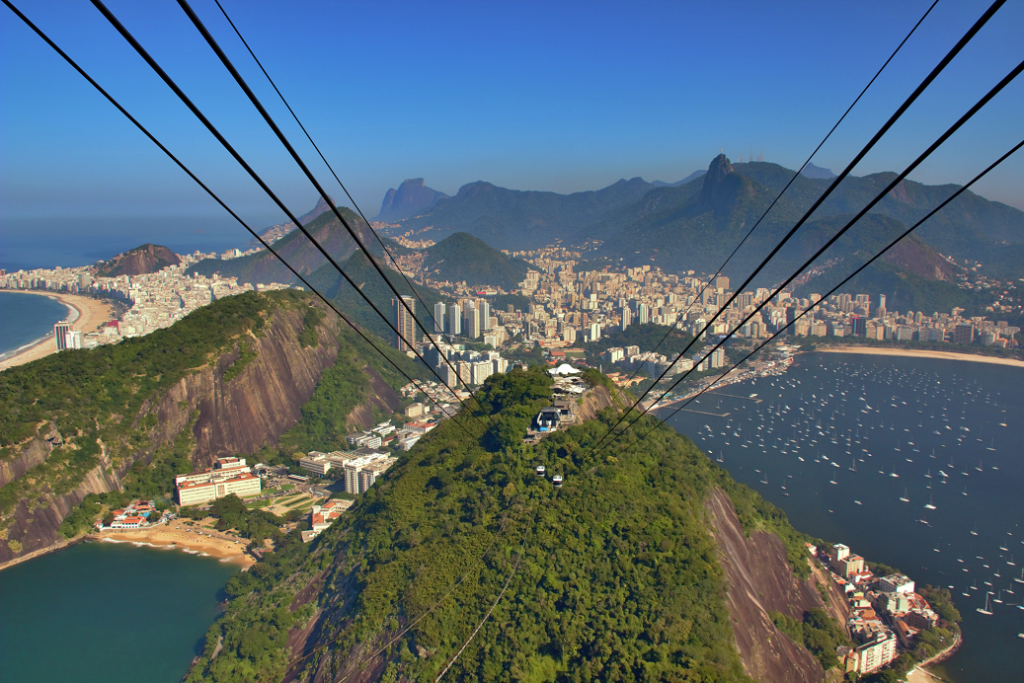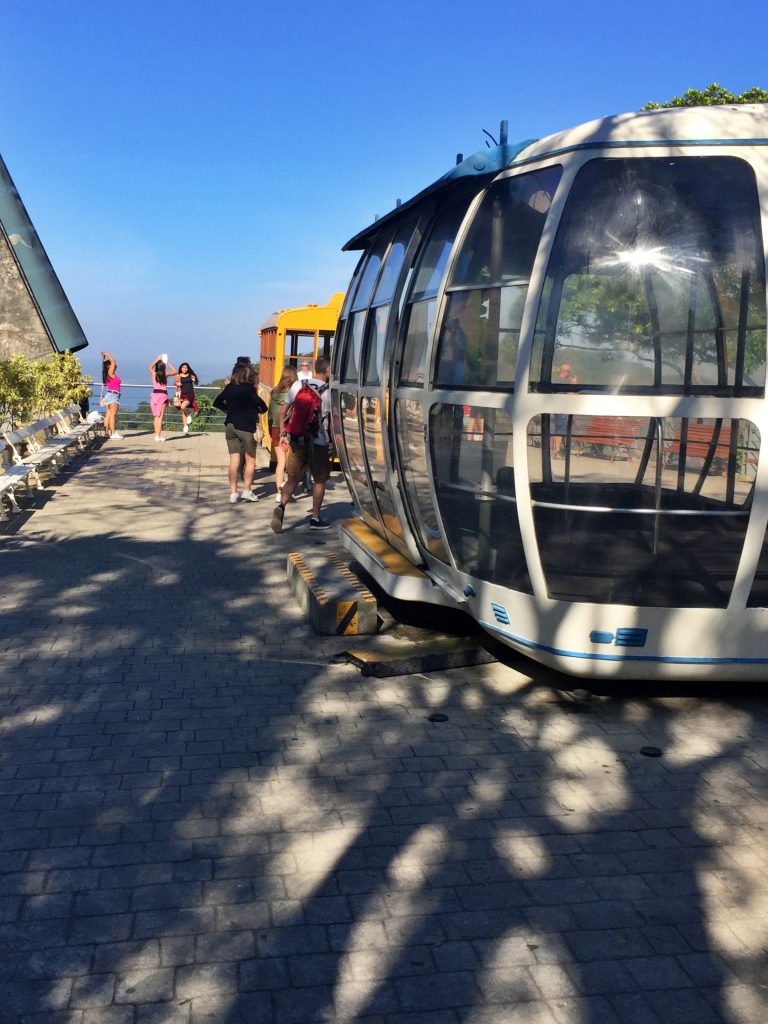 From the top of the Sugar Loaf you have an amazing view at Rio de Janeiro including the Christ Statue and the Copacabana as well as the take-off and landings on the Santos Domont Airport.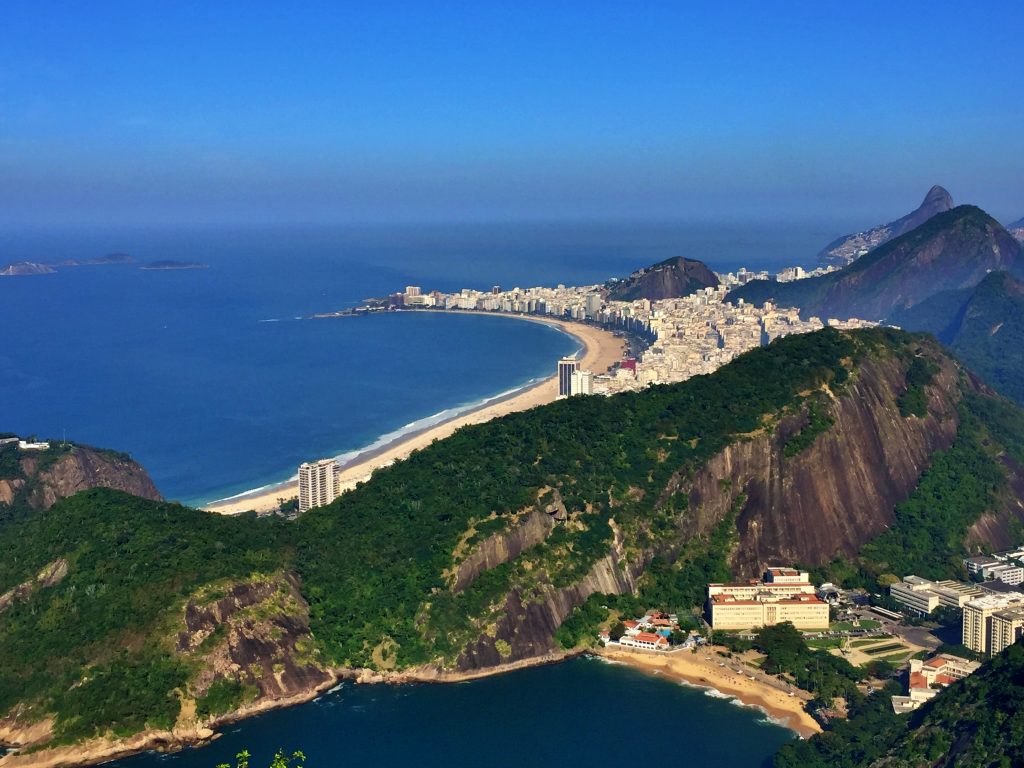 We spontaneously decided to make a beach-panorama helicopter flight. With a clear blue sky, we had some wonderful pictures and a unique family-experience as it was the first heli-ride for our kids, meaning they had a lot of adrenaline for the walk down the Sugar loaf afterwards 😉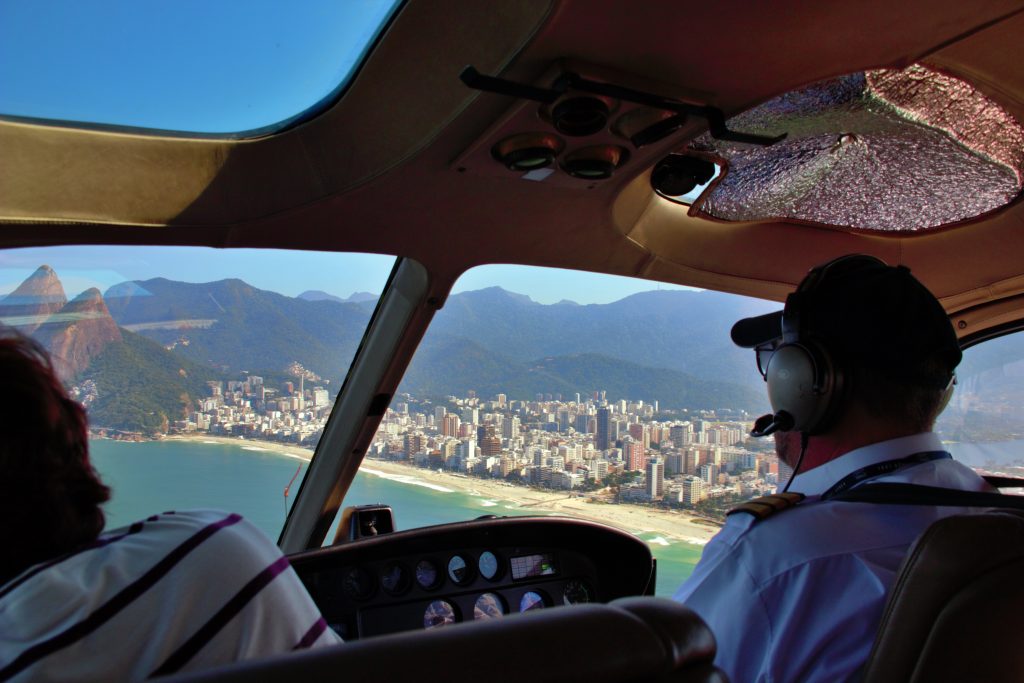 Instead of riding the cable car back, we walked down from the midway station, which is a very nice trail of about 30 minutes, where you may be able to see small sagui monkeys. If you have a banana, they will be very focused on you 😉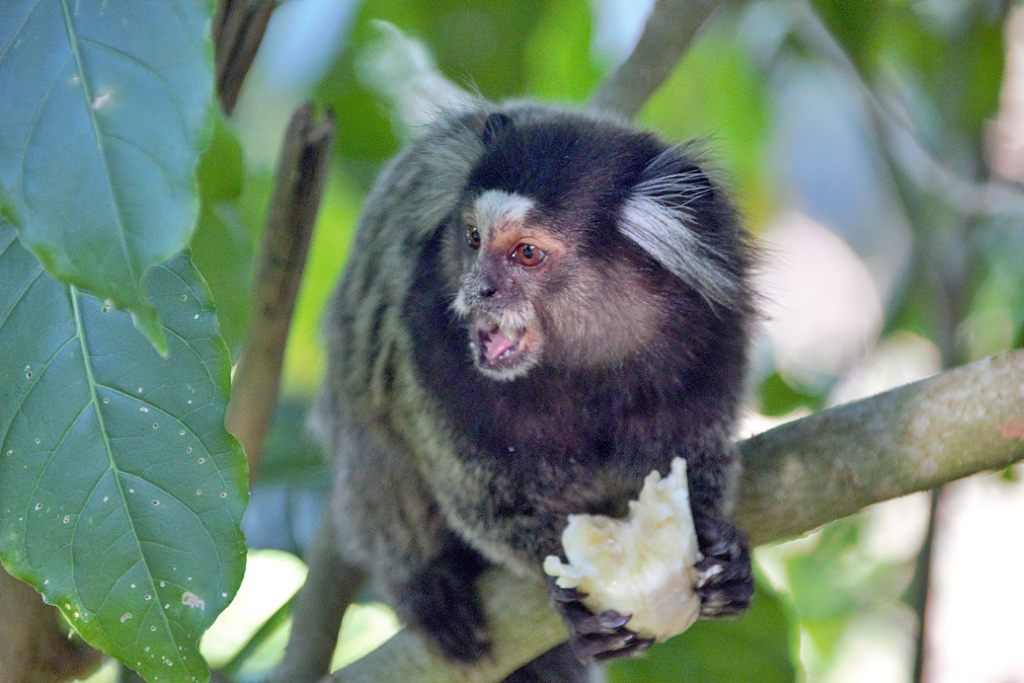 Our guide Marcello then took us to a secret spot: one of the Lagoons in Barra da Tijuca. Here we went for a relaxing boat ride of 30-40 minutes where we spotted crocodiles, capybaras (water pigs) and different birds! The ride gives a unique view on some of the local fishermen living area. As in many other regions of the world, unfortunately trash is also very present here…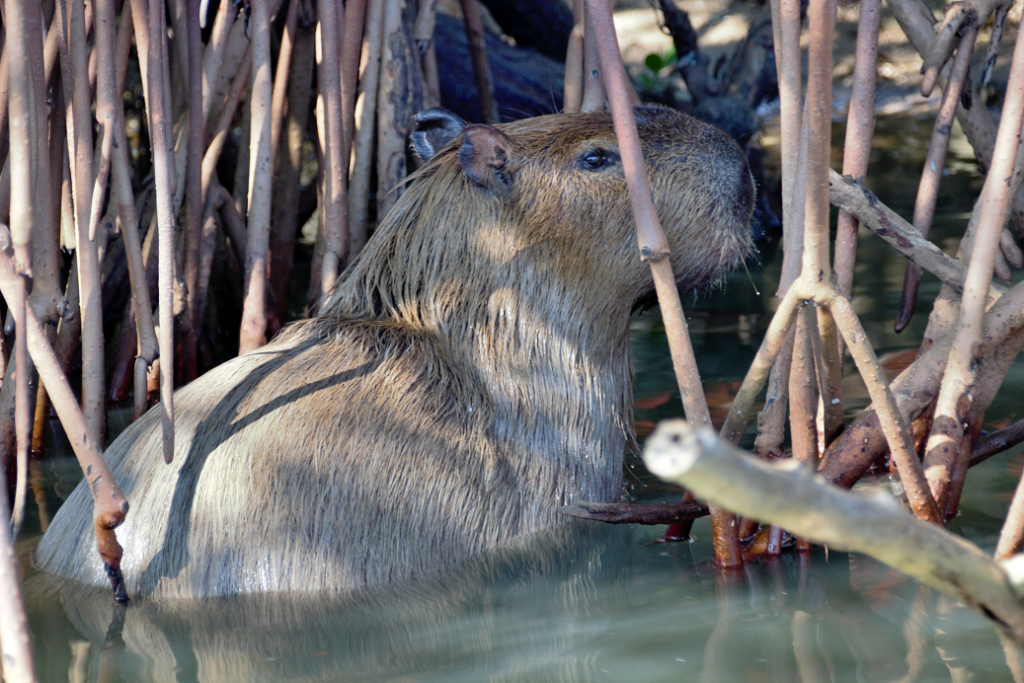 After two very interesting days with Marcello, we had a last common lunch at a local spot in Barra da Tijuca and then headed back to Copacabana. Marcello dropped us off at the Riosul (Mall), where we spent 1-1½ hour before we went back to the hotel for a light dinner at our hotel restaurant before going to bed early – the jet lag had us a bit…
---
13th July – Copacabana – day temperaure 28°C
Today we have planned as a relax-at-the-beach day enjoying the clear water and blue sky at the Copacabana J We played some volleyball at the beach and in the water and had our first caipirinha – be aware of the alcohol! 😉 We also had our lunch at the beach, which ended up with a lot of Pigeons stealing most of our fries as we went 4-5 steps away from our chairs to call for the kids in the water – notice to self: Don't leave food unattended at the beach 😉
On the beach you are offered a lot of stuff – everything from food, drink and sunglasses to tattoos and massage. Everybody is friendly and mostly respect a friendly "no thank you". Only the one massage-woman meant to give a "souvenir" massage on my one leg so I would remember her tomorrow, and maybe wanted a full massage then 😉  I must say the massage was very nice, so it is definitely a possibility if you like massage 🙂
Our day ended with dinner at Churrascaria Palace – churrascarias are typically in Brazil and are restaurants where you get a lot of different meat served directly at the table – the Brazilians call this way of eating rodichio. It is very tasty and well grilled and we had a very nice evening – but be aware that it is not as cheap as the normal eating out! (We paid 400 reais for four persons (2 kids of 14 and 11 years) which is approx. 100 euro)
---
14th July – Foz de Iguazu Brazil – day temperature 23°C
After an early flight from Rio to Iguazu (2 hours) we went for a walk on the Brazilian side to enjoy the panorama of the Foz de Iguazu (Iguazu Falls). Our guide told us that the amount of water today was only light. Unfortunately, it is also winter holidays in Brazil, which mean A LOT of other people also came to see the falls. We decided not to walk all the way out on the viewing platform, but had some splendid views on the walking trail up along the falls though.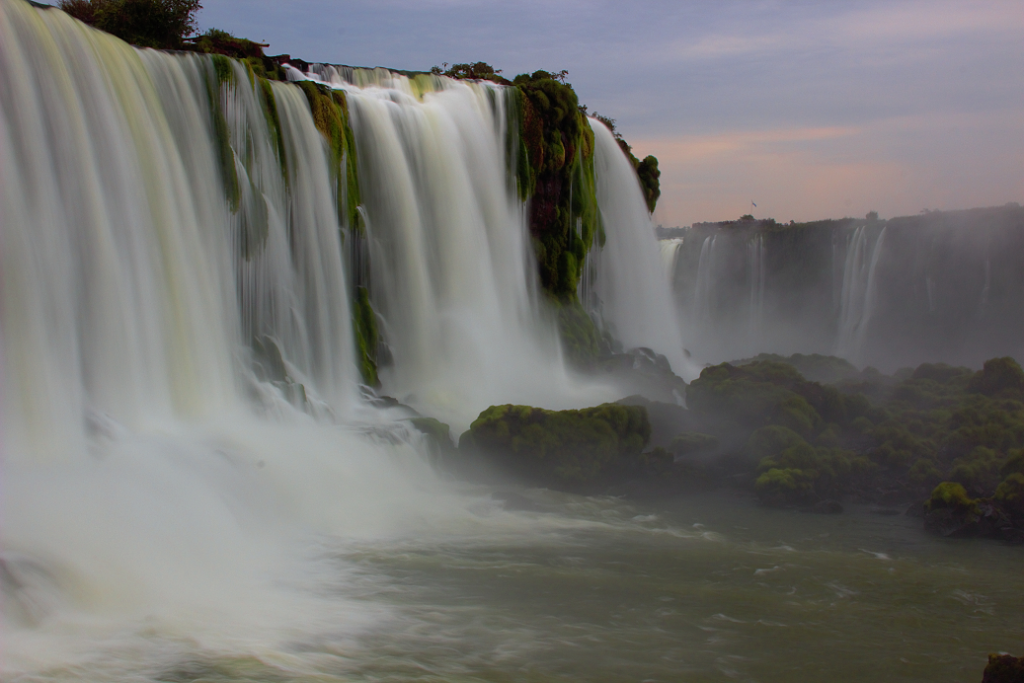 On this walk we also learned that the Ring Tailed Coati has noticed that tourist mostly bring foods with them, so they come very close and try to steal it from hands and back packs –  so watch out here, they have very sharp teeth and claws! Although they look very sweeeeet 😉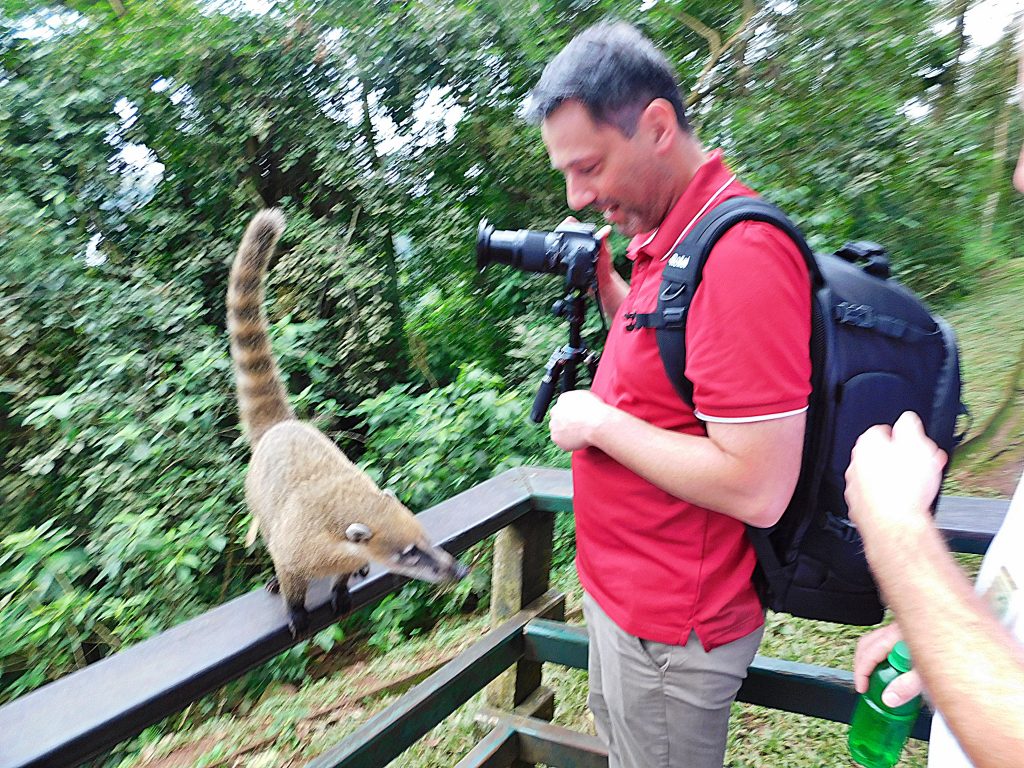 As we finished the panorama trail, we headed for a waterfall boat ride to experience the falls nearby from the waterside. After a short ride in tractor pulled wagons and a 15-minute walk (optional), we were handed out a life jacket and asked, if we wanted to go on the dry or the wet ride. We of course headed for the wet ride and the children were very excited. We got on board an inflatable boat with motor and headed towards the falls… and we got WET!! Although we had rain jackets ALL our clothes were dripping afterwards, as the "captain" went directly underneath a small waterfall. We had expected to get nearer to the large falls, but the boat trip is for sure a fun experience especially with kids and if you like a bit of action and don't mind to get wet 🙂 and the landscape is very beautiful.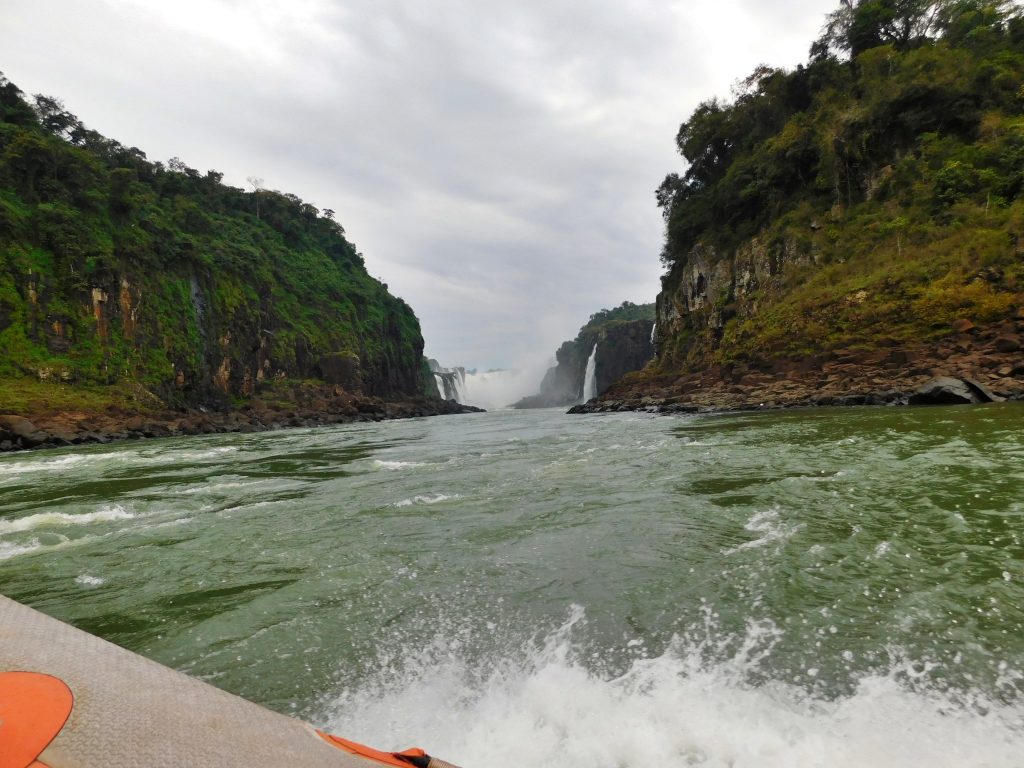 Our day ended at the hotel trying to find space to put up our clothes to dry before we went for dinner at the hotel Restaurant 🙂
---
15th July Foz de Iguazu Argentina – day temperature 21°C
Today our journey takes us to Argentina – to a walk to the Iguazu Falls on the Argentinian side of the national park.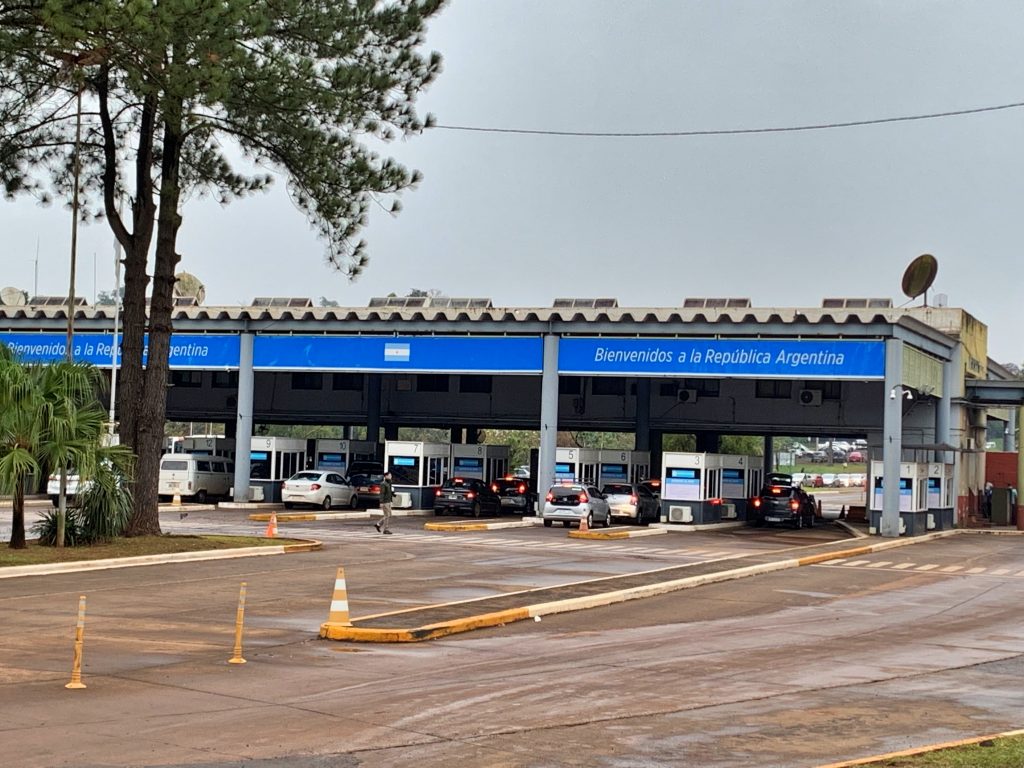 The weather didn't show from the sunny side, which really was a shame, but the Falls are very impressive also on a cloudy day! If you have only one day to visit the Iguazu Falls you need to go for the Argentinian side! The 1.5 km walk takes you directly to the Devils Throat, and the walk itself is an experience you don't want to miss!
We had the luck to spot a parrot while waiting to pass the border to Argentina and when entering the national park we saw two toucan birds. Also the Ring Tailed Coati is represented here and follows you on the complete walk 😉
The evening we spent at a folklore show where 8 countries were represented with food and dance shows
---
16th July – travel day to Ilheus – day temperature Foz 9°C, Ilheus 28°C
We left Iguazu around 10:00 with sunny weather but only 9°C! A short stop in Sao Paulo airport (raining at 15°C) and then heading for Ilheus (Brazilians pronounce "iljaus") and the Fazenda Almada where we will be staying for 6 days. We are all very excited and not quite sure what to expect from a cacao farm in the middle of the rain forest.
Arriving at Ilheus 13:30 at 28°C and a real high humidity – welcome to the jungle area 😉 Juliana, who owns the farm, picked us up for a 40 minutes drive to reach the farm.
Ilheus today is a very poor town due to an illness, which destroyed all the cacao trees in the area. It used to be the number one exporter of cacao in the world and a very rich area before the illness. The farms are now trying to re-forest the area, and the Fazenda Almada is one of the oldest farms here grounded in 1855 and still belonging to the same family. Juliana de Cerqueira Lima is the 6th generation in charge and now manages the farm together with her German husband – the well-known nature photographer Markus Mauthe.
After 6 days offline at the Fazenda Almada we will try to give an expression of our days at the cacao farm. Every day were filled with amazing impressions of the nature which surrounds the farm and which are really really difficult to put into words and even into photos – it seems like nothing completely passes on the feeling and view of nature you get, when you are in the middle of nature itself.
Furthermore, we got the possibility to see on first-hand how the rainforest affects the climate, and how important it is to preserve this ecosystem for the future. Juliana and Markus gave us a lot of insight into this issue by guiding, telling and showing us this beautiful part of the world.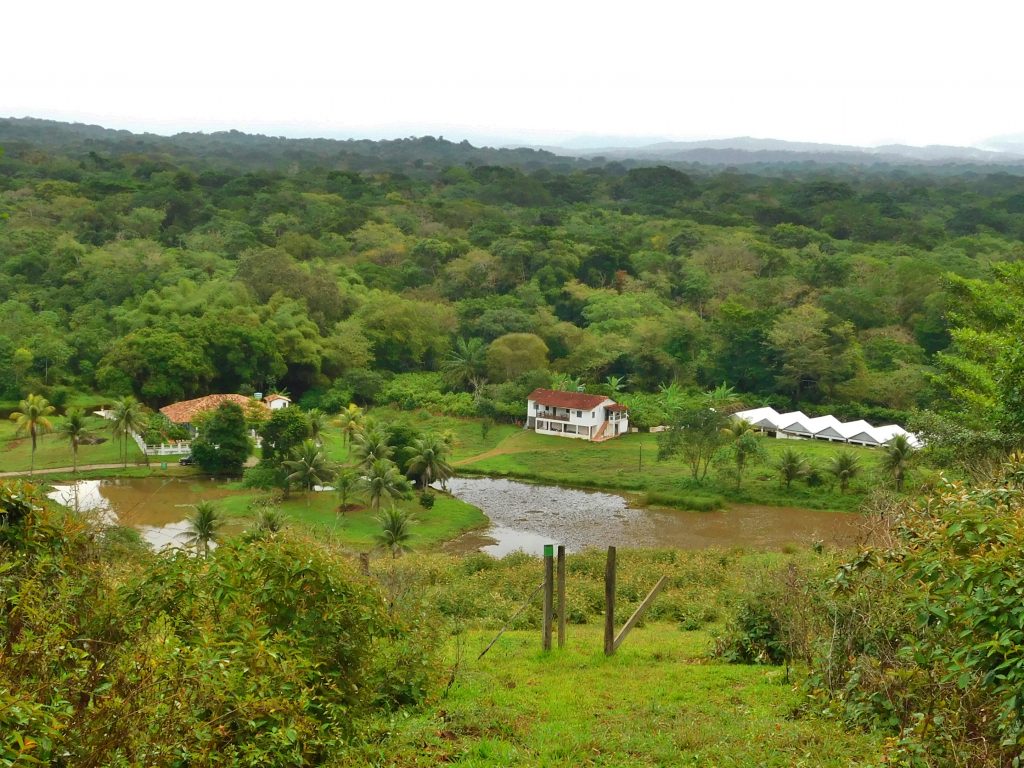 Every single day we were so lucky to enjoy local food cooked by Antonia – a native woman who cooks fabulous! So we got to know and (mostly) love different soups, pies, rice mixes, beans, cakes and puddings as well as different kind of juice (coconut, cacao fruit, melon, pineapple, banana) – all very tasty! 🙂
Below some of the highlights of each day at the Fazenda Almada!
16th July – Arriving at Fazenda Almada
At the farm, it turns out that we are the only visitors here until 20th July, meaning we could choose which rooms we wanted to stay in J After having our luggage placed in the rooms, Juliana showed us where to find toilets, showers and the kitchen, and how we had to lock the house for the night. Everything here is a bit like "back to the roots", placed in an amazing surrounding of rainforest and wildlife. Only noises you have here are animal sounds, wind in the trees and water splashing softly in the lake. The farm has its own water supply from a spring, meaning we can drink the water pure here 🙂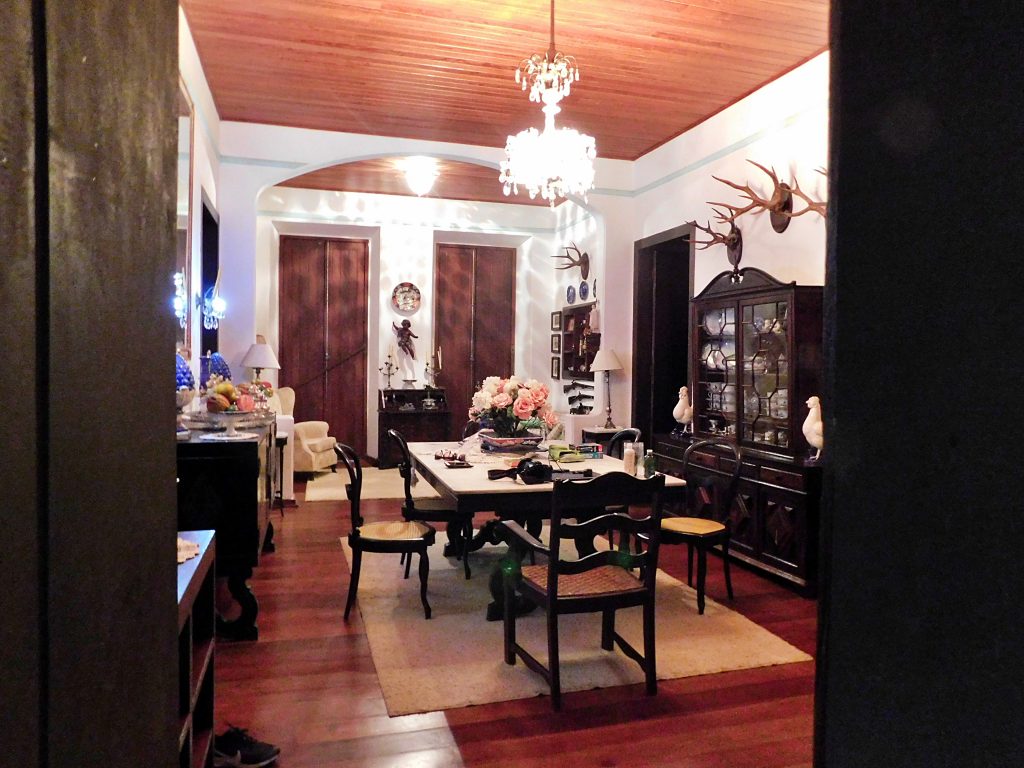 No internet and no phone connection at the guesthouse – if we need internet we may go for a little walk up to the private house of Markus and Juliana where they have a Wi-Fi spot.
At 18:30 Markus and Juliana joined us for dinner, which we had outside, settled around a large wooden table surrounded simply by nature. During dinner, we set a loose program for our days at the farm:
Tomorrow early rise and going to see how the workers harvest the cacao nuts, breakfast and then we have a unique possibility to join Markus and some volunteers from the AMAP going out to pick-up plastic near the river.
Thursday early rise to see the splitting of the nuts and pressing of cacao honey, breakfast, making our own chocolate, lunch and then on horseback on a trail through the rainforest.
Friday/Saturday walk in the rainforest to spot the little monkeys and a boat trip on the Almada River to some nearby waterfalls.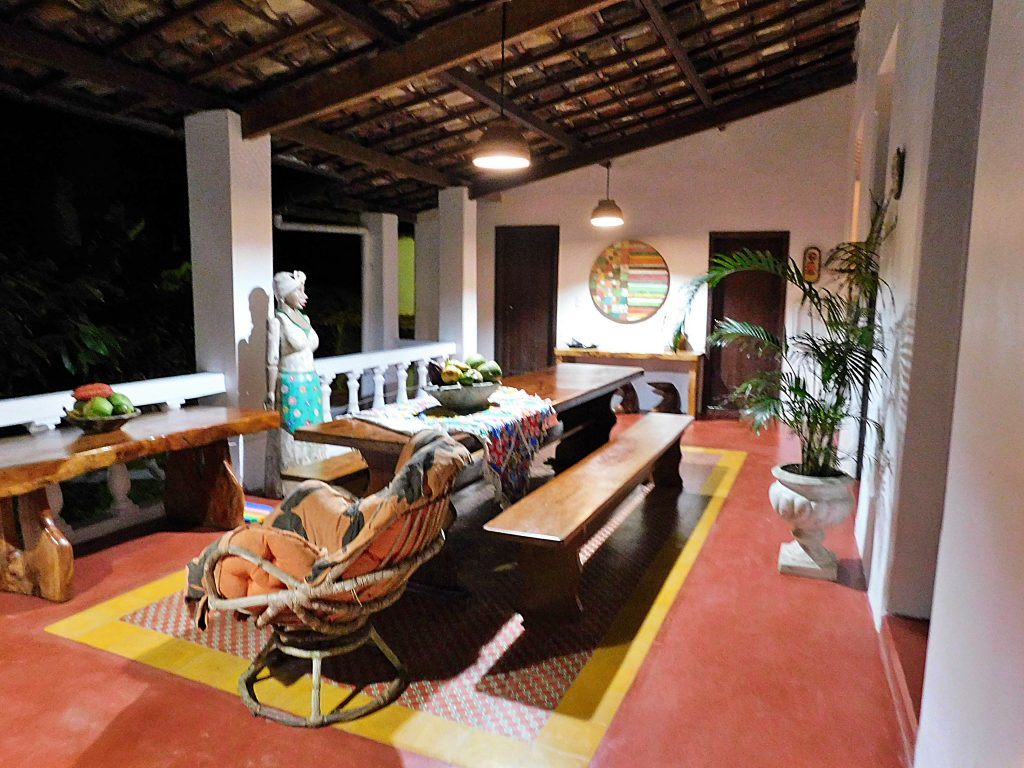 The evening faded out with a short family game before bedtime at 22:00.
---
17th July – Fazenda Almada – day temperature around 29 °C
Early rise at 06:00 to be ready for leaving at 06:30 into the cacao plantation. Unfortunately, the workers seemed to be a bit further away, we only found the place where they left their backpacks. However, Juliana then made a little walk with us to a large tree with red fruits we could taste – they call them jambo-fruit. The monkeys seemed to have found the tree before us, and all the fruits were laying around on the ground – luckily, we found a few whole. They taste a bit like nectarines – very good 🙂 On the trail back we found a cacao nut ready to harvest, which Juliana opened up, so we could taste the fruity flesh surrounding the cacao beans. It tastes like lychee fruit. Then we headed back for breakfast.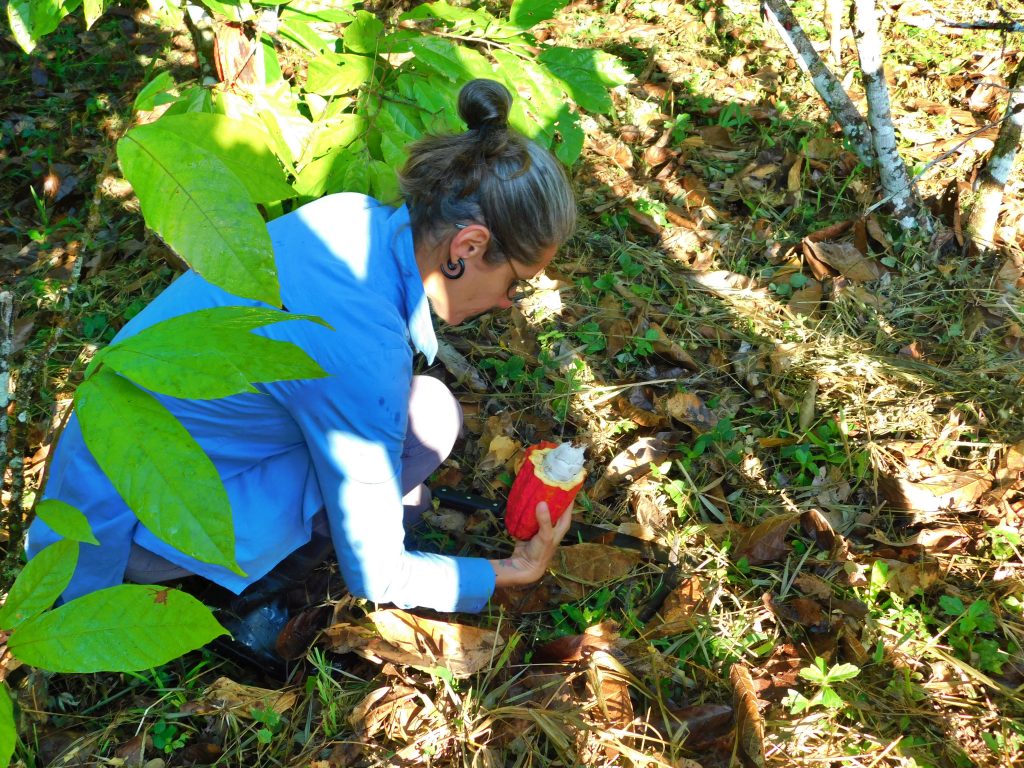 Our daughter turns 14 years old today, so we started breakfast with a homemade chocolate cake with candles, made by Antonia – the fabulous native cook at the farm, and a second birthday song 🙂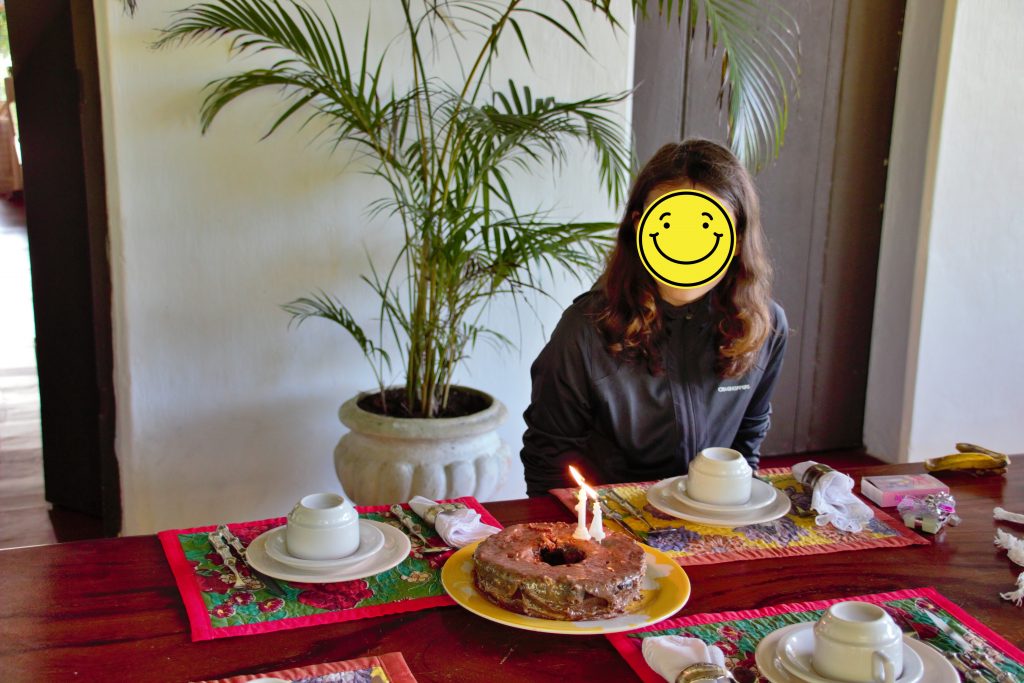 Around 10:30 the volunteers, 6 young people, joined us at the farm and we left for the cleaning-nature trip, meaning we walked (hike!) for 30-45 minutes into the jungle to reach the spot at the Almada River where Markus had spotted a lot of plastic laying around. By 29°C and walking in a rainforest, this walk was not feeling like a walk in the park 😉 Arriving at the river meant we now had to climb the rocks to move forward and reaching the trash laying around alongside the river. We brought plastic sacks to carry the trash back, and sadly they filled pretty quickly. As we had no more empty bags, we went to a spot at the river where we could go for a swim before heading back to the farm – now carrying the full sacks.
Arriving back sweaty and exhausted a delicious lunch waited for all of us at the farm 🙂 Afterwards we rested a couple of hours and those who liked could then join Markus on one of the walking trails into the rainforest. Viator went for the walk, but as I had unluckily made a wrong step on a rock, my one foot needed some rest, and the kids decided to stay at the farm with me, where we spent the time playing cards 🙂
---
18th July – Fazenda Almada – day temperature around 25°C with a lot of wind
Another early rise at 06:00 with leave at 06:30 to find the cacao workers. Juliana had made up a meeting point today, so we  found them immediately 😉 they already had opened a lot of fruits and where ready to make the cacao honey – which turns out to be the juice of the fruit they call honey 😉 They are not pressing all the juice out of the fruits because it is needed in the fermentation process of the beans. It's a very sweet juice – again very similar in taste to the lychee. We all tried to open a fruit, which is much more difficult as it looks when the workers do it 😉
Back at the farm for breakfast at 08:00 and then an hour resting before starting the process for making our own chocolate.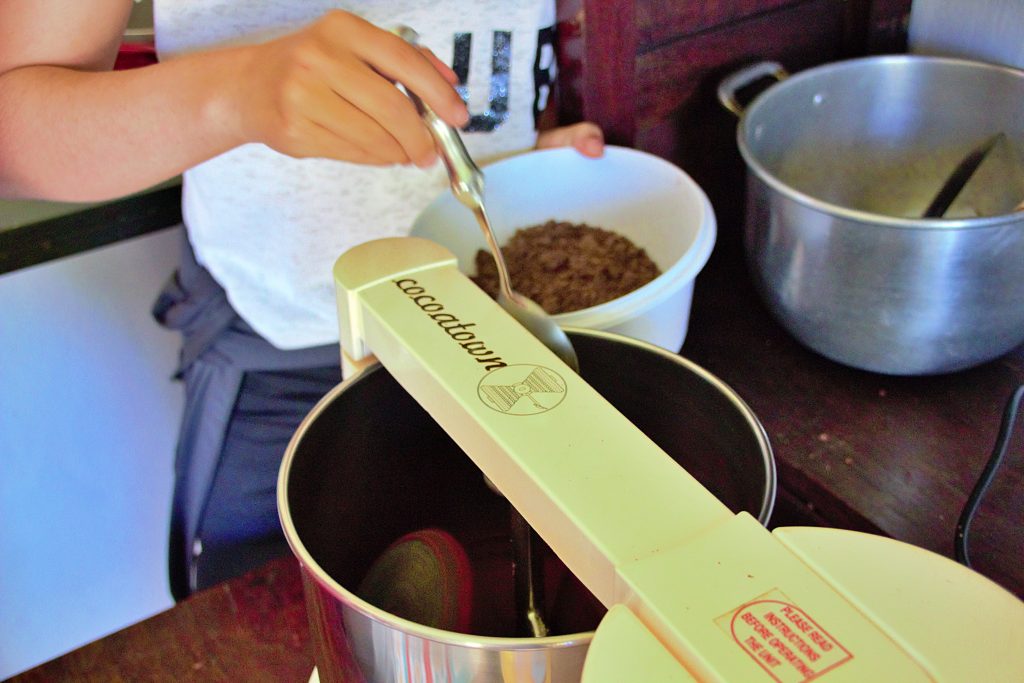 At 13:30 it was horse riding time. As there only was four saddles, our daughter went on a horse with no saddle – although she is used to ride, it turned out to be hard, because the horses here are a bit more skinny, she could feel all the bones when riding!
Nevertheless we had a great trip enjoying the wonderful nature 🙂 After one hour we made a short stop to have something to drink and stretch legs, and then decided to divide in two groups: Our daughter and I went the same track home, and Viator, our son and Markus went for the longer track taking them to a panoramic view and through a small village. The trip turned out to become longer as planned, as they went on an unexplored track taking the through untouched nature and meeting a lot of mosquitos 😉 they had a really unique experience! Nature here is amazing and it's hard to find words to explain – even pictures can't completely catch the feeling you have here.
As we went back before the boys we decided to make some laundry, as we almost ran out of underwear… handwashing program in the sink 😉 and then out to dry on the veranda. Like every evening we enjoyed a delicious meal at the veranda around 18:30 and then spent the evening playing family games 🙂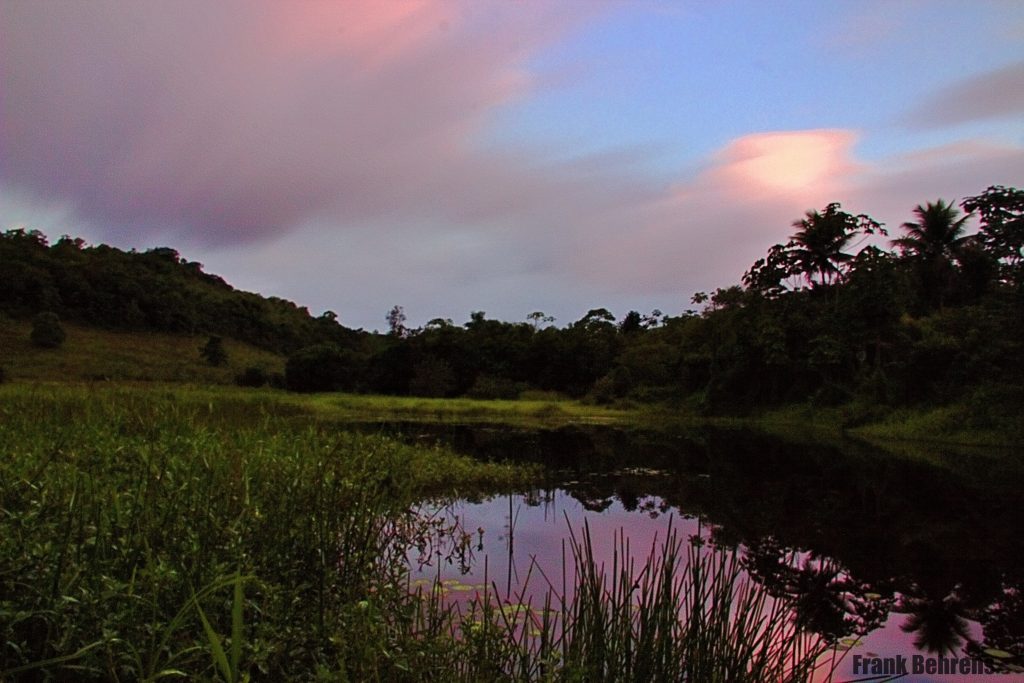 ---
19th July – Fazenda Almada – day temperature 27°C, in the afternoon 18°C with rain
After a late breakfast at 09:00 😉 our chocolate was ready to be filled in forms – luckily we had 23 hours before an electrical blackout, so the chocolate tasted really good – at least in warm condition! It should be ready after cooling this evening to have a regular piece of chocolate for the evening tea/coffee 🙂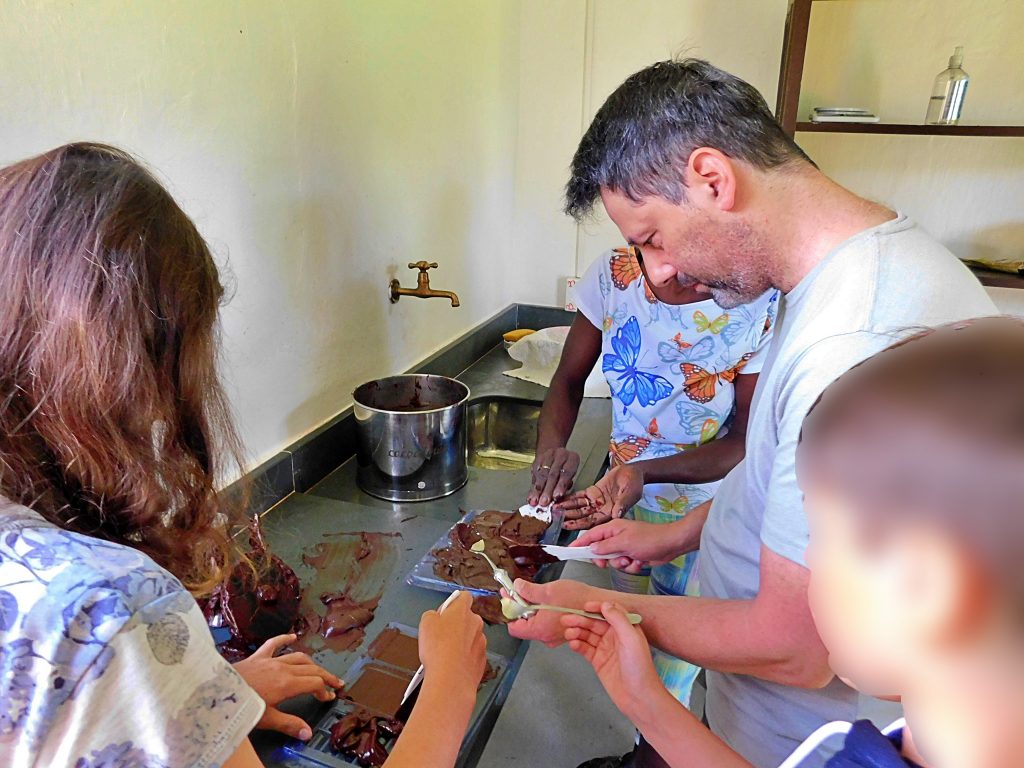 At 09:30 our native guide for the monkey spotting had arrived and we walked into the rainforest to try to find the extremely rare little golden-headed lion tamarin (monkeys). With no wind and sunny weather, it was very hot and sticky in the forest, and we went very sweaty! Our guide soon spotted the monkeys up in the trees playing around and we went busy making photos and almost forgot the heat 🙂
Spending two hours in the forest we came back right in time for a shower before lunch. During lunchtime, the long wanted rain finally came and was so kind to last on for two hours. The last three weeks it has almost not rained here in the area, which can end up becoming a huge problem, as the cacao needs rain in order to become ripe. Therefore, the rain was very welcome and we sat on the veranda listening to the changing sounds of the jungle in the rain 🙂
In the late afternoon Viator and I made a short hike on a trail around the farm (one hour), exploring the rain forest just after the rain, which really changes the smell and sounds of the forest.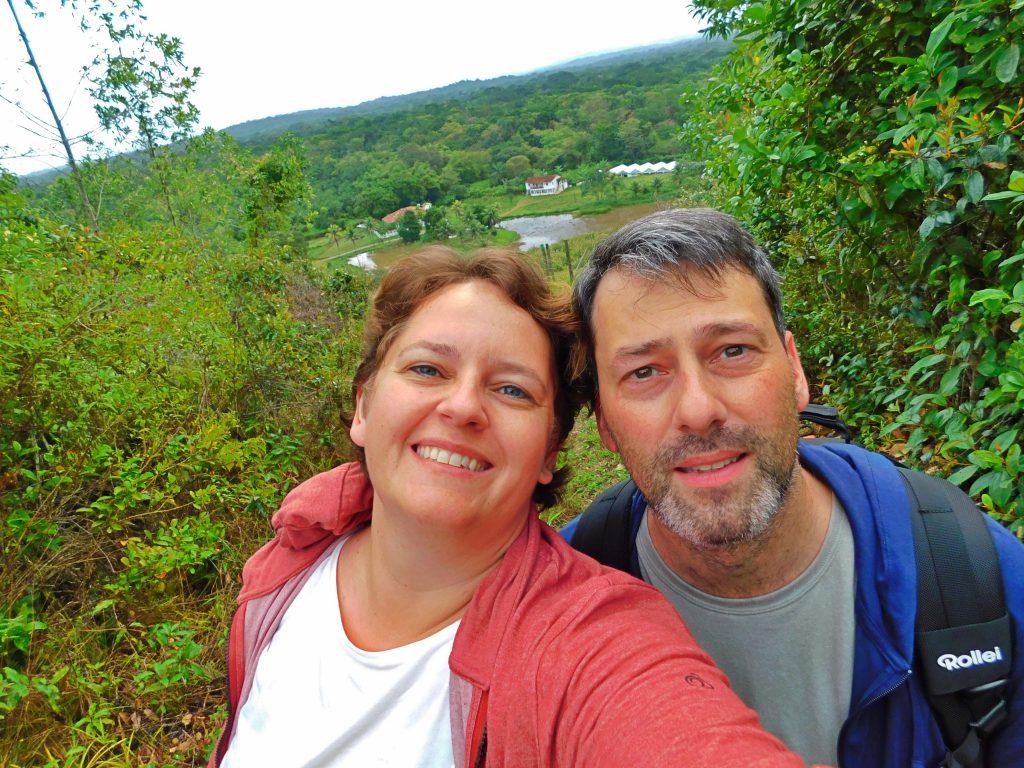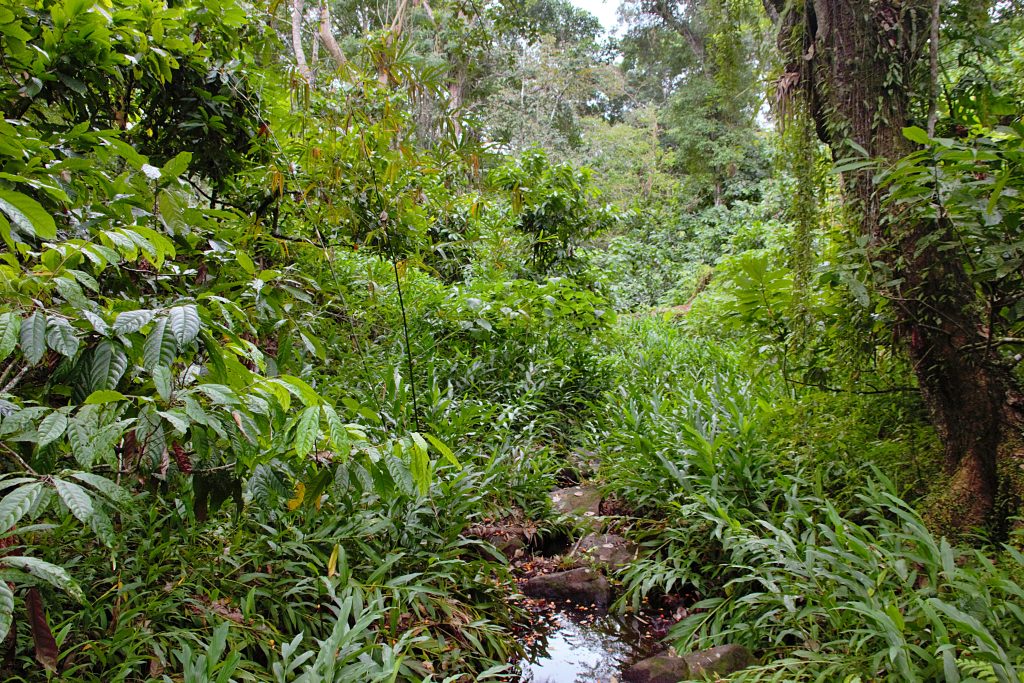 In the evening, we played cards together with Juliana and Markus enjoying our homemade chocolate 🙂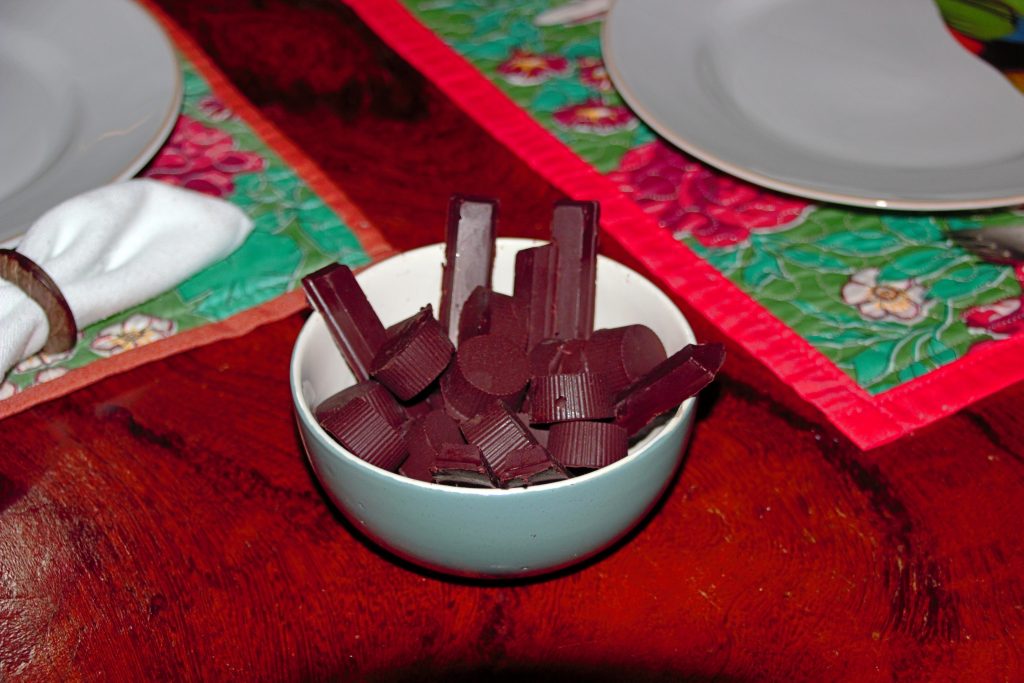 ---
20th July – Fazenda Almada – day temperature 18-22°C with rain
We had heavy rain in the night and it still rains, as we are getting ready for breakfast at 08:45. Almost no wind so we could still sit outside enjoying our breakfast.
Today is planned as a relax day due to the weather. It should clear up a bit in the afternoon and Viator and the kids will go for another horse ride then. The morning we spent playing different games and reading while listening to the rain and drinking local tea and coffee 🙂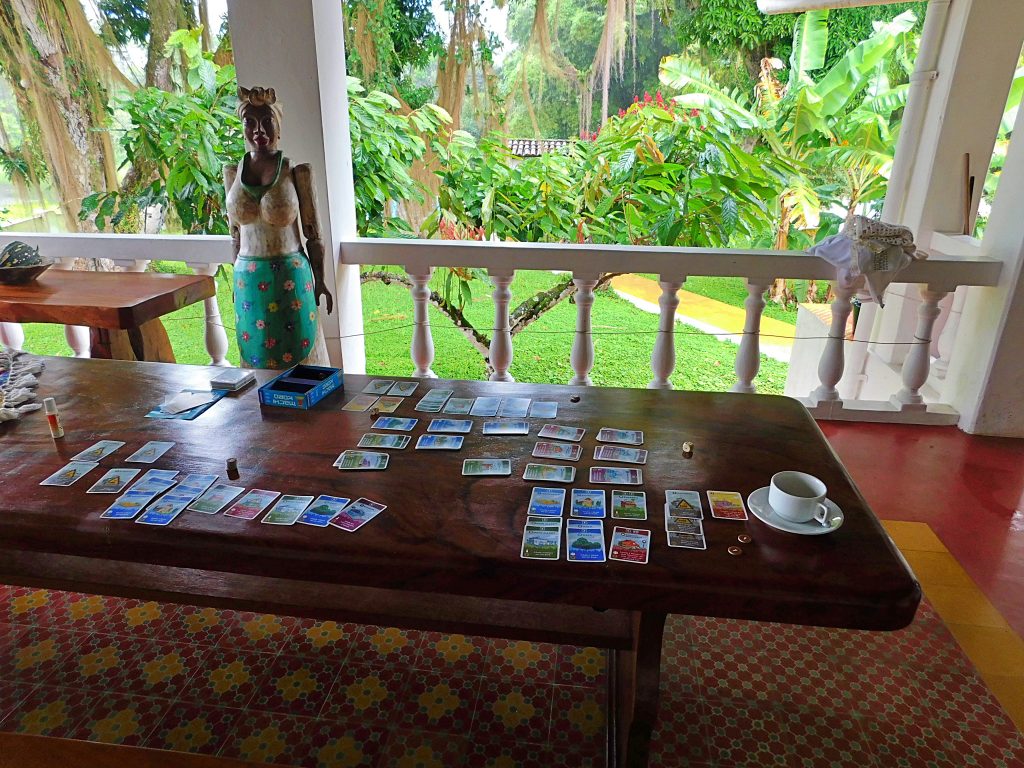 We also met the local fruit delivery service – see photo 🙂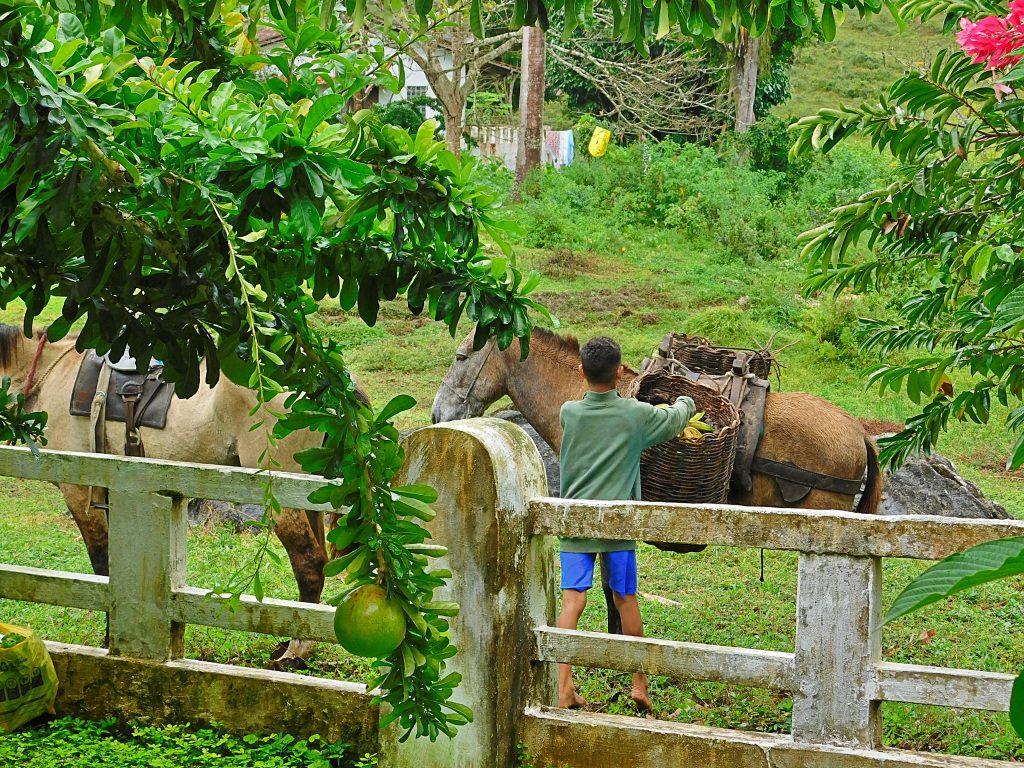 At 13:30, Viator and the kids headed for the horse place to go for a ride on the blue trail – all trails here are marked with colours, and you find a short explanation of each trail at the Fazenda.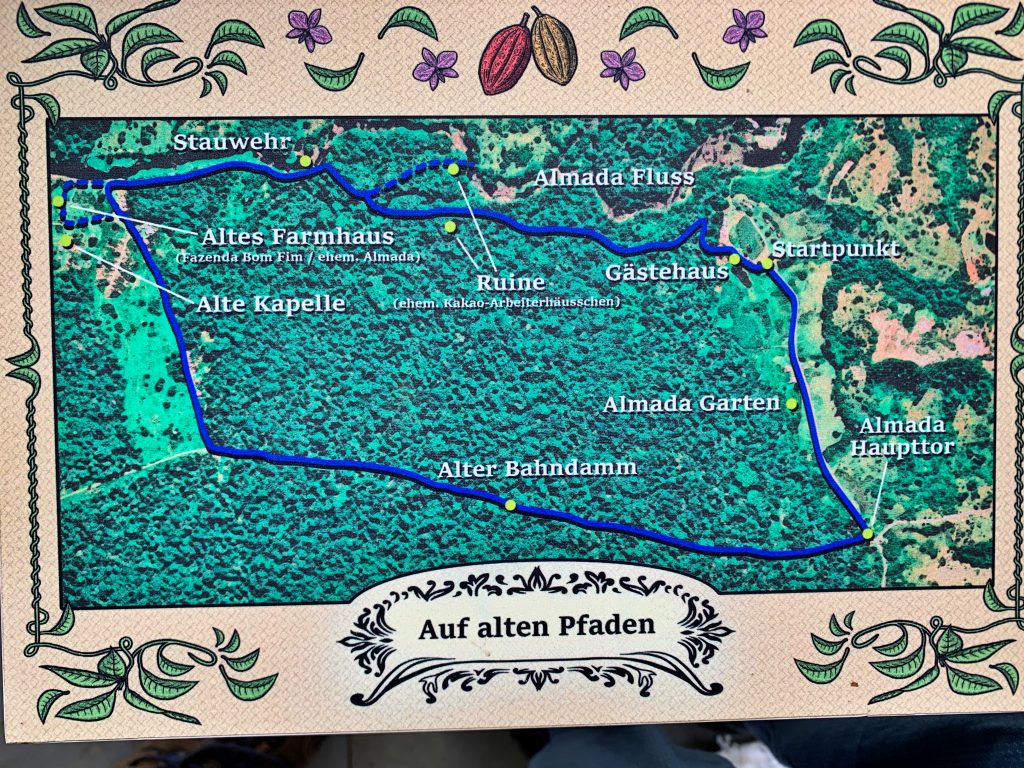 I stayed at the Fazenda due to my food being very unhappy with me walking the monkey-watch tour yesterday, so I spent the time trying to get our stuff together and pack the suitcases, in order to be almost ready for leave on Monday. Antonia was so nice and made some laundry for us, so I just had to put it out to dry 🙂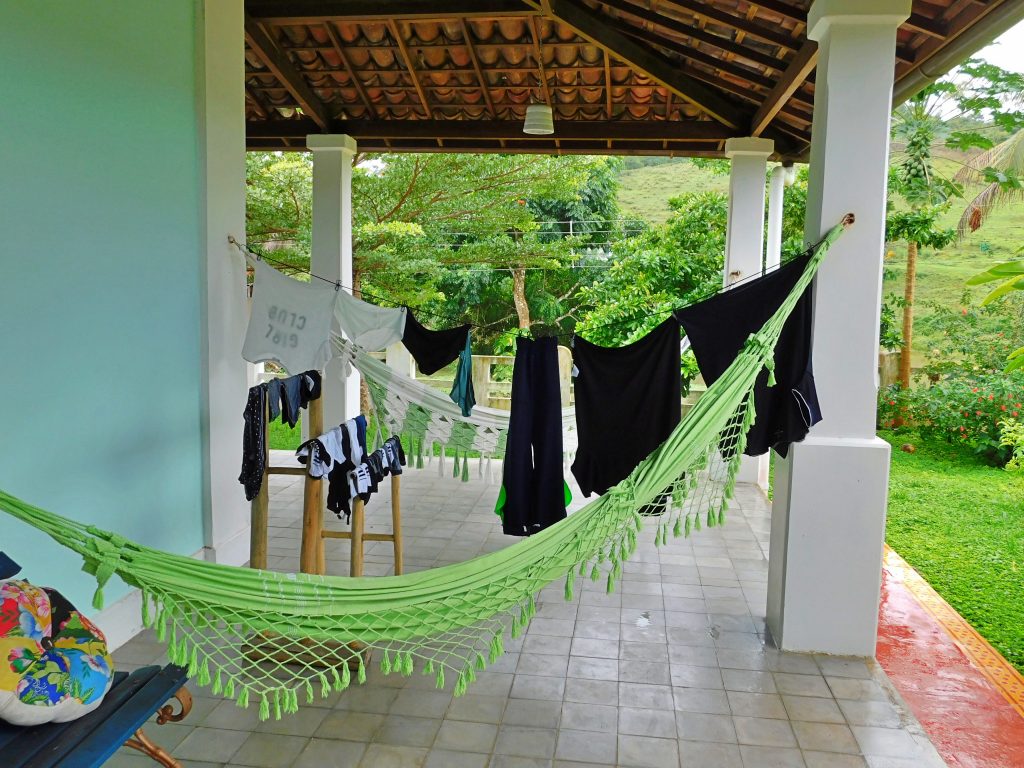 At 14:40 it started to rain again and I for sure hope that Viator and the kids are so lucky to be in the forest among large trees in order not become too wet…
Actually, they did not get very wet, but they returned at 15:00 due to the horses refusing to cross a wooden bridge. Therefore, the afternoon also was spent relaxing.
---
21st July – Fazenda Almada – day temperature 29°C
Today is boat-trip day J We will be traveling the Almada River with a local "captain" – he speaks no English and we speak no Brazilian-Portuguese – will be interesting 😉 as snack we bring along small bananas and water, as we are estimated to be on the go for 2 hours before reaching a local village.
We started from the Fazenda with a small walk – about 10 minutes – to the river where the boat of "the Captain" were waiting.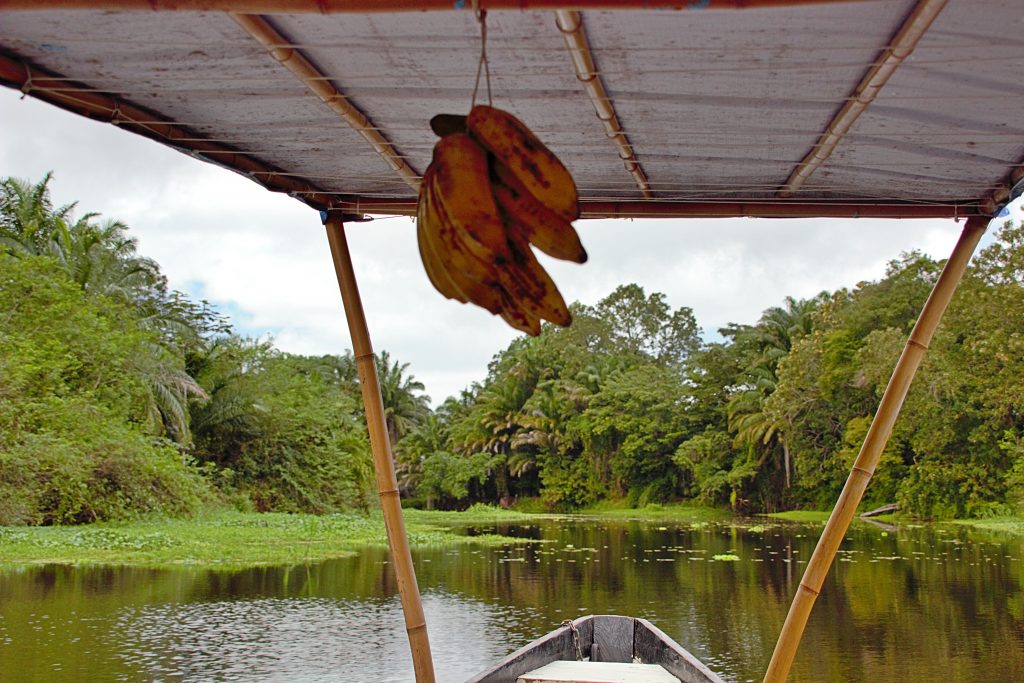 Then we had about a 40 minutes ride on the Almada River in really beautiful surroundings – the beauty of the nature here is shown in a whole different way when seen from the river view! We then needed to leave the boat for a walk through the jungle – about 45 minutes – as the river is not having enough water due to the lack of rain, so the green plants on the water are spreading so heavily that there is no coming through for a boat for the moment.
We then entered another small boat for another 45 minutes ride where we had to pass the lagoon to reach the small village, where we made a short stop for something to drink and the captain was arranging fuel to bring along for the last ride – about 30 minutes – to the cascades.
At the cascades, we spent about one hour climbing the cascades, swimming and making photos – simply relaxing and enjoying nature 🙂
Back at the local village, we had lunch at a very small restaurant. We had Maqueca – a local speciality of fish with rice, salad and some mash of fruits and beans we assume.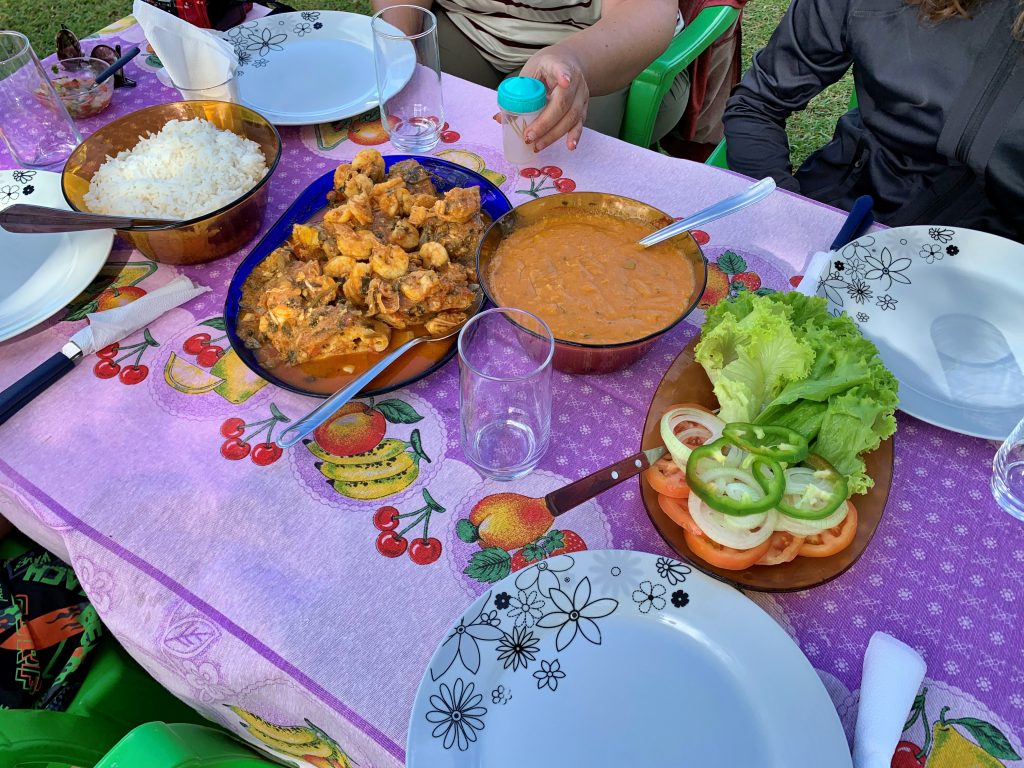 On the ride back to the farm we saw a capybara (water pig) hiding in the seagrass and we had rain again – luckily the rain did not start until we were almost back at the boat with the roof so we did not get completely soaked 🙂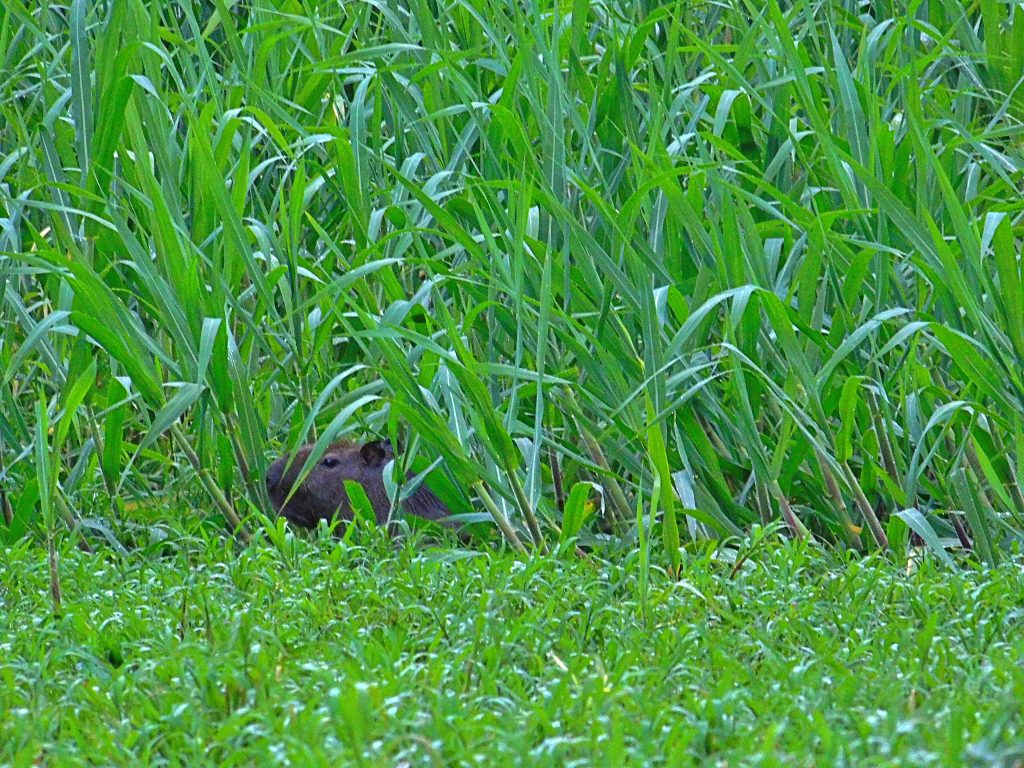 Our last night at the Fazenda Almada we spent with a late dinner at 20:00 together with another couple who arrived today and Markus and Juliana. We will leave this amazingly beautiful nature tomorrow after lunch.
---
22nd July – leaving the Fazenda to go to Itacaré – day temperature 26°C
Today we will go to Itacaré to spend four days relaxing at the beach. Juliana and Markus arranged a local driver for us and after lunch, we said goodbye to the beautiful Fazenda Almada and went for an one hour drive to Itacaré. On the way there we made a short stop to fuel up and we had our first ice cream here in Brazil – very delicious! We arrived at our lodge – the Aldeia da Mata Eco Lodge – at 15:30. We will spend our last four days here before heading back to Rio, where we will visit a Favela before flying back to Germany.
---
23rd – 26th July – Aldeia da Mata Eco Lodge – day temperatures 25°-28° C with sun, clouds and rain
We are having huuuuge waves here! In Germany the red flag would be up to assure nobody going in, but at this beach, we have no lifeguards and almost no other people. We are enjoying the water, keeping us a bit nearer the shore, as we normally would be, in order to compensate for the very strong waves pulling at us, having a lot of fun with the waves 🙂
Time here is spent in the water of the pool or sea, playing family games, walking on the beach, building sandcastles, playing family beach volleyball (female power always win! 🙂 ) and billiard.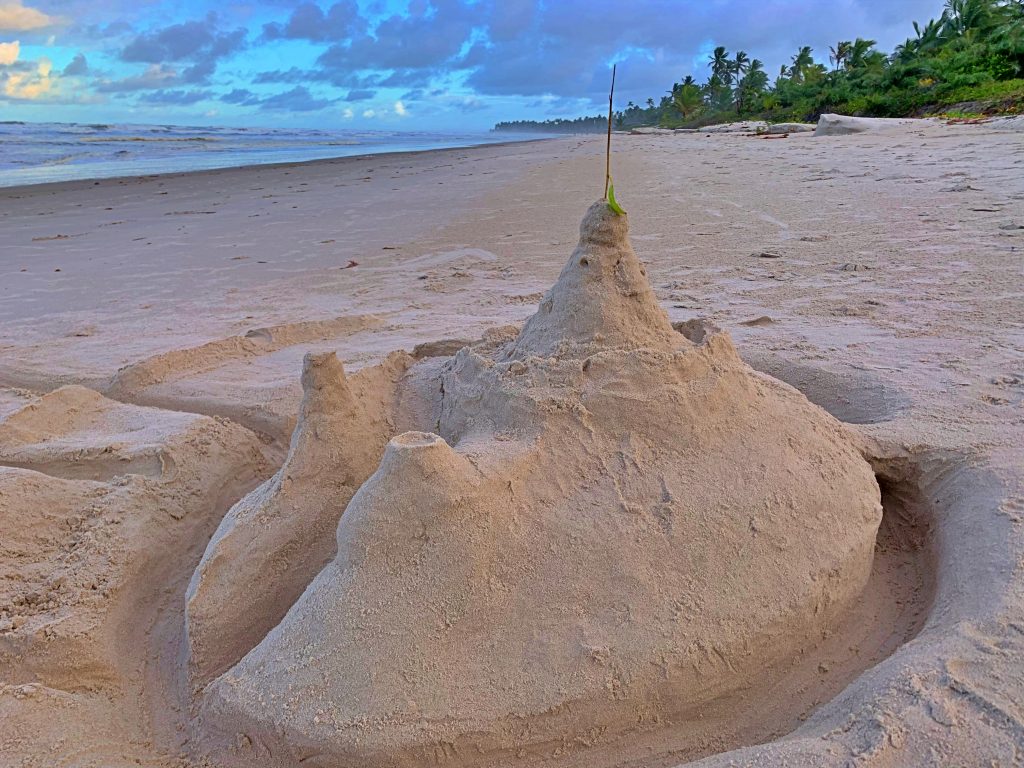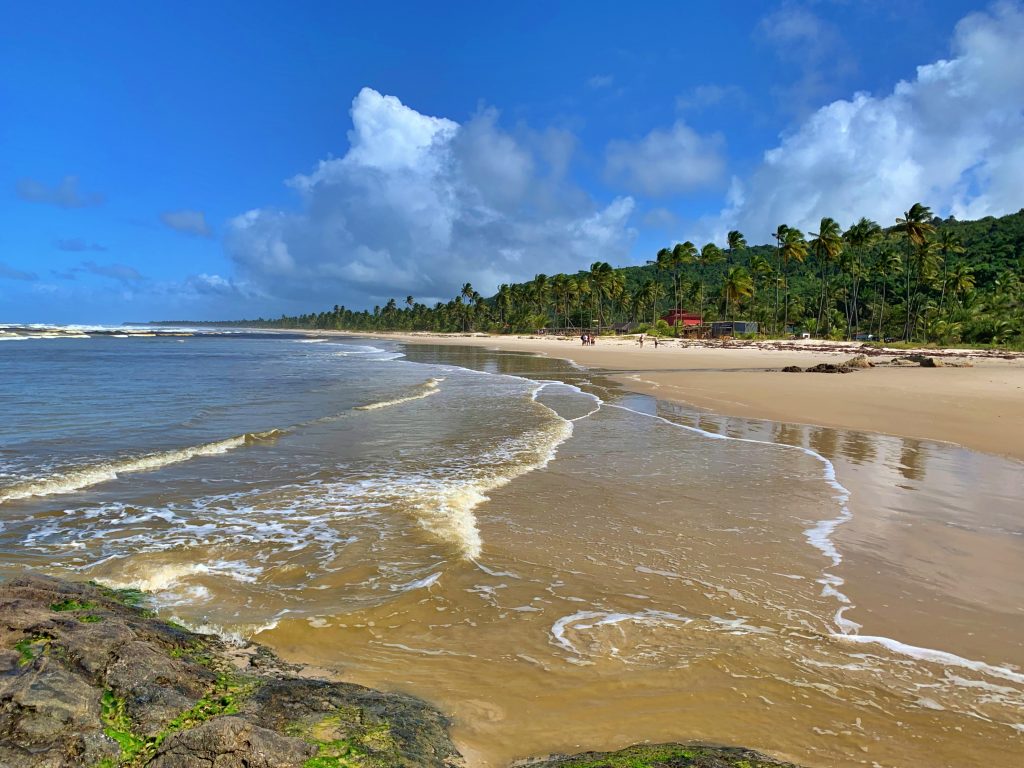 We also met some new small animals – one of them sat at the women restroom assuring my daughter and I didn't needed to go to the toilet for many hours 😉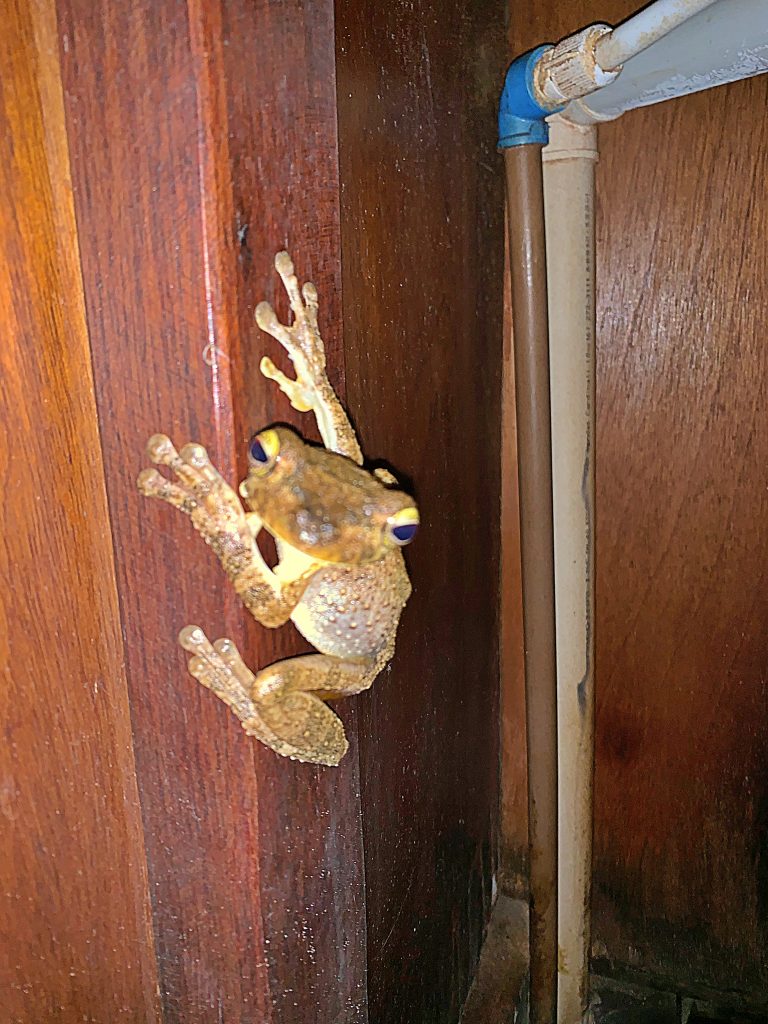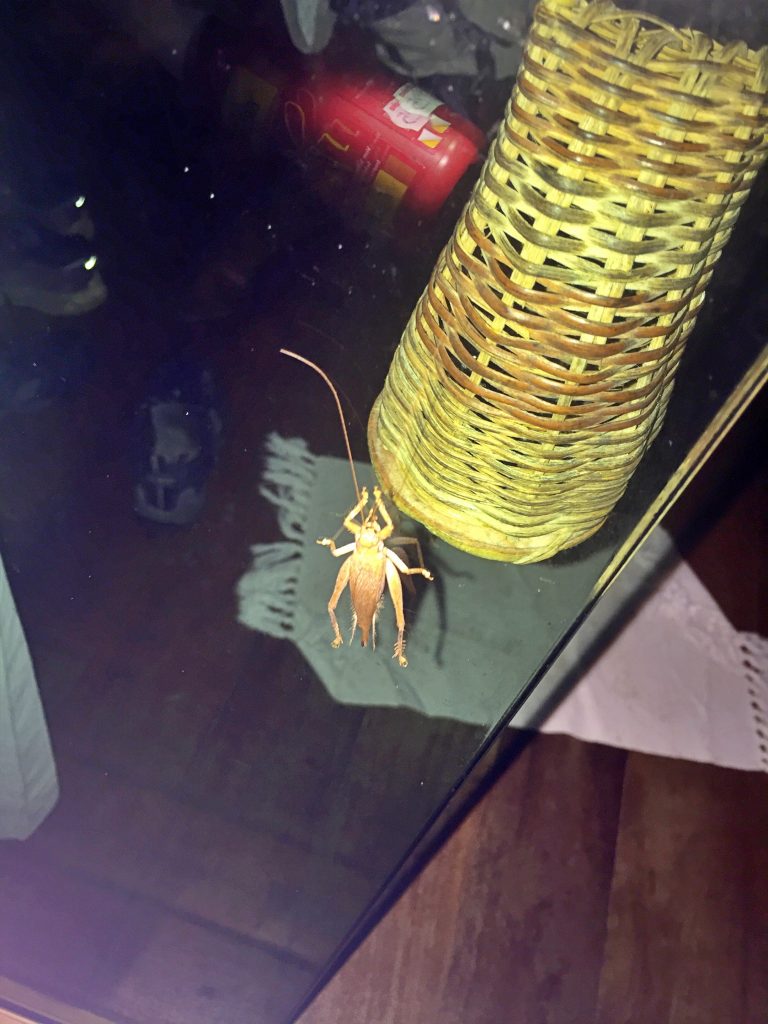 After breakfast on 26th July we were leaving for the airport (pick-up from our Fazenda Almada driver 🙂 ) heading back to Rio.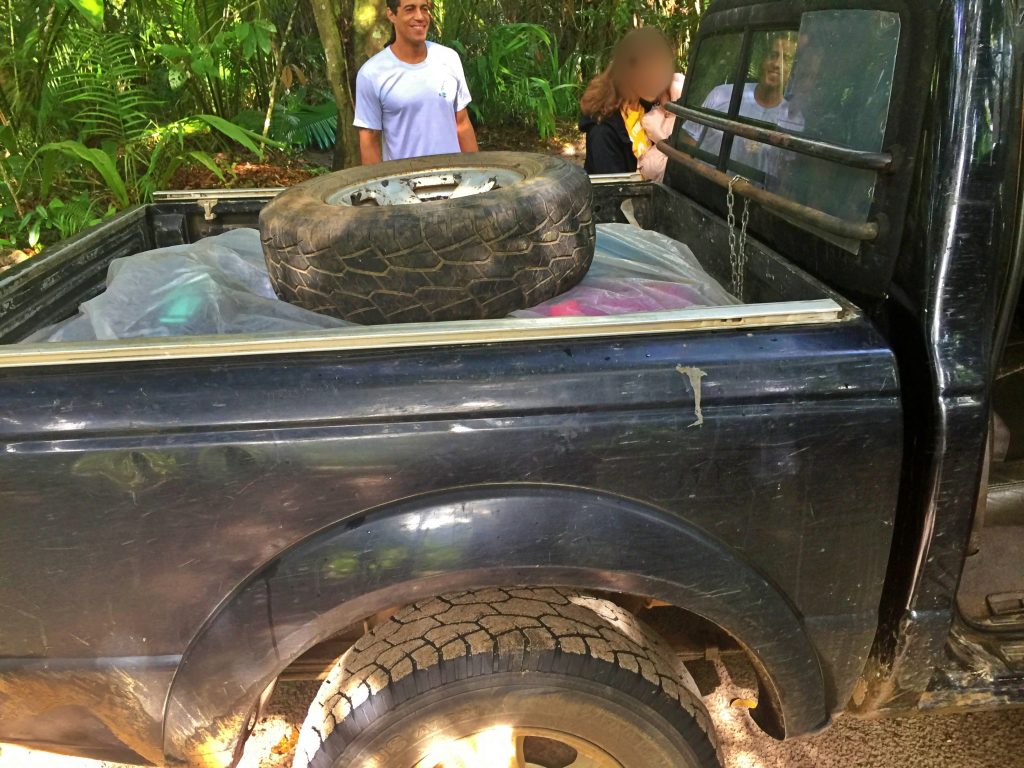 ---
27th July – Rio de Janeiro – day temperature 30°C
Today we had our last breakfast in Brazil – at the rooftop restaurant of our hotel in Rio. Afterwards we did a little shopping and went chasing postcards and stamps, which both was impossible – the post office is closed on Saturdays and seems to be the only place offering both items!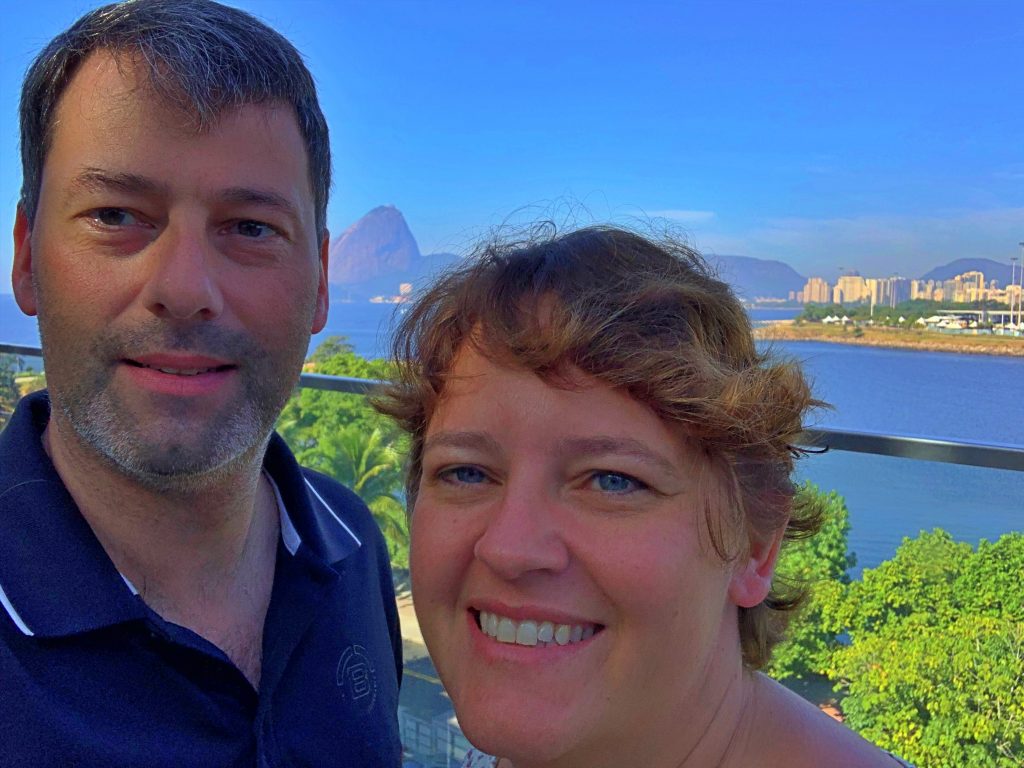 At 15:00 our guide Bernhard picked us up for a visit in a Favela. He took us to the Rocinha favela, which with the estimation of 240 000 people living there, is assumed to be South Americas largest favela. An unusual fact about this favela is, that today, also many legalised residents live in the area of the favela and it is official classified as a neighbourhood in Rio de Janeiro.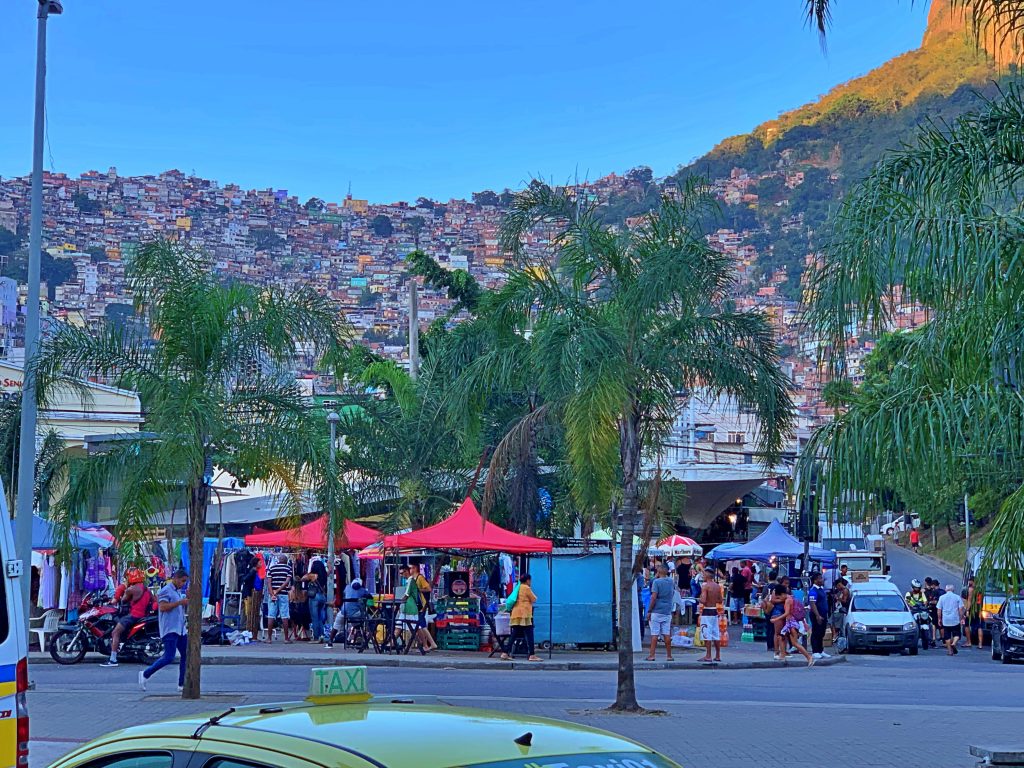 Arriving at the bottom of the favela, Bernhard suggested using the mototaxi (small motor bikes) to get to the top and then walk down, and so we did! It was a very unique experience since the driving in Rio (and in Brazil in general) is a bit different! compared to Germany 🙂 But the drivers had everything under control and we arrived save at the top with an amazing view as reward, ready for the walk back down.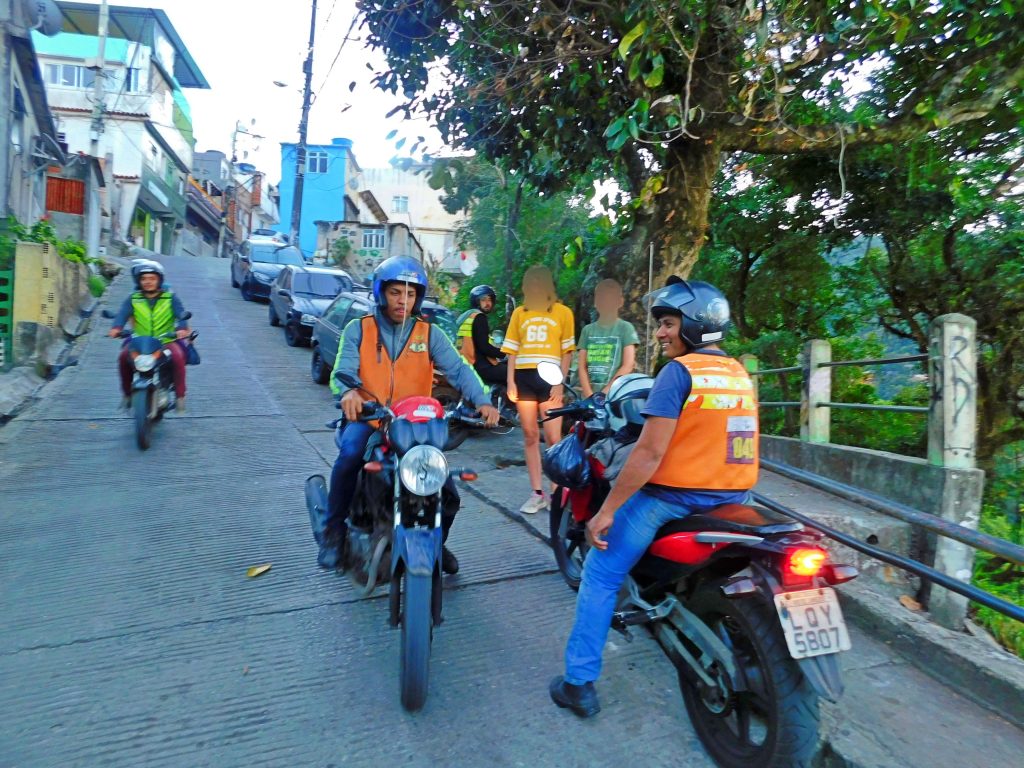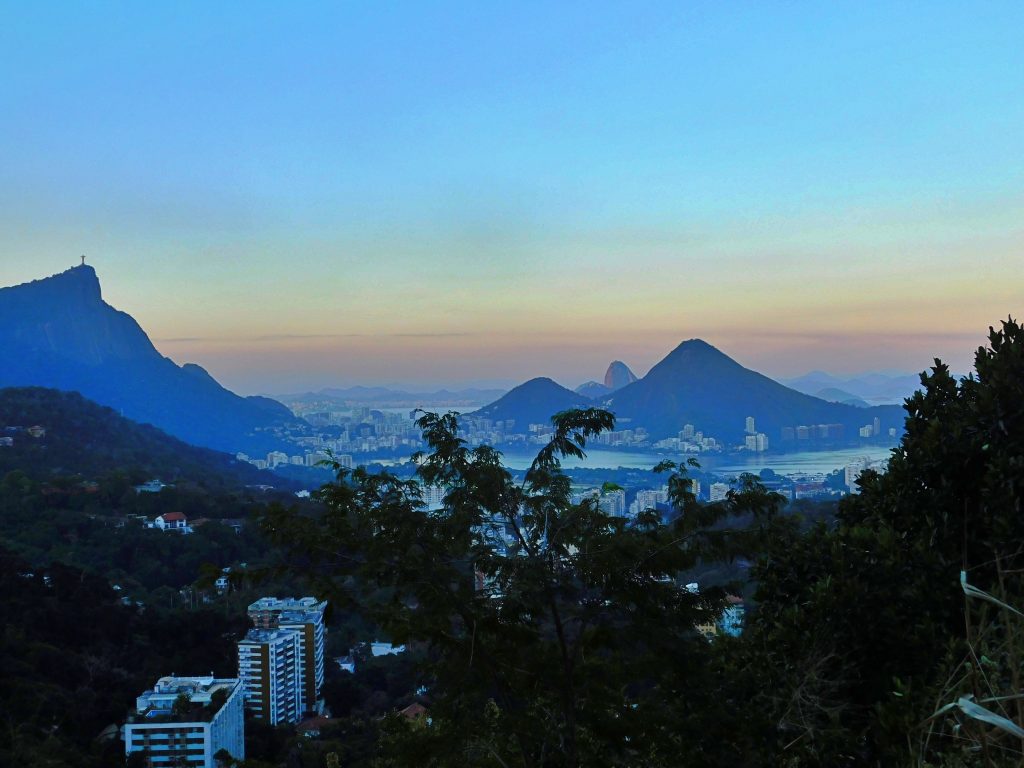 Most people in the favela are connected to electricity by self-made cable constructions, which are connected to the official electricity supply at the streets below the favela, and the "plumbing system" simply flows downhill in small streams with a very strong smell….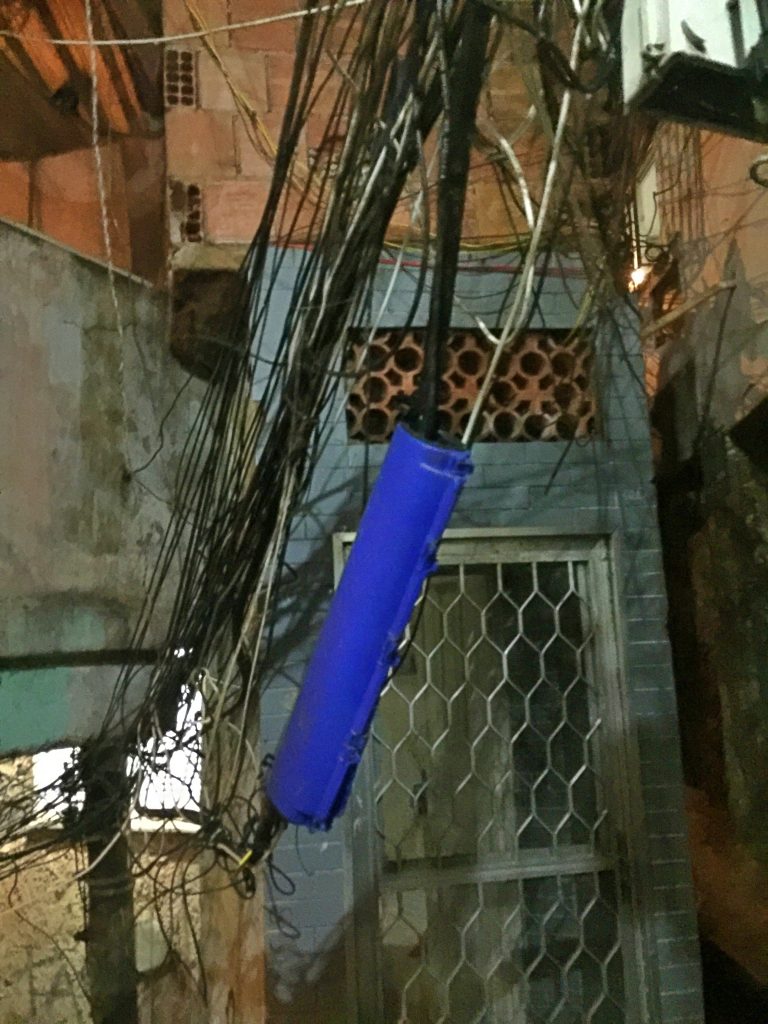 All of the persons we met or passed on our walk down were very friendly. We had the special experience to meet one of the local medicine men in the favela, and we tasted an energy drink made of completely natural ingredients e.g. cinnamon and ginger – very special taste, but should be very healthy 😉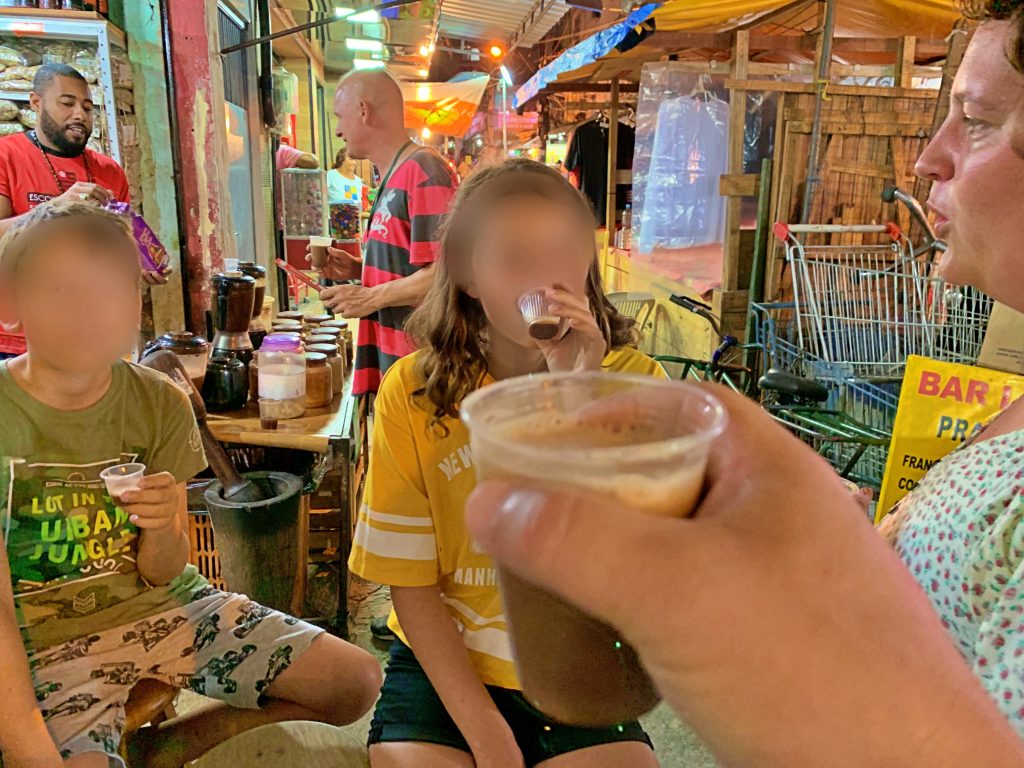 This fascinating favela experience was our last stop here in Brazil, and we started our trip back home filled up with new memories and a lot to talk and think about!
As it is impossible to fit in every beautiful/fascinating/wondering moment, we will shortly make a small picture gallery with impressions from our trip – simply pictures – no words 🙂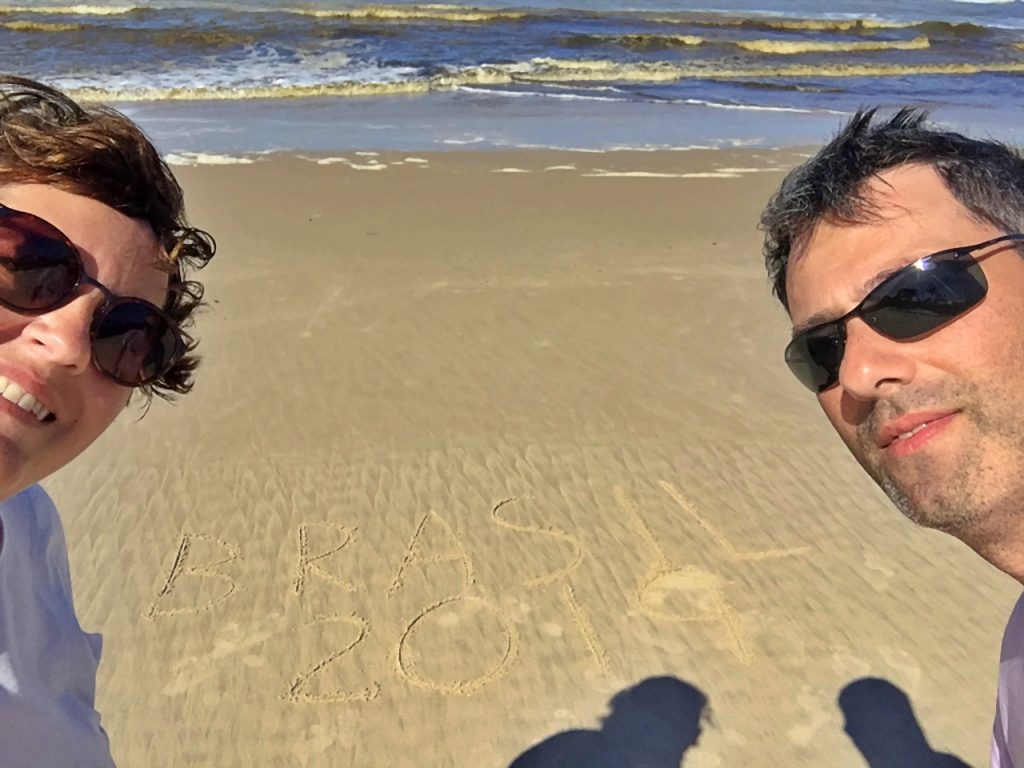 ---
Gallery: