11th July 2019 – Rio de Janeiro – day temperature 26°C
After a long flight from Frankfurt to Rio de Janeiro (11 hours), we arrived at 5 a.m. local time in 14 degrees Celsius and darkness. Our tour guide for the next two days picked us up at the airport, and after a short stop at the hotel to drop off our luggage and change for shorts, we went off for our first day in Brazil.
We started with our first local breakfast at a nearby bakery. You simply fill your plate with what you like and pay by weight. We had some very delicious warm sandwiches with ham and cheese, mini quiche Lorraine, some sweet pastries, coffee and iced tea. Then we headed for the Cristo Redentor (big statue of Christ) where we arrived shortly after opening at 8 a.m. Remember a pullover, as it is still pretty windy and cold at that time of the day. Big advantage of arriving early is that almost no other tourists have found their way up here yet 😉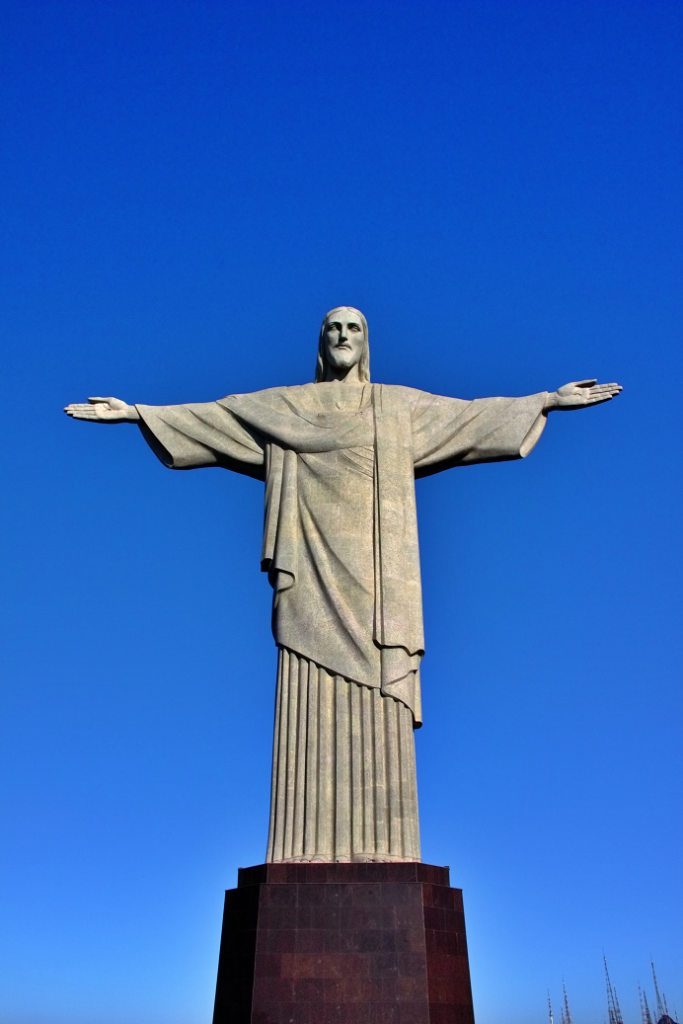 After spending some time taking pictures – also of the beautiful panorama! – it started to fill with other tourist, so we moved on, now heading for the Escadaria Selaron (the colourful steps). It is really worth a stop, taking the time to walk up the steps and take a closer look at all the different stories and details represented in this colourful mosaic made by one single man. The kids also had fun using some of the slopes to play on 🙂 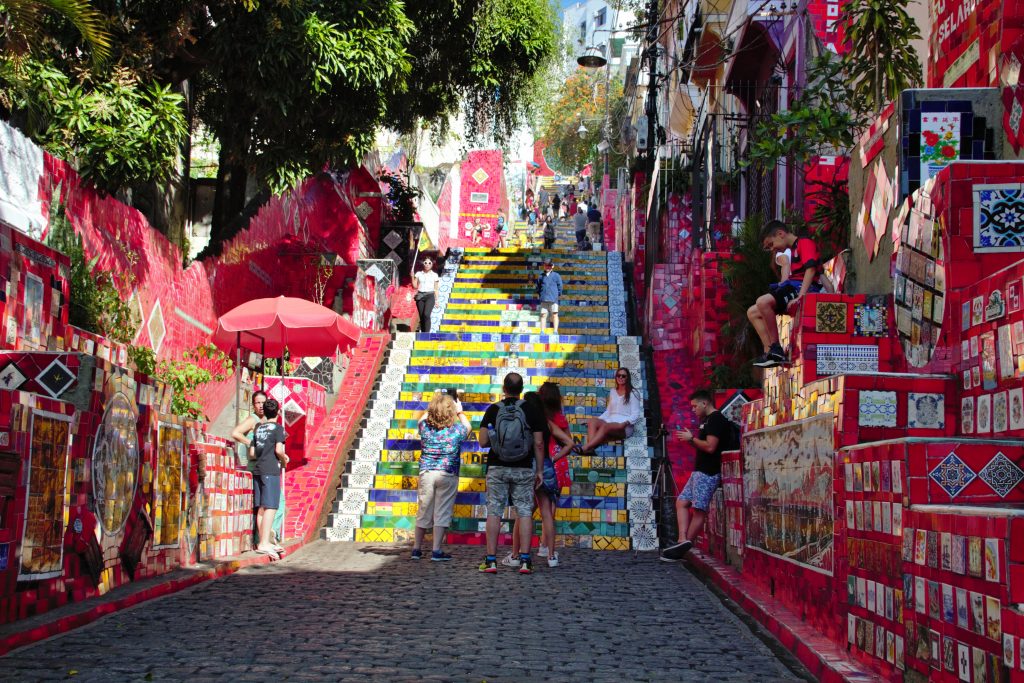 Our guide made us familiar with a typical snack in Rio called pao de queijo (cheeseballs). It's a very tasty small warm pastry filled with cheese, which we enjoyed on our way to our next stop planned – a walk to the small waterfalls in the national park of Rio called Tijuca.
On our way there, we made a short stop at the Cathedral of Rio, which from the outside looks more like a car parking spot, but inside it is very beautiful. Interesting stop if your way passes by here anyway.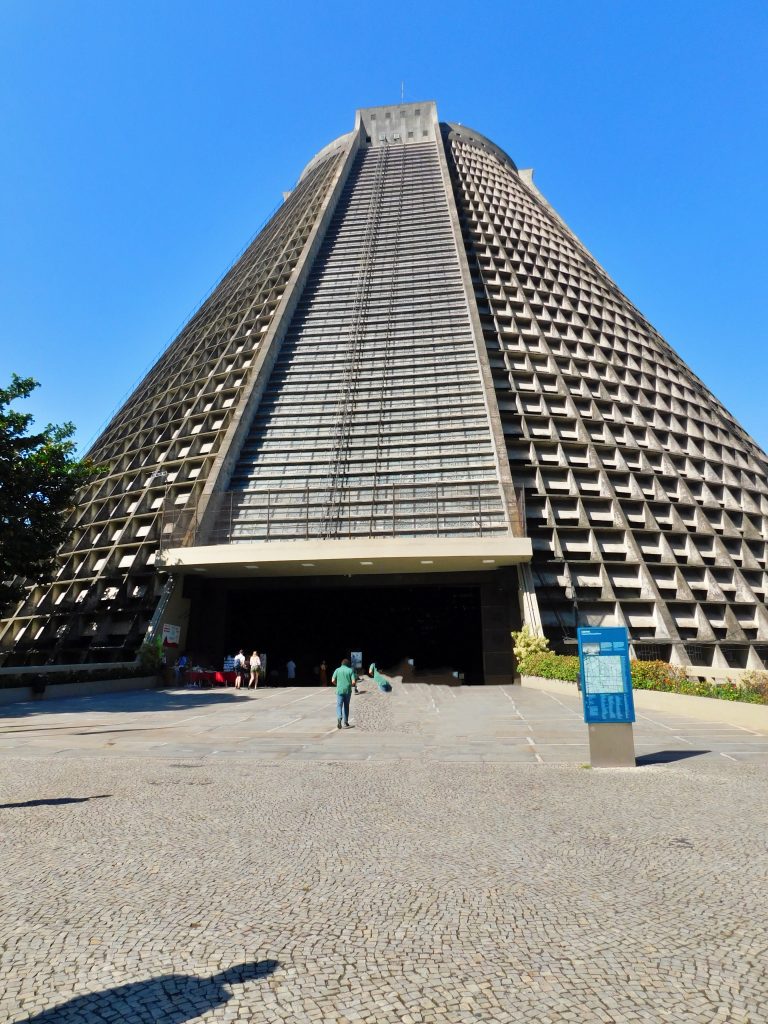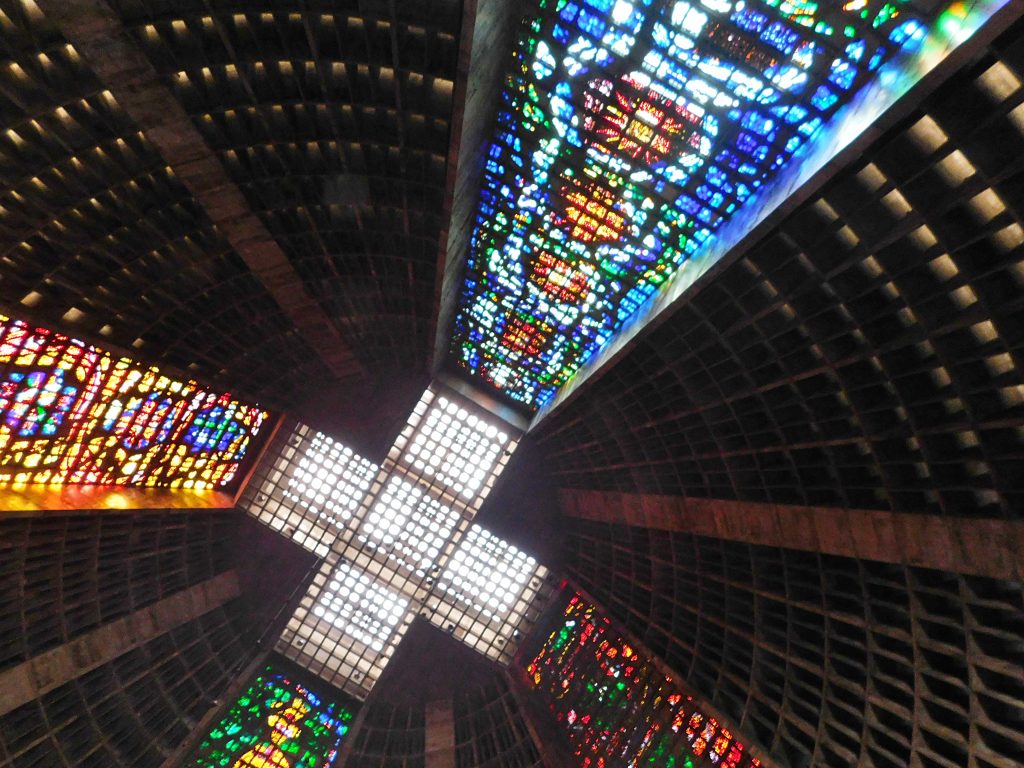 Arriving in the Tijuca national park, we went for a hike up to the waterfalls, looking forward for a swim. You really need to be ok with heights and willing to feel a bit like a monkey climbing among roots and up small stonewalls 😉 but it's a very nice hike in the nature in the middle of Rio.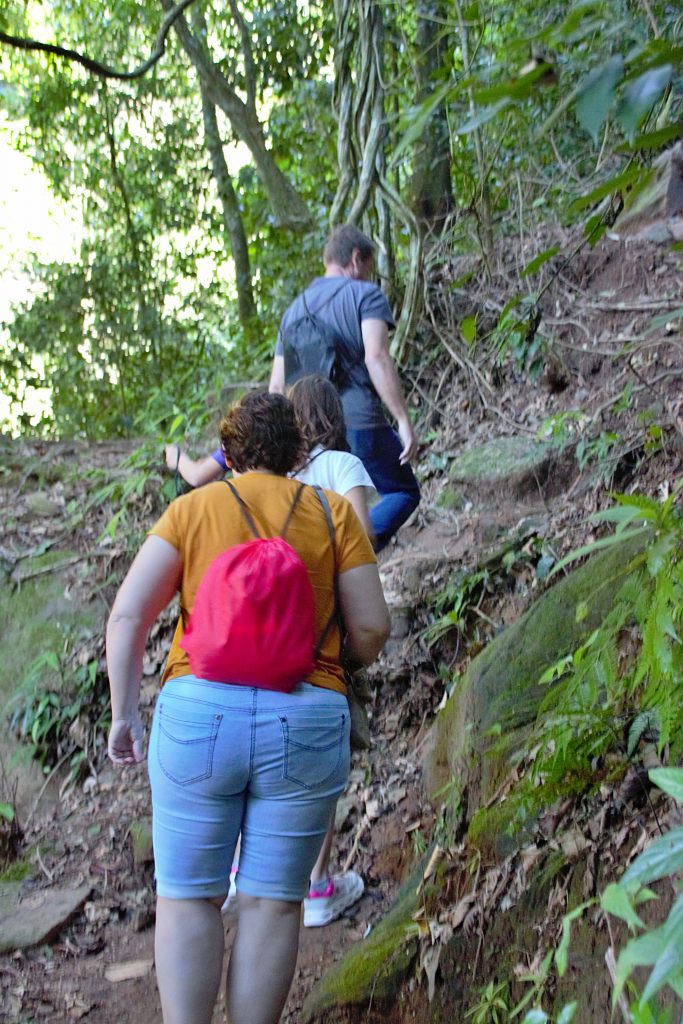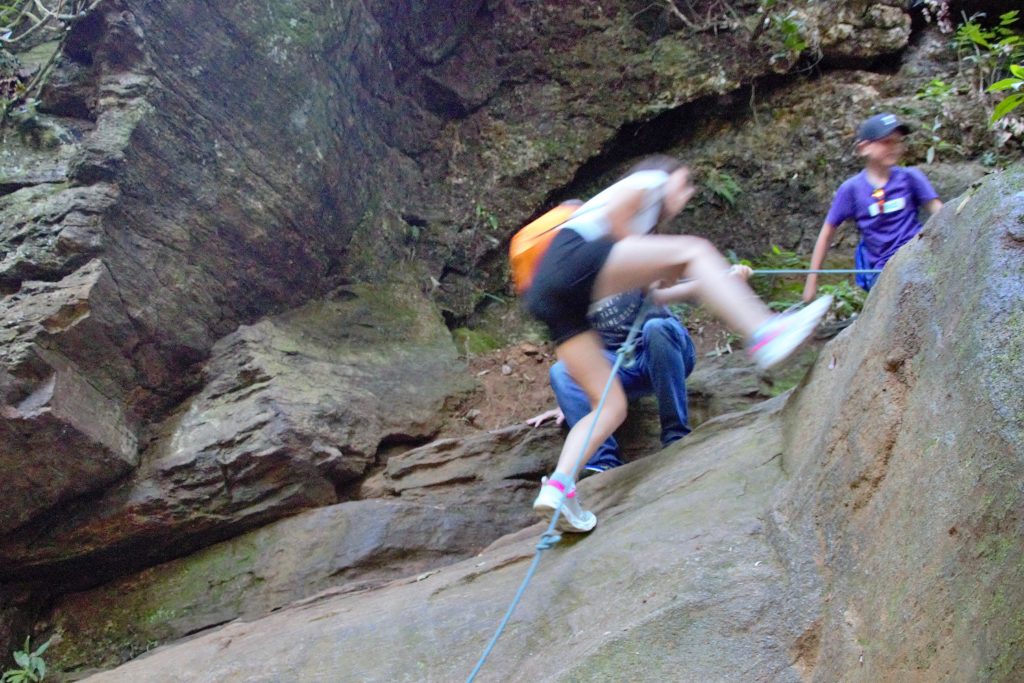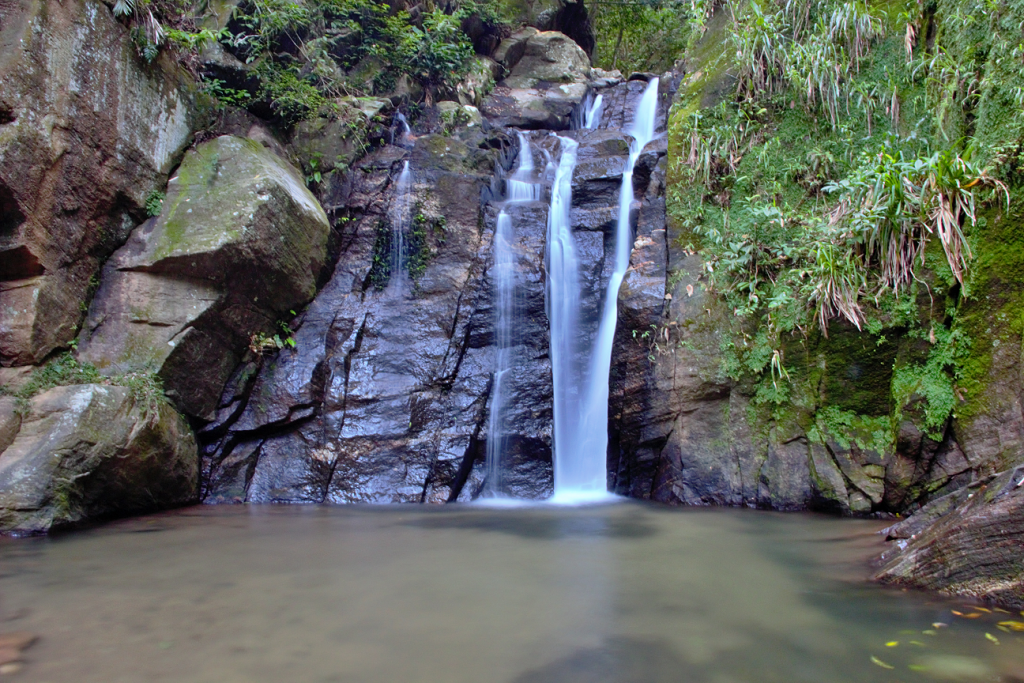 On the way back to our hotel, we made a short stop at the Chinese tea spot, which is a memorial from the time where the Chinese tea farmers lived in Rio. Unfortunately the Brazil government removed all the Chinese houses and the only thing left is the rebuild of a garden "teahouse".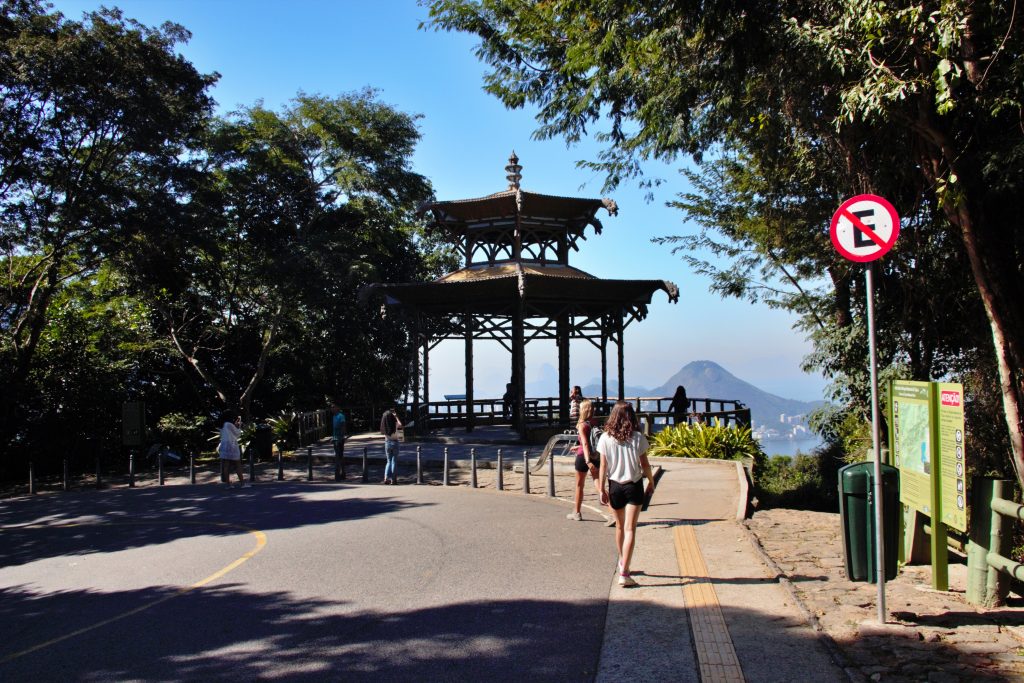 Back at the hotel, tired and filled with new impressions, we decided to go for a swim. Our hotel is located directly at the Copacabana –simply cross the road and we are on the beach.
View from our hotel room.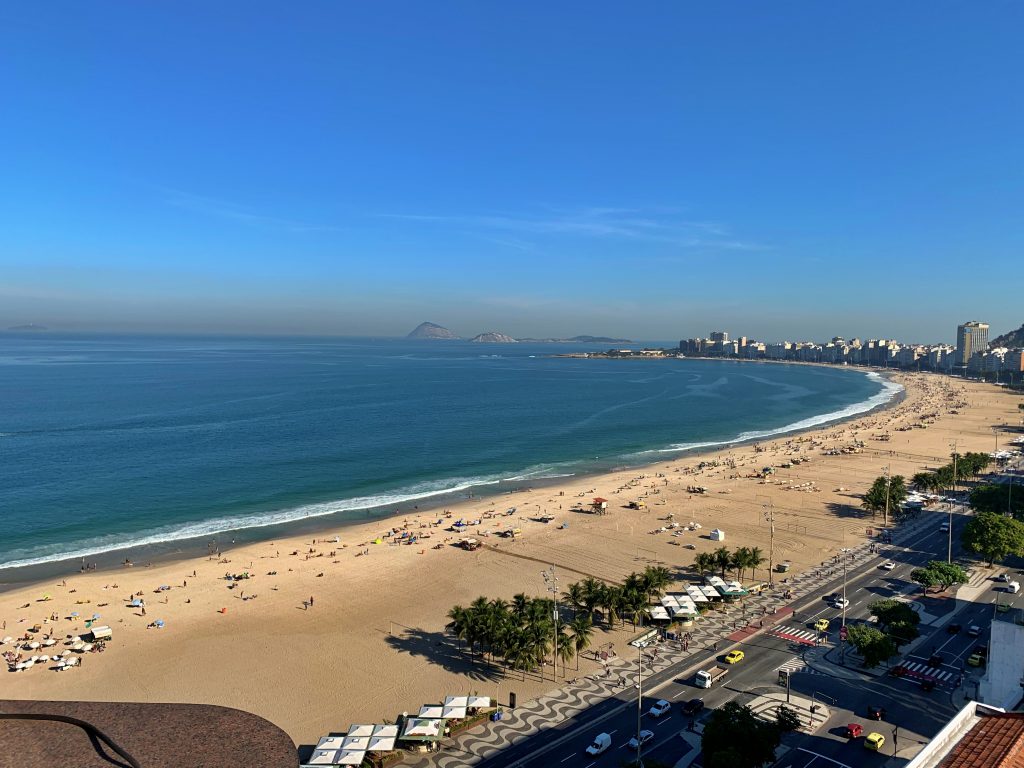 At 6:30 p.m. we went out for dinner. We chose a small local restaurant where we could sit outside for a quick meal. Our guide told us that the meals in Brazil came in very large sizes and easily could be shared – which we totally forgot due to being extremely tired, so we ended up with way too much food.
---
12th July – Rio de Janeiro – day temperature 29° C
After a delicious breakfast with many fruits, todays spot will be the Sugar Loaf. The ride up is taking place in a cable car with a stop halfway to switch into another cable car. In this halfway stop you walk by an old cable car from when the line was taking into use, and also the cable car used before the ones that are into use today – James Bond lovers will know this one very well 😉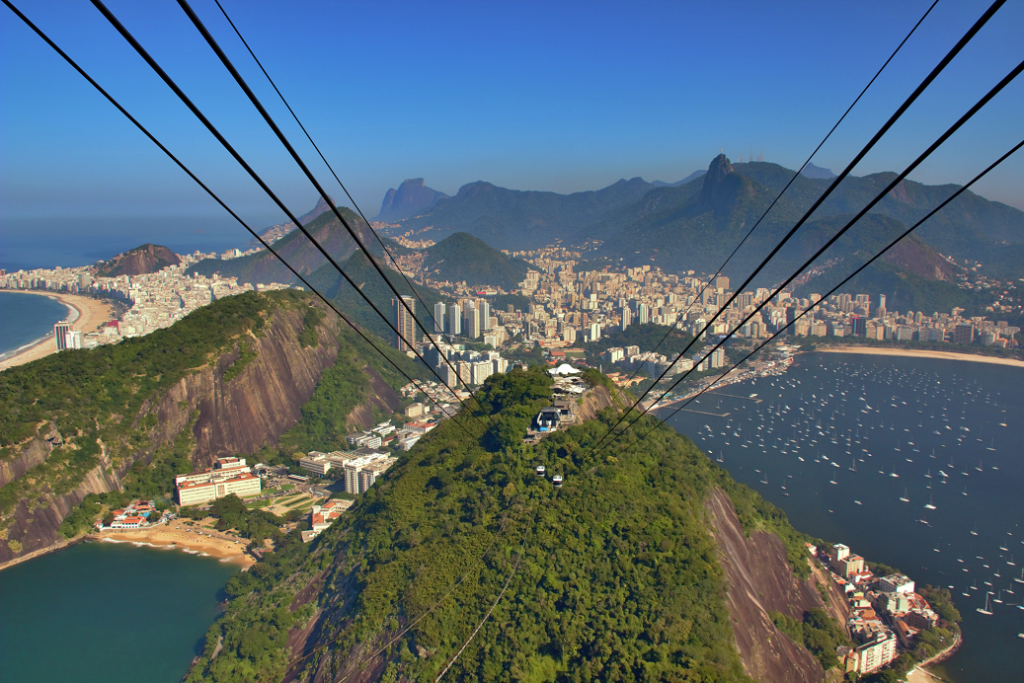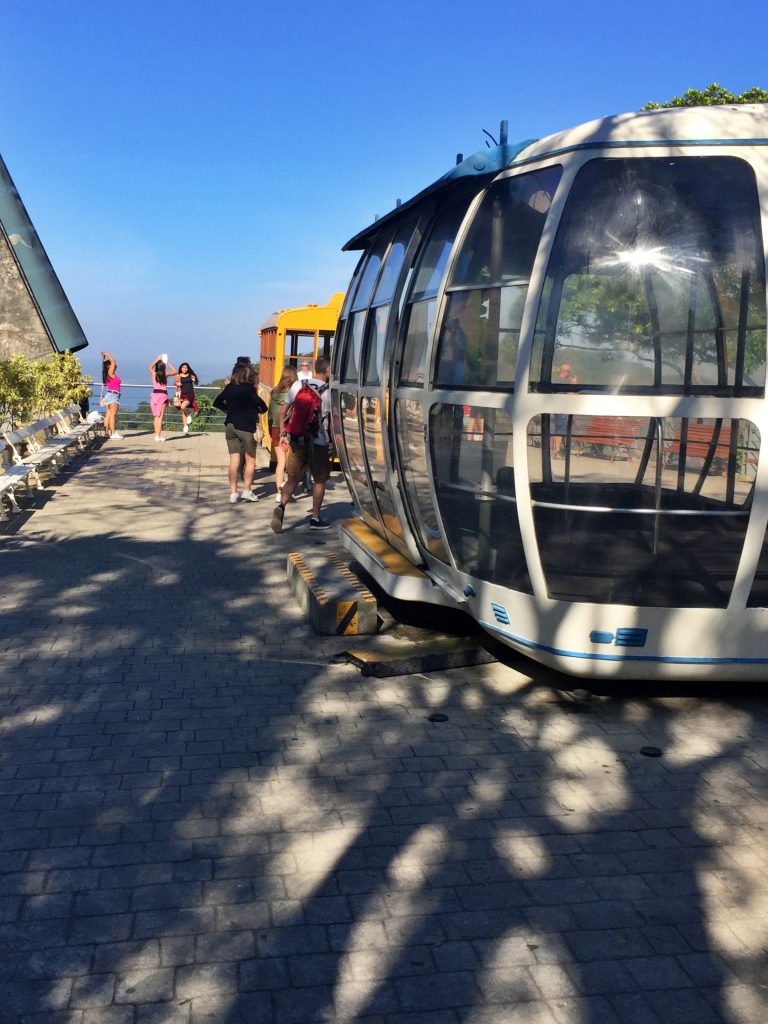 From the top of the Sugar Loaf you have an amazing view at Rio de Janeiro including the Christ Statue and the Copacabana as well as the take-off and landings on the Santos Domont Airport.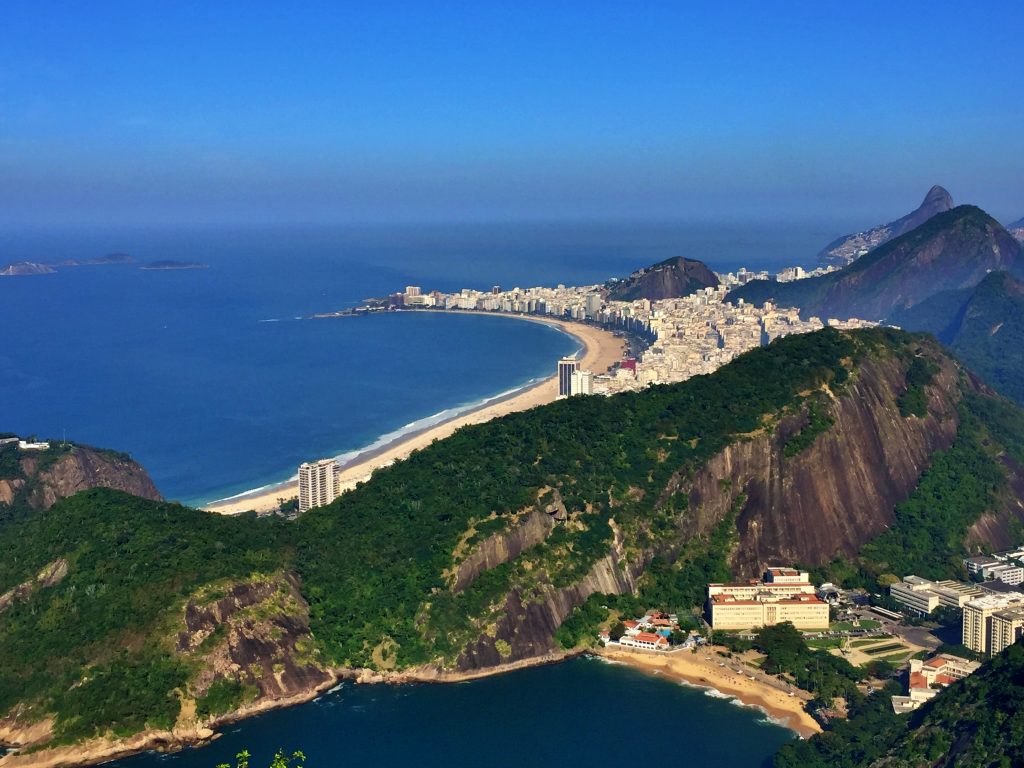 We spontaneously decided to make a beach-panorama helicopter flight. With a clear blue sky, we had some wonderful pictures and a unique family-experience as it was the first heli-ride for our kids, meaning they had a lot of adrenaline for the walk down the Sugar loaf afterwards 😉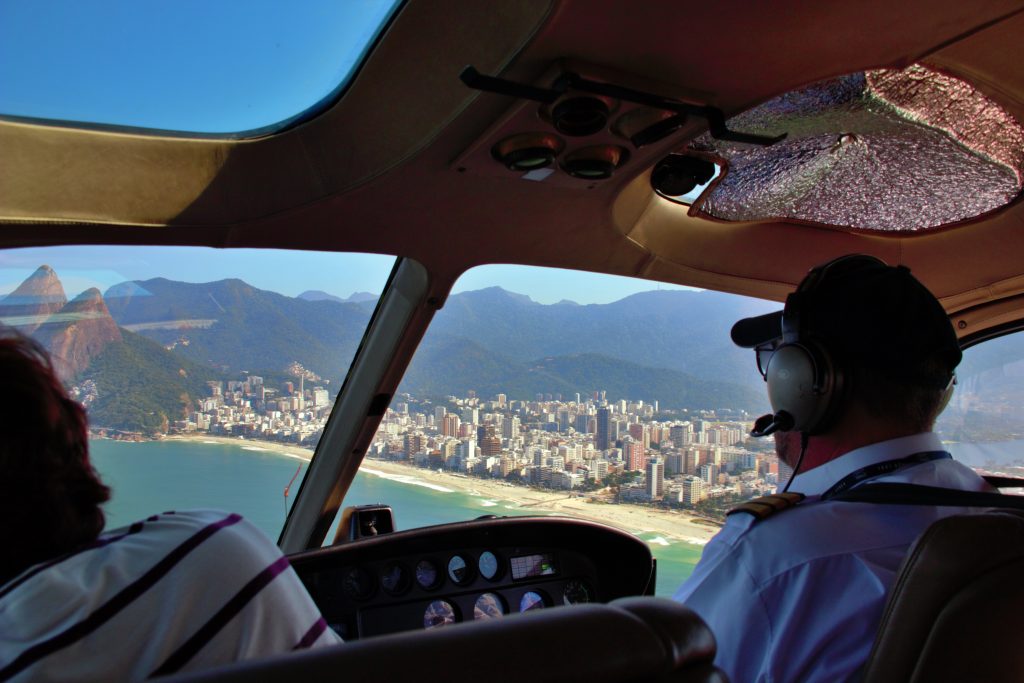 Instead of riding the cable car back, we walked down from the midway station, which is a very nice trail of about 30 minutes, where you may be able to see small sagui monkeys. If you have a banana, they will be very focused on you 😉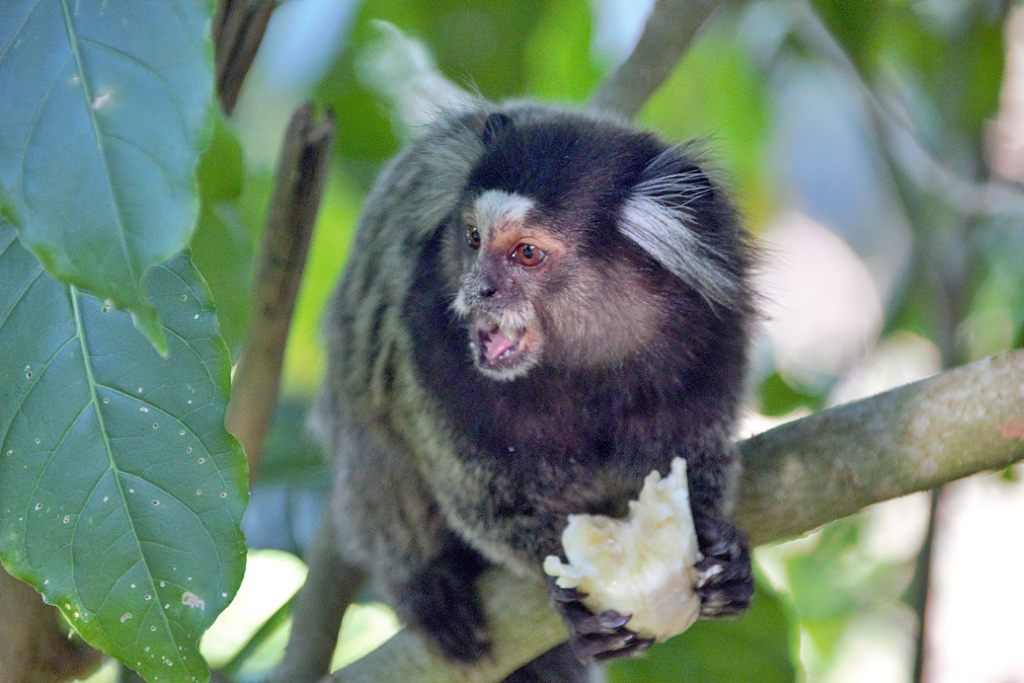 Our guide Marcello then took us to a secret spot: one of the Lagoons in Barra da Tijuca. Here we went for a relaxing boat ride of 30-40 minutes where we spotted crocodiles, capybaras (water pigs) and different birds! The ride gives a unique view on some of the local fishermen living area. As in many other regions of the world, unfortunately trash is also very present here…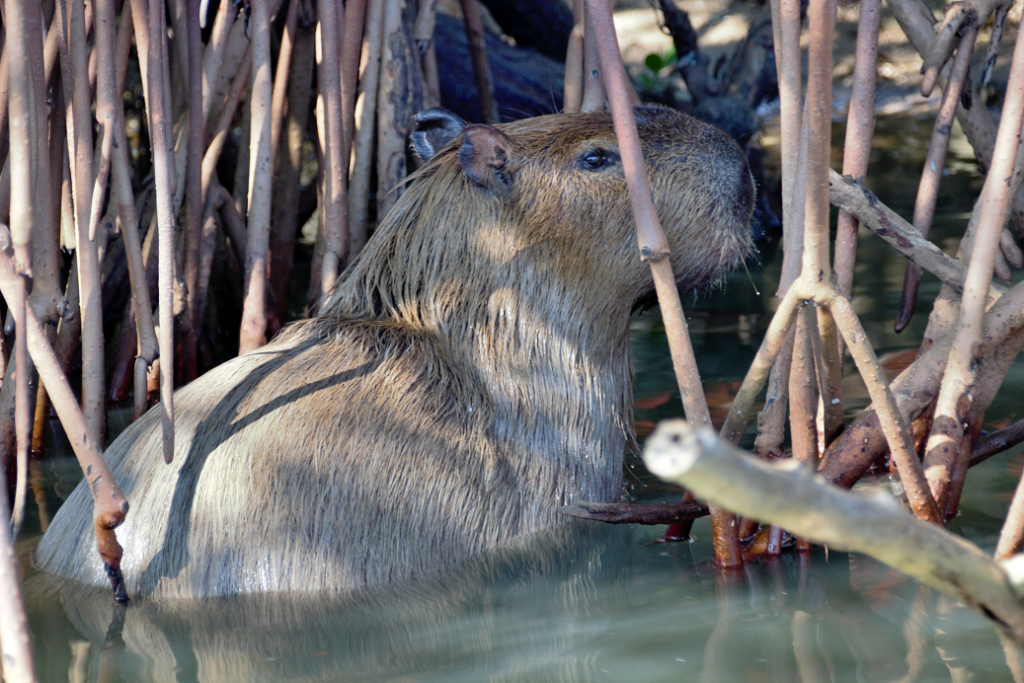 After two very interesting days with Marcello, we had a last common lunch at a local spot in Barra da Tijuca and then headed back to Copacabana. Marcello dropped us off at the Riosul (Mall), where we spent 1-1½ hour before we went back to the hotel for a light dinner at our hotel restaurant before going to bed early – the jet lag had us a bit…
---
13th July – Copacabana – day temperaure 28°C
Today we have planned as a relax-at-the-beach day enjoying the clear water and blue sky at the Copacabana J We played some volleyball at the beach and in the water and had our first caipirinha – be aware of the alcohol! 😉 We also had our lunch at the beach, which ended up with a lot of Pigeons stealing most of our fries as we went 4-5 steps away from our chairs to call for the kids in the water – notice to self: Don't leave food unattended at the beach 😉
On the beach you are offered a lot of stuff – everything from food, drink and sunglasses to tattoos and massage. Everybody is friendly and mostly respect a friendly "no thank you". Only the one massage-woman meant to give a "souvenir" massage on my one leg so I would remember her tomorrow, and maybe wanted a full massage then 😉  I must say the massage was very nice, so it is definitely a possibility if you like massage 🙂
Our day ended with dinner at Churrascaria Palace – churrascarias are typically in Brazil and are restaurants where you get a lot of different meat served directly at the table – the Brazilians call this way of eating rodichio. It is very tasty and well grilled and we had a very nice evening – but be aware that it is not as cheap as the normal eating out! (We paid 400 reais for four persons (2 kids of 14 and 11 years) which is approx. 100 euro)
---
14th July – Foz de Iguazu Brazil – day temperature 23°C
After an early flight from Rio to Iguazu (2 hours) we went for a walk on the Brazilian side to enjoy the panorama of the Foz de Iguazu (Iguazu Falls). Our guide told us that the amount of water today was only light. Unfortunately, it is also winter holidays in Brazil, which mean A LOT of other people also came to see the falls. We decided not to walk all the way out on the viewing platform, but had some splendid views on the walking trail up along the falls though.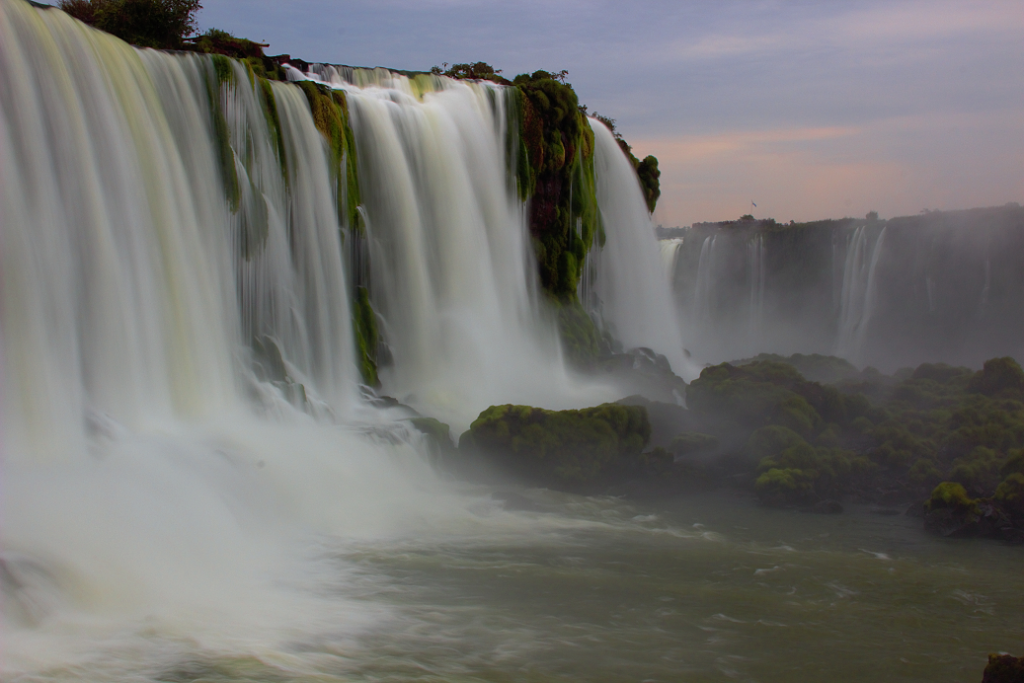 On this walk we also learned that the Ring Tailed Coati has noticed that tourist mostly bring foods with them, so they come very close and try to steal it from hands and back packs –  so watch out here, they have very sharp teeth and claws! Although they look very sweeeeet 😉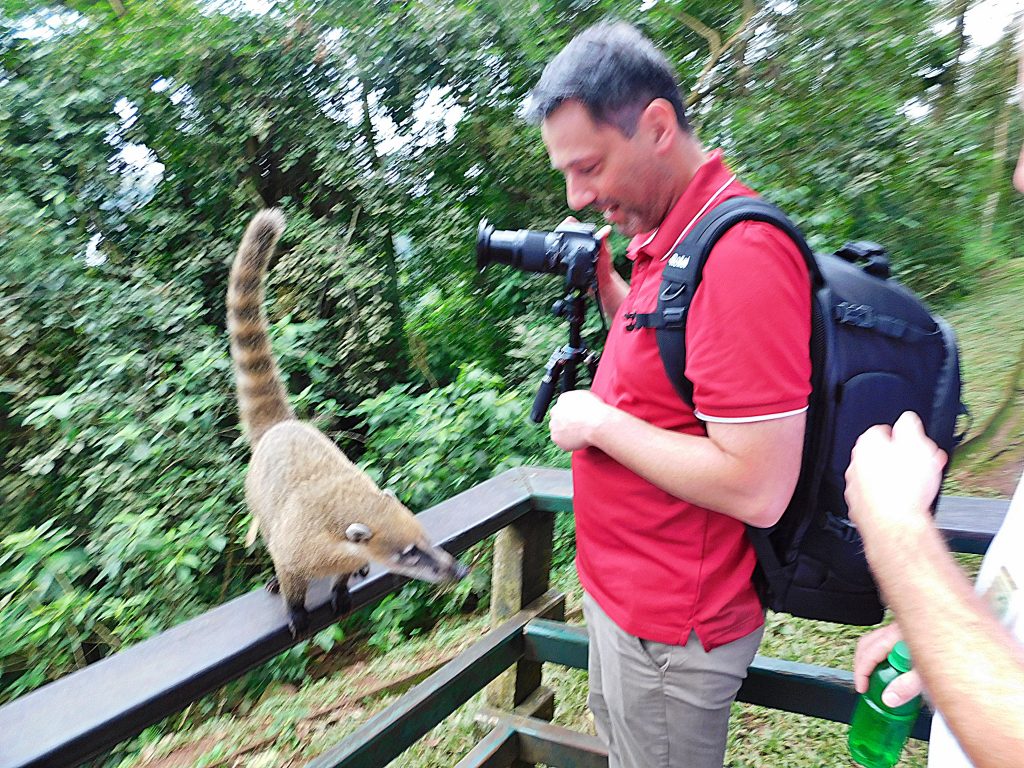 As we finished the panorama trail, we headed for a waterfall boat ride to experience the falls nearby from the waterside. After a short ride in tractor pulled wagons and a 15-minute walk (optional), we were handed out a life jacket and asked, if we wanted to go on the dry or the wet ride. We of course headed for the wet ride and the children were very excited. We got on board an inflatable boat with motor and headed towards the falls… and we got WET!! Although we had rain jackets ALL our clothes were dripping afterwards, as the "captain" went directly underneath a small waterfall. We had expected to get nearer to the large falls, but the boat trip is for sure a fun experience especially with kids and if you like a bit of action and don't mind to get wet 🙂 and the landscape is very beautiful.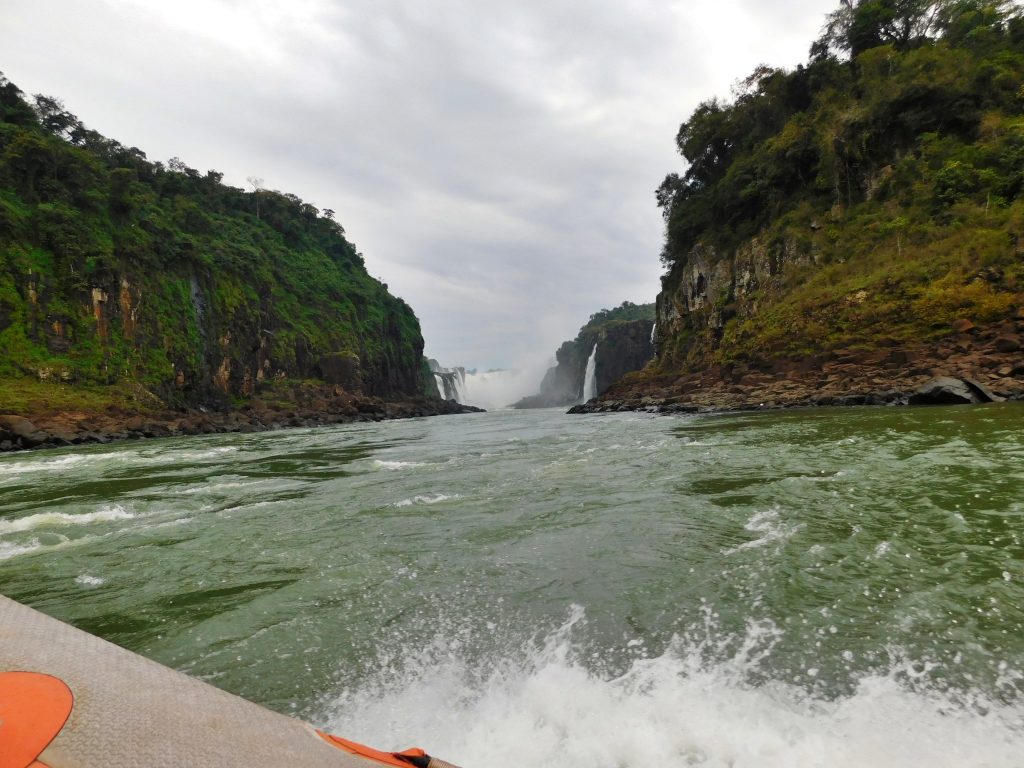 Our day ended at the hotel trying to find space to put up our clothes to dry before we went for dinner at the hotel Restaurant 🙂
---
15th July Foz de Iguazu Argentina – day temperature 21°C
FOTOS TO BE LOADED
Today our journey takes us to Argentina – to a walk to the Iguazu Falls on the Argentinian side of the national park.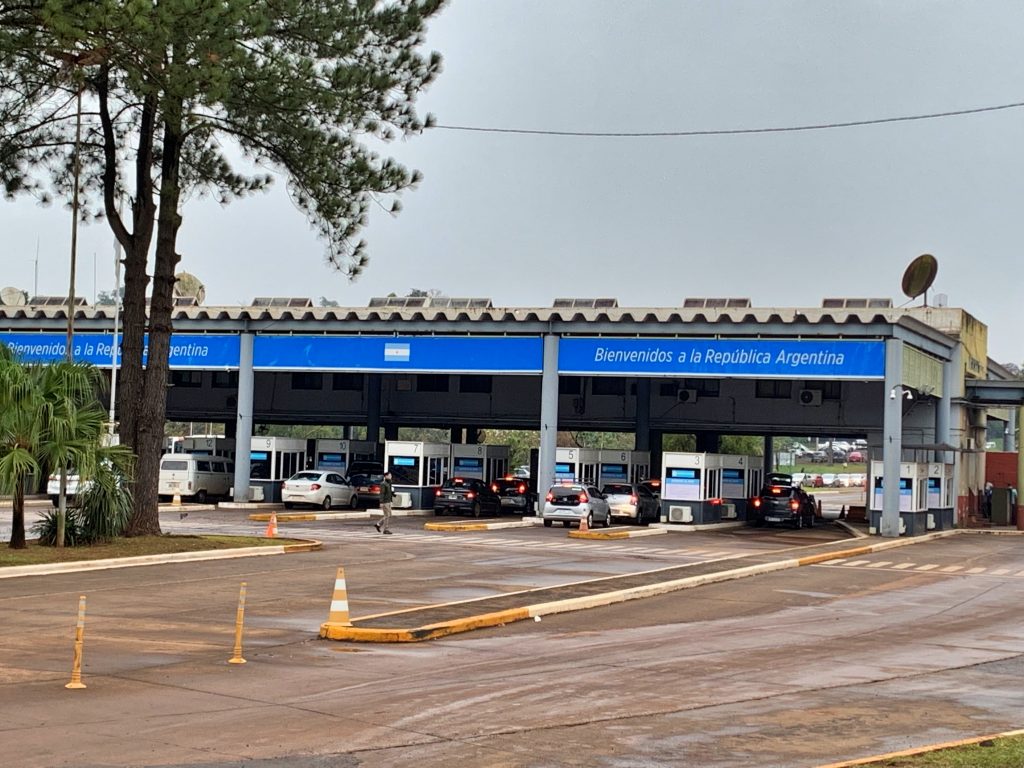 The weather didn't show from the sunny side, which really was a shame, but the Falls are very impressive also on a cloudy day! If you have only one day to visit the Iguazu Falls you need to go for the Argentinian side! The 1.5 km walk takes you directly to the Devils Throat, and the walk itself is an experience you don't want to miss!
We had the luck to spot a parrot while waiting to pass the border to Argentina and when entering the national park we saw two toucan birds. Also the Ring Tailed Coati is represented here and follows you on the complete walk 😉
The evening we spent at a folklore show where 8 countries were represented with food and dance shows
---
16th July – travel day to Ilheus – day temperature Foz 9°C, Ilheus 28°C
NEXT IN UPLOAD: FARM STAY 16th – 22nd July